Maybe Mother's Day got the best of me… My latest segment on CBS Los Angeles was about offering sneaky tips in the name of encouraging spouses to help more around the house. You know, so we all don't burn out as women. (Too late?) Was this inspired by Mother's Day? An overextended me? Maybe and maybe. As I think about the motivation for this topic more, I'm beginning to realize this epic chat with Pat Harvey was initiated by something much deeper — the history of strong women in my family and the antiquated standards I'm still trying to live by as a modern mom. No more, no more.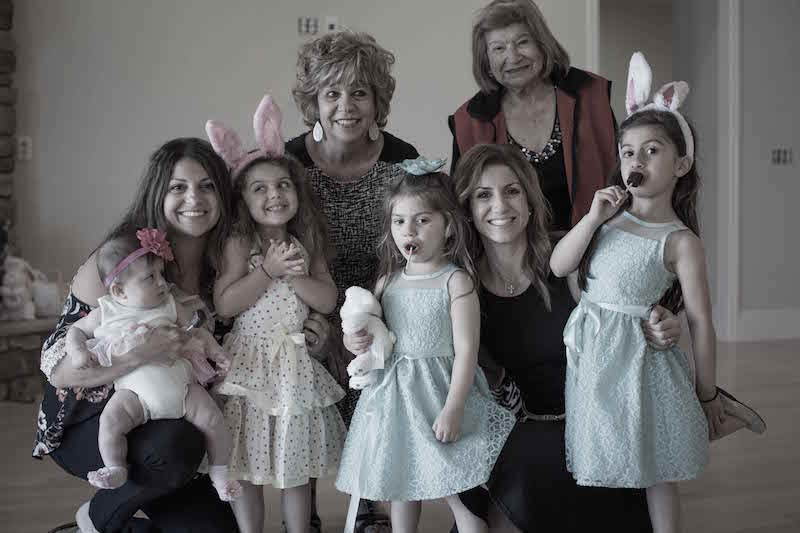 Right there, in that picture full of bunny ears and Sees Candies lollipops, are four generations of women in my family. 250 years of womanhood so far, as dated for 2016. The 96 year old is a tough cookie who still drives around town to get her hair done and always told me (when I was a little girl) how I could one day compete at the Miss America Pageant (I came this close, truthfully). My mom is a strong woman who coined the phrase "Guilt is a wasted emotion" and who simultaneously worked as a teacher while also cooking dinner and massive holiday meals from scratch when my sister and I were little. My sister? She's just smart — major know-how when it comes to thinking and doing life logically. My daughters and nieces? Let's just say there are a lot of vibrant personalities in the group.
All women in my family handle pretty much everything. We work, we cook, we clean, we coordinate, we mom, we holiday. (I mean, our spouses work hard too and, quite frankly, are the breadwinners of the house.) Everything is exactly how it's supposed to be, no questions asked. Well now I've started to ask questions… particularly because I now put in full-time work hours between my TV gigs, writing jobs and that thing called a BOOK that I'm working on (which is due in just two months, by the way).
In this modern age, where most women work, cook, clean, coordinate, mom, holiday and so on and so on… isn't it too much? I never questioned this before but I certainly question it now. More and more. Part of me has always genuinely recognized and accepted that most home duties belong to mom… no matter if she works outside the home or not. Why so antiquated? Because that's how I was raised to think… that's the culture I grew up in (check the video below to catch a snippy remark about how Armenian men aren't known for dishwashing abilities).
I know that the Armenian culture is not alone in still practicing these kinds of gender roles. Yet many of us can't seem to pull ourselves out of this ingrained pattern just because… well… I don't know why. Because that's the way it's been? Because we admire our mothers and grandmothers so much that we want to be just like them and do what they did? Because we are capable, so why not just do it even if it's wearing us ragged? I decided to talk about it on TV.
In the name of modern, changing parenthood. Because why not. What do you think?

Since February 17, 2016, catch "The FAB Mom on 2" EVERY WEDNESDAY night on CBS Los Angeles' Channel 2! Like CBSLA on Facebook, Like The FAB Mom's *NEW* Facebook Page and comment, ask, request and shout what YOU want us to talk about. And share, share, share what you like on Twitter & Facebook using #CBSLA … just like your mama taught ya.