Having kids that get along is a fabulous way of life… until sibling rivalry rears it's head. National Siblings Day is rollin' round again. Yes, we had a frank talk about how to stay sane on CBS Los Angeles this week:
Admittedly, I'm not much of a groupie for these 'special days' that seem to pop up every single day now — National Pancake Day, National Pie Day, National Underwear Day (ok I kinda like that one). Please. Too many days. As if us moms don't already have enough things to remember.
But National Siblings Day? I do believe in this one and can get behind the tragic and touching reason for creating it. I believe in this one because it's important. So important, in fact, that it was the topic of my weekly segment on CBS Los Angeles! Sibling relationships sometimes define how kids see themselves and how they treat others (that nugget of wisdom from The Mother Company).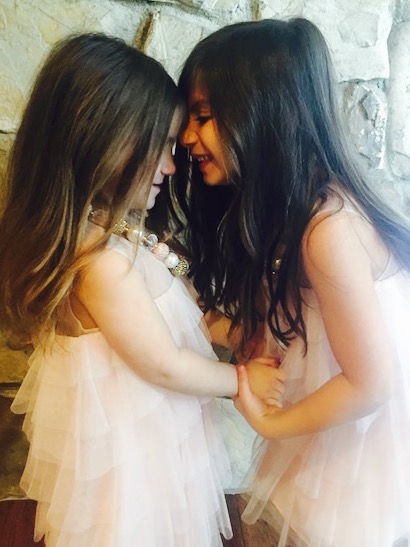 Sibling relationships are often the longest relationships to exist throughout a person's life and can outlive the parent/child relationship. (Just writing about that reality makes me weepy.) The sibling relationship is unique — what other person can you love with all your heart, share inside jokes with along with an inexplicable mutual understanding and then suddenly have an all-out argument only to be totally fine with each other the following week as though nothing had happened? Nobody else but a sibling. See? A special relationship indeed.
My sister and I were always close growing up — still are (don't even ask about our pointless, drawn-out overanalyzing conversations concerning AMC's "The Walking Dead" season finale recently — I can't… I just can't… Rick!?!). As kids, we dressed alike and performed at church events together (anyone know that song "Sisters" from White Christmas? that was us). We each got married within months of each other. We were once pregnant at the exact same time. The funny freak list goes on…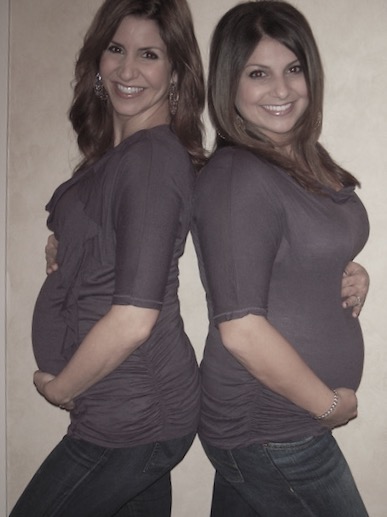 One thing my mom always drilled into our heads growing up? That we'd be great friends… or else. Even if one of us had some kind of issue with the other on any given occasion, we were always on the same team no matter what. Yes, we had our squabbles, full on fights and episodes of envy. Why doesn't she have a curfew? Why did she get a better first car? Why this why that why why why?!? But, our job, as sisters, was to be supportive of each other or else. (And yes, it was sometimes a threat… "or else"…. sure, maybe it could've backfired, but it didn't. It worked.) Because we were (ARE) sisters.
Do I pull some of these same vigilante parenting tactics with my girls? Of course. I shoot from the gut, I read new ideas, I shoot from the gut, I research certain methods, I shoot from the gut again. That's parenting.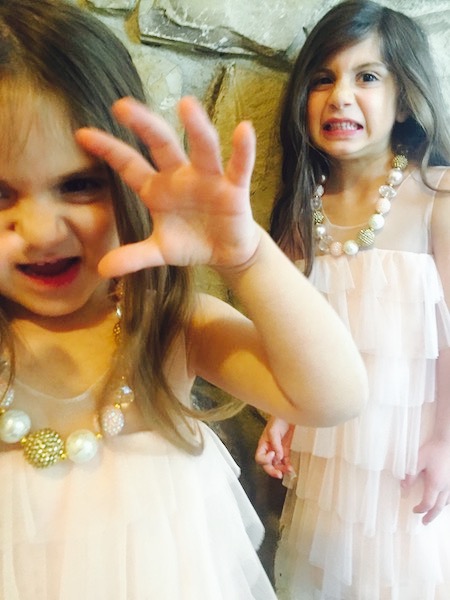 But, as similar as my girls are with their likes and onstage activities I've been trying to accomplish something very specific lately: I'm trying not to compare them to each other. It's hard since they're so damn close in age (16 months, ladies and gentlemen). But, they are different people and I remind myself to pay attention to each of their fortes and needs and act accordingly. LadyP is a bit shy, LilMiss is a ball-buster. LadyP rocks at putting together crazy complicated puzzles, LilMiss would rather roll herself up in her fuzzy blanket and just laugh until someone comes to tickle her. LadyP eats veggies like no big deal, LilMiss won't touch 'em and makes a big production about removing them from her plate immediately (I'm working on it, Dr. Tanya). And as tempting as it is for me to scream "Why can't you just eat veggies like your big sister does!?!?!" at dinner every night — I refrain. Because they're two different people.
A brand new book about not comparing big sisters, big brothers, little brothers and little sisters to any of their siblings — in the name of fostering each kid's sense of self esteem — is giving me added motivation these days. Miles is a Mighty Brothersaurus is a sweet and clever story by The Mother Company packed with pictures and an important message for parents and kids who might be seeking support with sibling rivalry.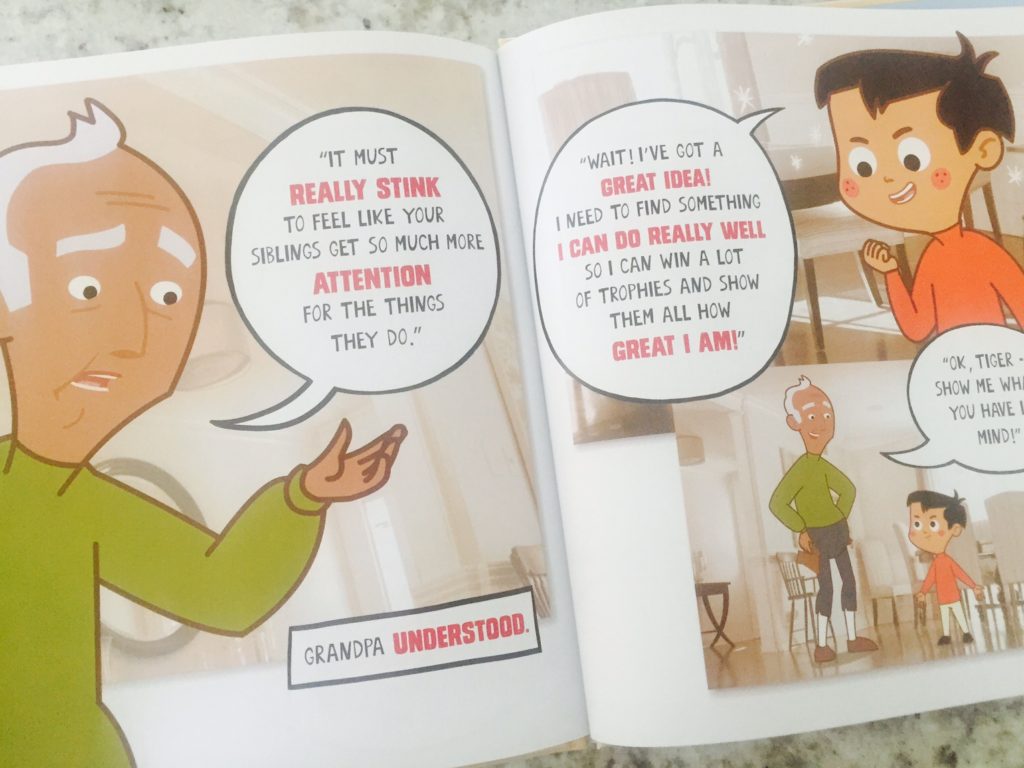 (In fact, TMC's Ruby's Studio has a whole lotta cutesy fun for your TV and computer for ways to foster positive sibling relationships… videos about sharing, birth order, welcoming a new baby and beyond.) So I've been noticing. And listening. And learning. And reminding.
Besides not comparing, a few other random methods I tend to implement at home for the sake of building their friendship:
I don't require they share all toys. Some toys are special and belong to only LilMiss or LadyP. How would you feel if I made you share your most favorite and special shoes that you've worked so hard to keep nice and clean and looking like new?
I sometimes separate them when it's time to play. This often comes in a "It's time to stay away from each other for a bit" command if they start bickering over who gets to hold what doll when, but I also ask them to do their own things just for the heck of it too. How will they want to get along if they don't 'miss' each other now and then?
I request they help each other live life from time to time. LadyP, will you please help LilMiss unbuckle her carseat so we can get out? LilMiss, will you help LadyP and carry her cup to the sink after dinner? Friends help each other… so I figure, sisters should too.
Friendship After Babies (aha! F-A-B!) is a big deal with me because these little ladies have a lifetime of a relationship ahead of them — ups, downs, in-betweens, fights, celebrations. And I'll be damned if they're not friends forever.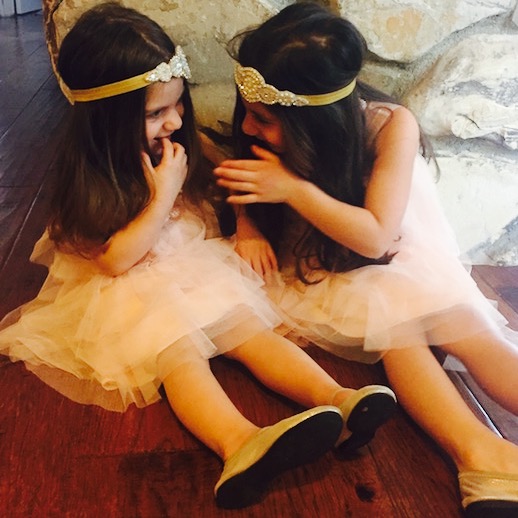 DISCLOSURE: TheFABMom was provided complimentary materials and resources from The Mother Company for consideration of coverage for Siblings Day, April 10, 2016. All opinions are my own.