Happy Birthday to me. Happy birthday to me. Happy birthday to me-eee, Happy birthday to me. Why so egocentric? Because I'm telling myself I deserve it in the name of conquering working mom challenges, bouncing back and being resilient. We all deserve a little ego boost now and then. Yes, I'm talking to you. Sometimes it's the only thing we can lean on the get us through.
And to think, just 4 days ago I had what my husband calls a complete nervous breakdown in my kitchen around 7:30am. (It was not a complete nervous breakdown. Please. Husbands can be so dramatic sometimes.) But it was a morning flip-out. In a robe and slippers. There might have been tears involved.
Why? Because, after a full 10 days of being sick the week prior – TEN DAYS – with a sore throat, headache, body aches and snot and coughing, I unexpectedly woke up that day with what I thought was pinkeye… on the day I was going on air again to do a much-awaited TV segment for KCAL9 Los Angeles' News at Noon. (Keep in mind it wasn't pinkeye, but it looked like pinkeye to this non-medical gal.) My right eye was red and pink and puffy from the inside out. And my mom, sister and two darling nieces under the age of 4 were coming to my house that day to visit for a few days. And I had no milk in the fridge. And I was committed to emcee a benefit gala Saturday night. And I was committed to speak and moderate panels at Momfair all day on Sunday. And my birthday was coming up and I didn't want to be sick AGAIN.
So I flipped. But I carried on…. because that's what moms do. (The irony? My segment was all about 'bouncing back' — aha, time to live what I'm preaching here. Gotcha.)
I cried for about a minute and a half in my pink robe and slippers and looked at the kitchen clock: 7:30am. No time to cry. Minutes were ticking. Problems needed to be solved. I went into dictator mode:
Husband: Can you please drop the 5 year old at school at 8am and then pick up some eyedrops from the store before heading out to work? (I once read somewhere that a wife and mom is only as powerful as how much her husband is willing to step up to the plate when she desperately needs it. I needed it. So I asked. He stepped up. I threw together my daughter's lunch and sent them out the door. Thanks babe.)
3 year old: Let's get dressed NOW so I can figure out my eye situation. I dressed my younger girl for preschool, threw on a big sweater and sunglasses to not frighten other preschool parents with my puffy red eye, threw together her lunch and dropped her off at 9am. (By this time my Hubs had returned with Visine and helped me drop them in. Because, you guessed it, up until this point in my life I'd never used eyedrops before thanks to my unreasonable fear of putting anything in my eye. Just call me Rachel from Friends — remember that episode?) I actually like eyedrops now and think they're the most brilliant invention ever, if you're wondering.
For myself: Don't panic. Returning from preschool drop off, I actually stood in my kitchen and did a zoo-loo voo-doo thing. I closed my eyes and took three slow, deep breaths. Inhale, exhale. Inhale, exhale. Inhale, exhale. (Remember to put the key under the flowerpot so my sister can let herself into my house since I'll be at the station…) My heavy breathing took all of 1 minute and it saved my sanity.
Working in television has taught me how to handle many crazy situations, but the most important lesson has been: One minute of time is a lot longer than you think. If you just stop for one minute, it can save you time later. Big time.
My brain and body calmed down. I looked at the clock: 9:15am. I had a whole one hour and 15 minutes before I had to leave my house to get to the station on time. I eye-dropped again. The red was fading away. Is this pinkeye? Doctor Husband said it's not pinkeye. But what if it is? Neither of my kids have had pinkeye?!?! It wasn't pinkeye. (However, I do think it was my 10-day cold manifesting itself in a way that I would pay attention to my health. Point made, Pinkeye.)
I curled my hair. I put on my face. I pulled on my Mother Tuckers. I eye-dropped again. 10:35am.
I got in the car. I drove. I made it on time. I eye-dropped again (on set, during the weather report — hoping that Garth Kemp wouldn't catch me and ask me why I was taking a selfie in the mirror with him against the green screen).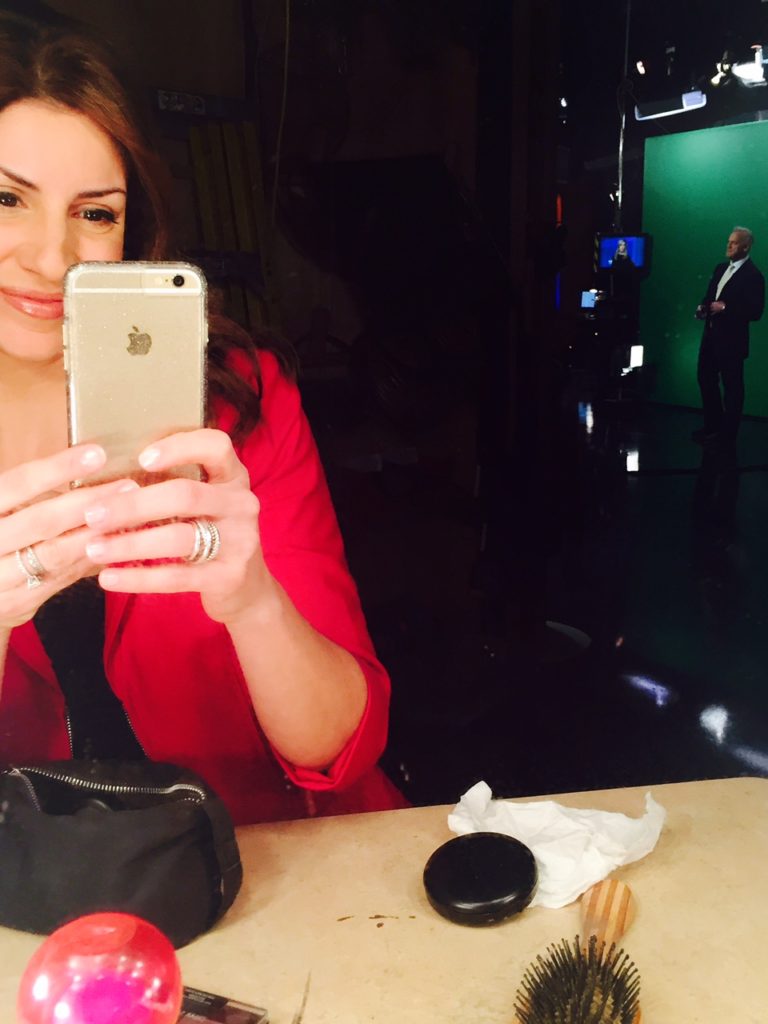 By now my eye was clearing up. No more red, just a little pink. Let's get a closeup of that, shall we?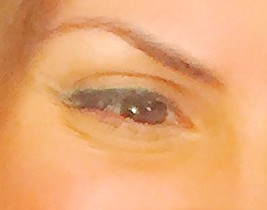 Thank you Visine. Thank you Lord. Thank you good lighting. I smiled. I talked. I finished the job. (So fun.) I tried not to touch anyone just in case.
I breathed again. And figuratively patted myself on the back (just a little bit) because every single one of us needs to pat ourselves on the back… just to maintain our positive relationship with ourselves. Spouses can help, kids can give you hugs, but we must pat ourselves on the back.
My family arrived and let themselves in my house with the key I hid for them. We birthday-ed it up the next day. I emceed and moderated and spoke on panels over the weekend (thank you cough drops and hot lemon water). I was slowly getting better. (Had I just rested my butt for a whole day, I'd have been better, faster. But we all know sometimes that's not possible.) And that was that. Not much more drama besides that minute and a half in my kitchen that morning. A minute to cry, a minute to breathe. That's what it took. Just like Liz Taylor once famously said: Put on some lipstick, pour yourself a drink and pull yourself together. (I think she said that?)
Breathe. Breathe when you don't think you have time. Working mom challenges, stay-at-home challenges, work-from-home challenges… they're all bitches that affect us. But we must breathe. Because we do have time. (Even if our hearts are pounding and it doesn't feel like we have time.) One minute is longer than you think. Because all it takes is one minute to reset so that we can mom, wife, work and repeat. I think the modern kids these days are calling this 'mindfulness.'
Because we've got more things to do. Because we've got more birthdays to celebrate with moms and sisters and nieces. And dolls. Don't forget the dolls. And definitely don't forget the pink champagne cocktails.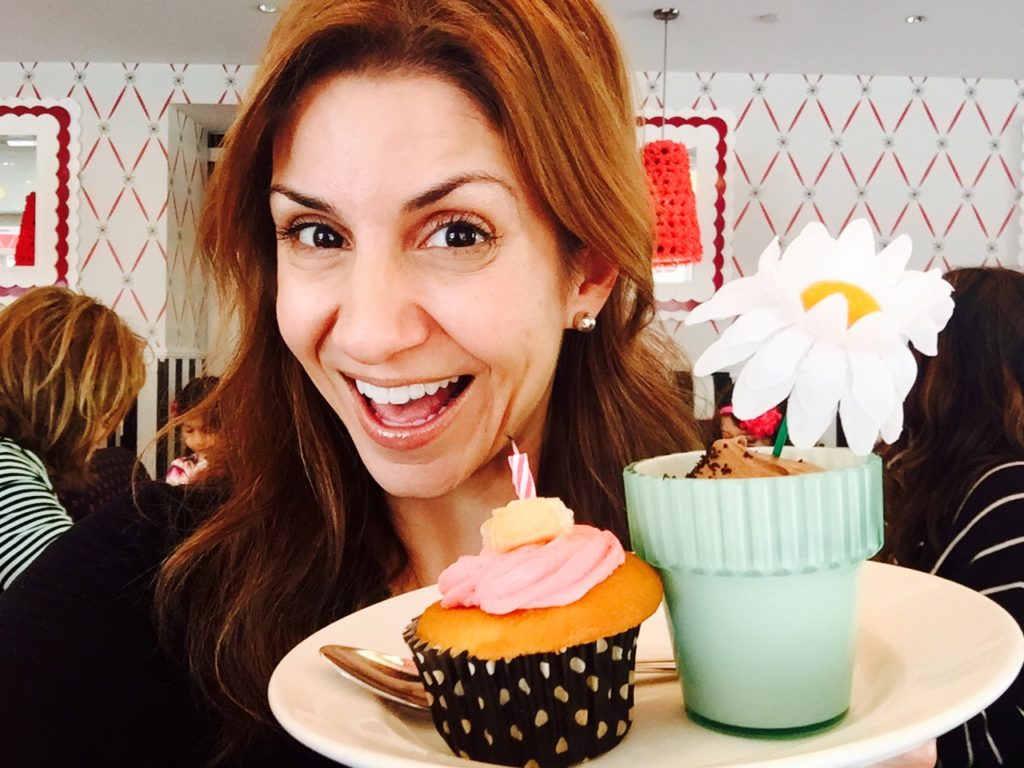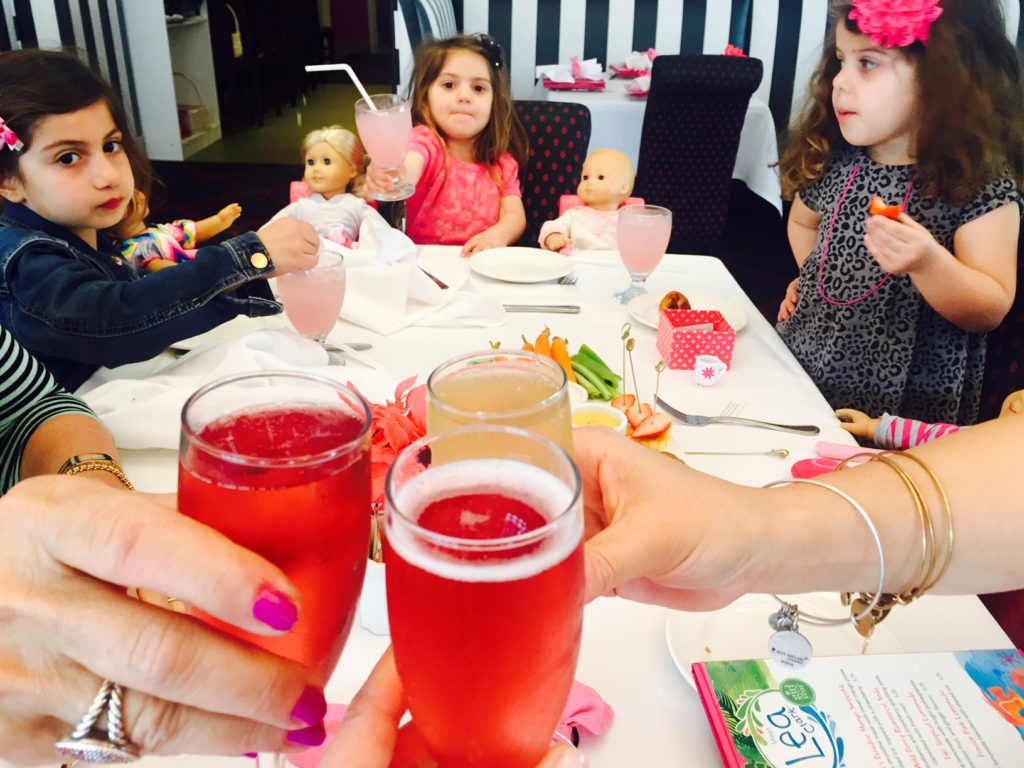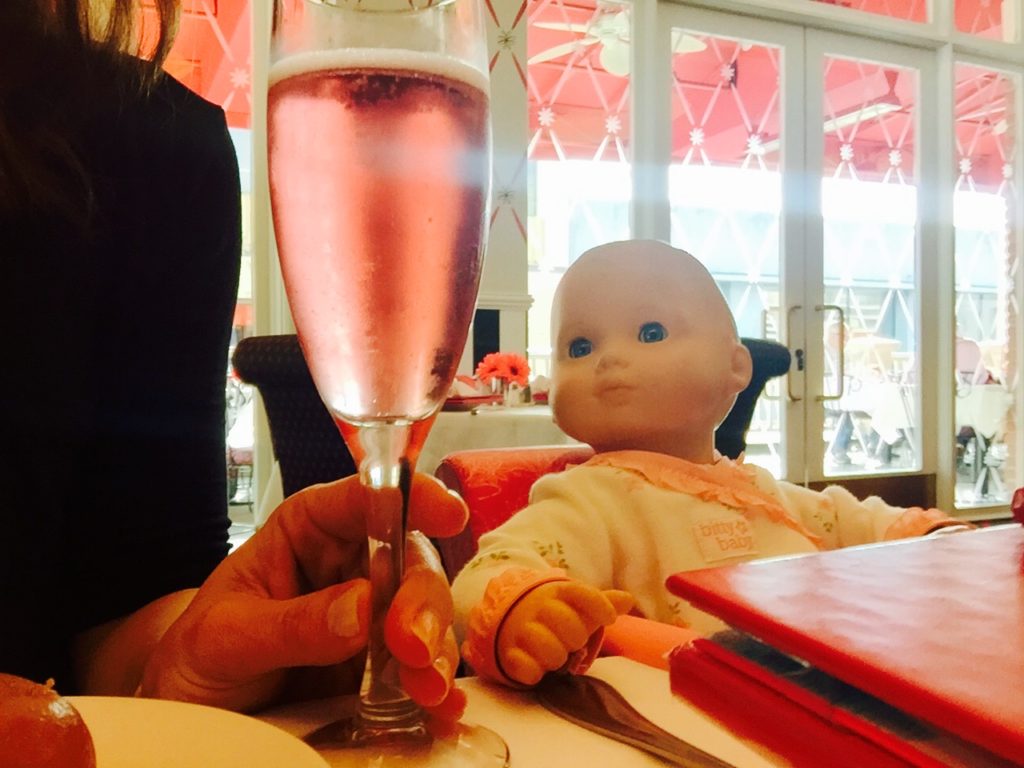 Let it be noted: I did rest – in my bed, uninterrupted – in between my commitments this past weekend. Make no mistake, taking care of yourself and stopping when you need to is the cornerstone of the pulling-yourself-together mantra.