DISCLOSURE: This post is part of a sponsored partnership with The Ranch at Laguna Beach located in Southern California. All experiences and opinions involving husbands, wives, a good weekend getaway, boring parents and homemade smoked bourbon bacon cinnamon rolls are mine. 
Fine. I'll admit it. I was a little freaked to go on a mini-getaway with my husband. Yeah, we live together and are happily married… but it's not like we're used to being alone together all the time these days.
What if I'm boring? What if he's boring? What if we don't have enough to say to each other to fill a whole 24-hours without our kids interrupting us? What if we're boring together? 
I took my chances and made the effort anyways. We headed out to The Ranch at Laguna Beach, a [currently under uber-cool renovation] local spot a little more than an hour away from our home. It was like we landed in another world…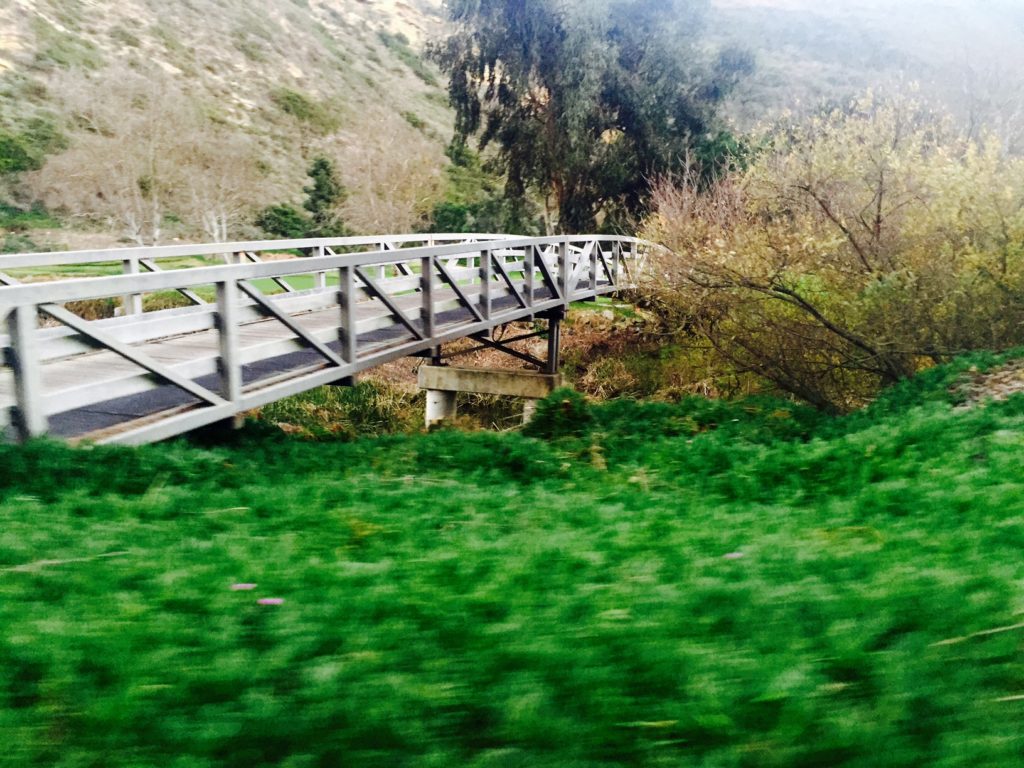 Serene. Peaceful. Quiet (major bonus, considering my ears are usually ringing with constant kiddo jibber-jabbering all day long). Smack dab between some of the most gorgeous canyons I've ever seen.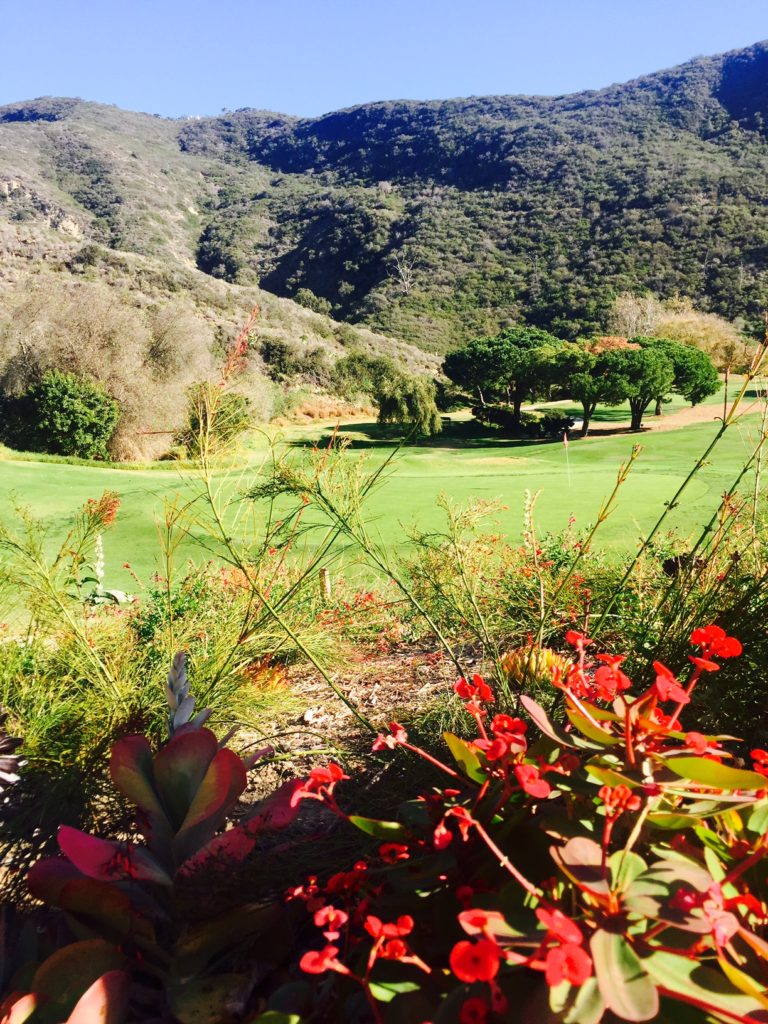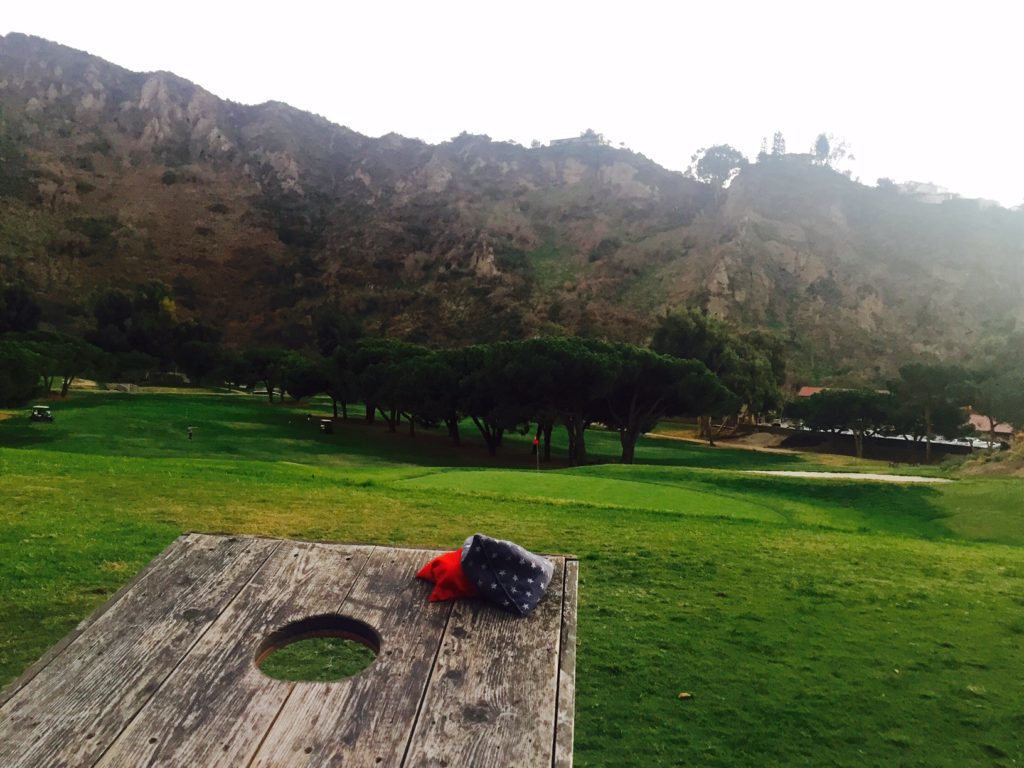 Too bad Hubby and I are already married… this is a cool place to have a wedding. (Anyone getting married summer of 2016? I'm giving you a tip here… the bride's room they've got happening is incredible and has the biggest mirror you'll ever see.)
This place feels so hidden, you'd never guess the beach is just across the street (on the other side of the canyon, yeah, but there's this nifty underpass you can cut through to get there quick). And yes… that's a 9-hole golf course — which was crazy-popular with all kinds of local players while we were there. (It's the only golf course that's been in Laguna Beach since the 50's — a bit of local history there.) But we don't really play golf, so we headed to our room.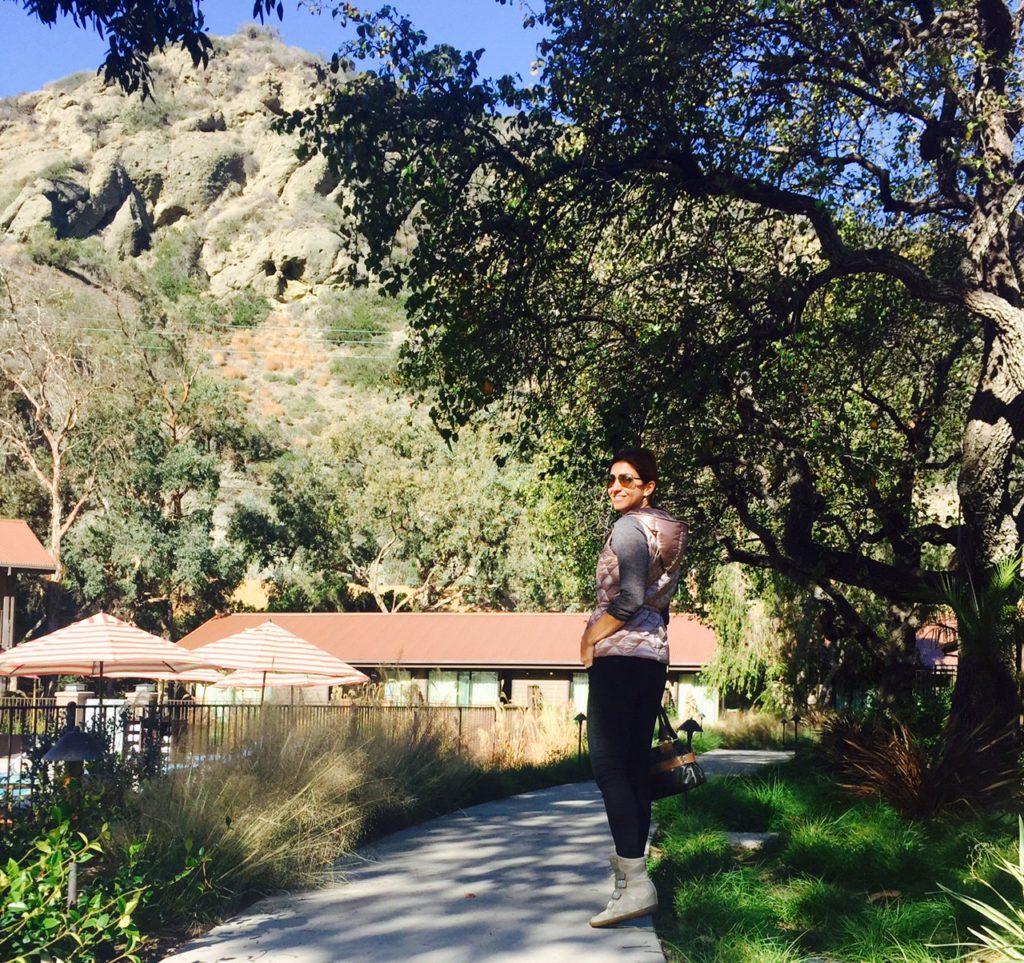 That's the pool to the left and some of the rooms right ahead of us. The property is sprawling and modern, but the vibe is 'cozy/lodge' (if that makes any sense?)… I immediately felt relaxed. Luxuriously relaxed.
For the record: Hubby and I had enough to talk about up to this point, no problem (whew, relief). Although we did have a very heated debate about whether there'd be a microwave in our room — I believe my exact words were: "No way will there be a microwave… hotels don't give you microwaves in your room."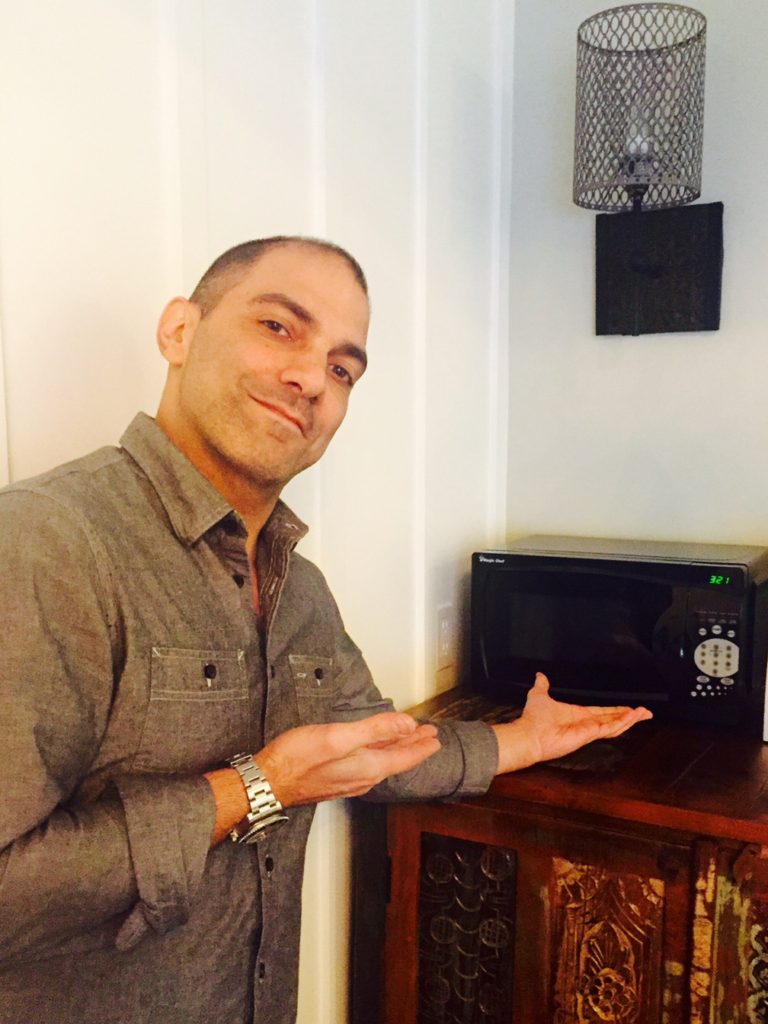 So I was wrong. But whatever… I was too busy scoping out what felt like our brand new chic & roomy private condo… we generously ended up in the Creekside Suites. (We saw ducks and everything!) I quickly thought about extending our stay past one night.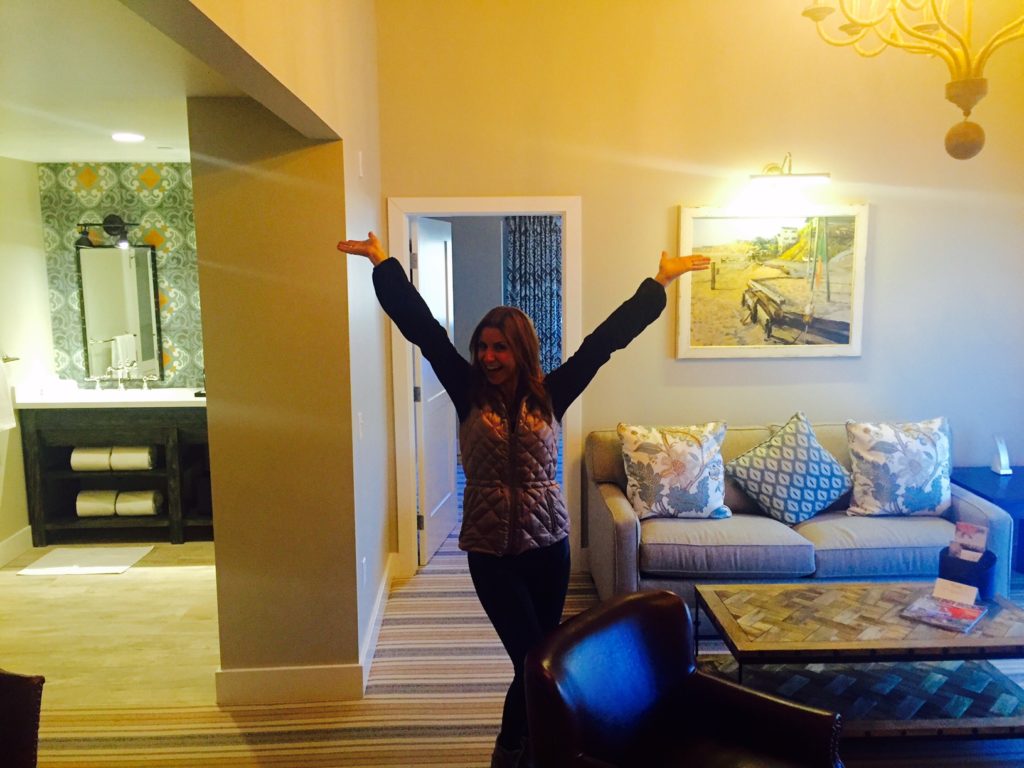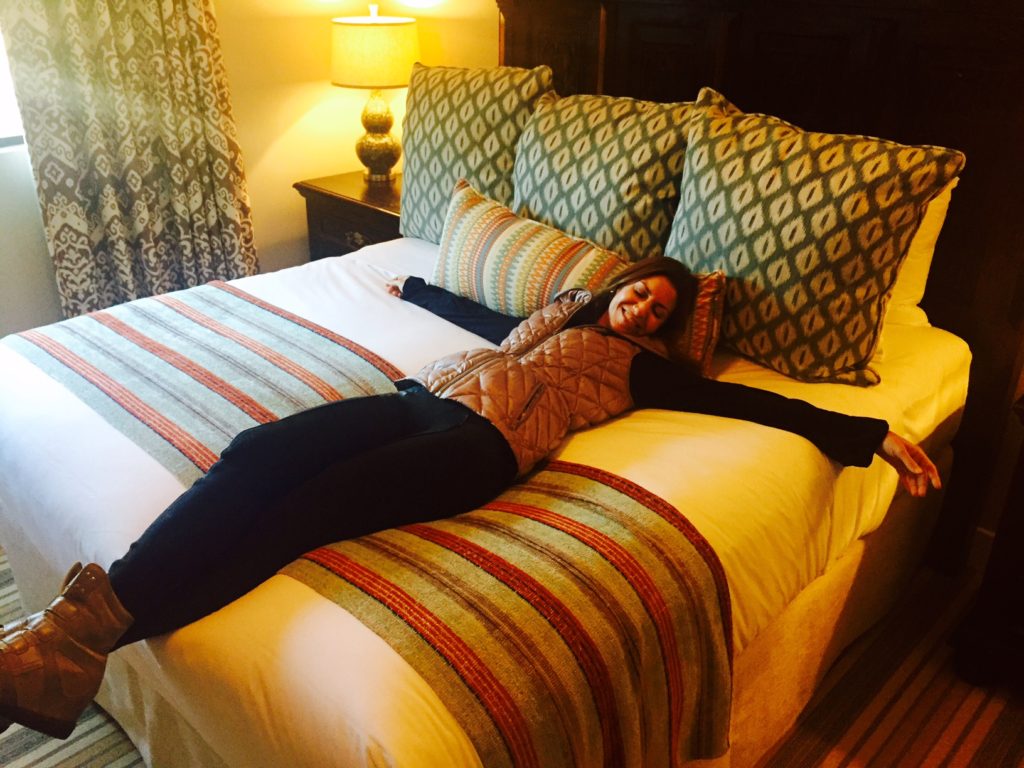 I would've fallen asleep right then and there if it wasn't for the fabulous farm-to-table snack trays with fancy meats and cheeses waiting for us! (I believe the legit description of a platter like the one just below is called 'charcuterie' — but I'll call it a snack tray because I'm used to dealing with Cheerios and packaged string cheese for 3- and 5 year olds most days. You get me?)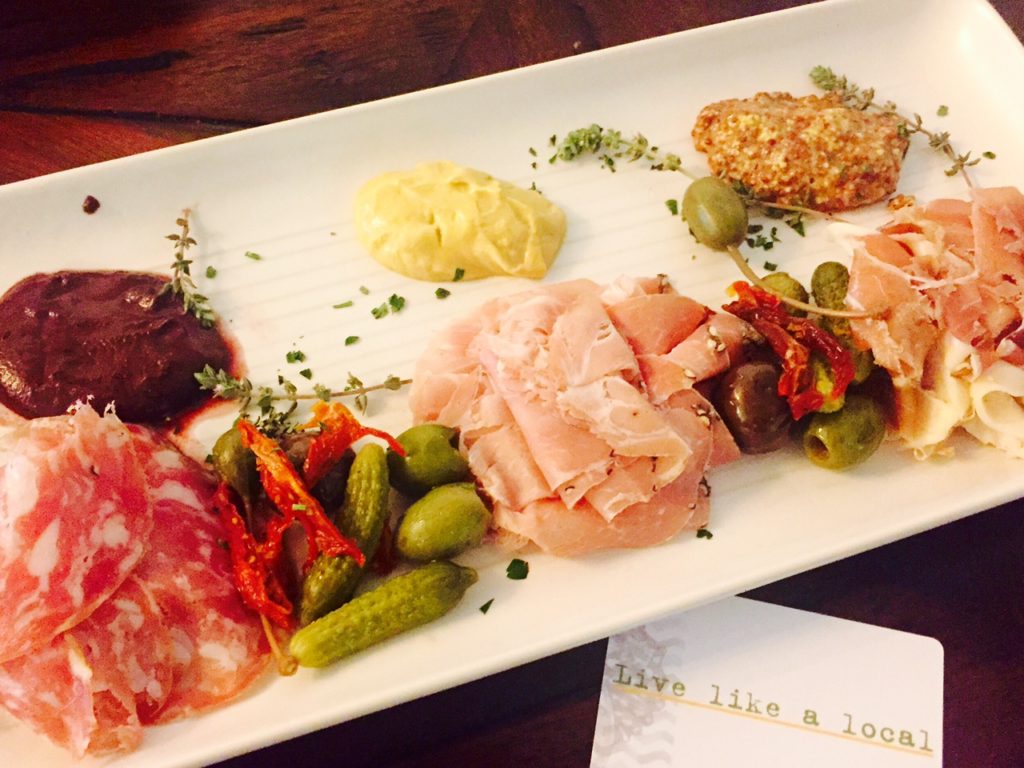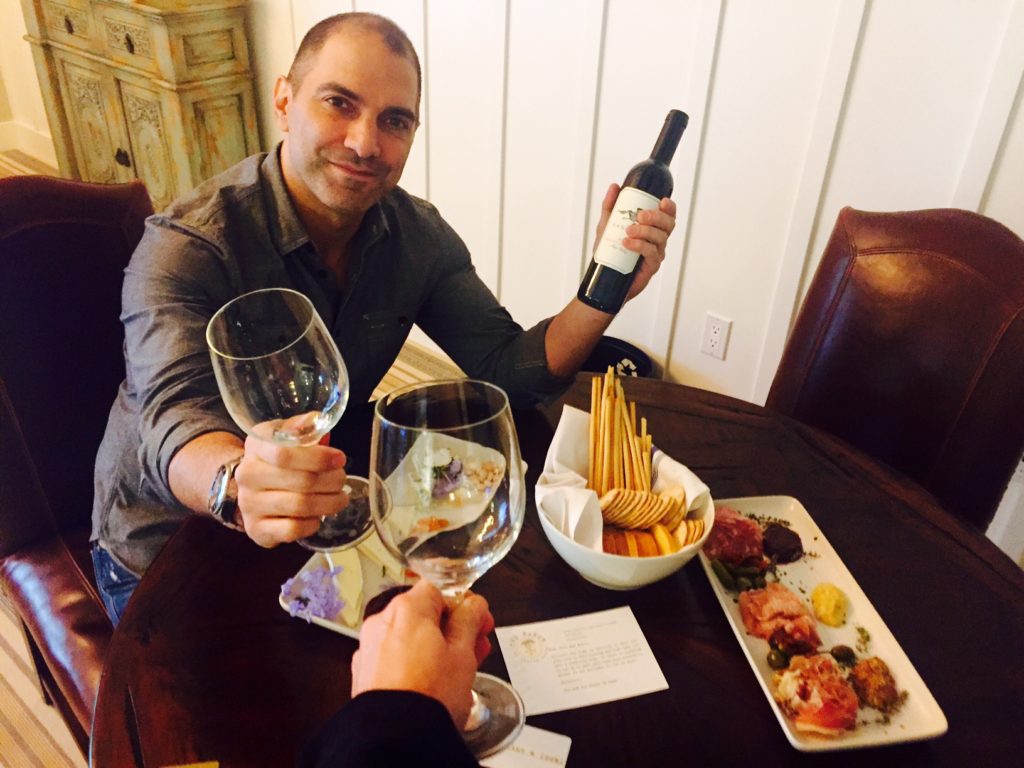 We ate and drank like we'd never seen food before. One of the things The Ranch at Laguna Beach has been known for in the recent years of it's 50-year local-icon existence is the farm-to-table philosophy and practices (they have gardens on the property to grow some of their own food… and the rest of it is from sustainable and responsible local farms). These 'snack trays' of ours (ha! sorry can't help it) were DELICIOUS. It was almost embarrassing how fast we gobbled everything up with such joy. (For the record, this was the only part of our trip that we didn't talk to each other because we were too busy enjoying the food so much…)
Ok. So we're still hip. Not boring yet. Drinking wine and everything.
Not boring at all… until it was time to freshen up and go to dinner. Do we have to get up off this couch? (If it matters, we were watching a Frank Sinatra documentary about all his ups and downs and scandals with women….) OK: Officially old and boring. But still talking to each other and having fun, so that was good. 
We got up, dressed up and dined at one of Laguna Beach's new farm-to-table hotspots in the main part of town — 370 Common. To. Die. For. TRUST ME. And then, like two tired and boring parents, we headed back to our room after dinner and got lit.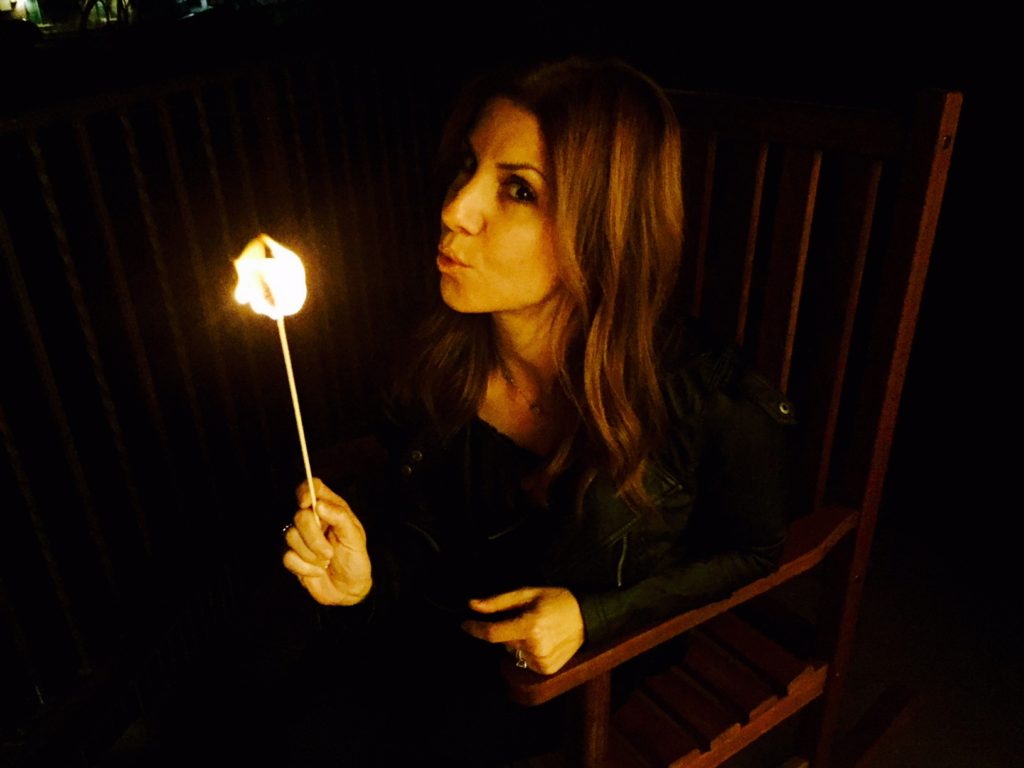 Yes. That is a roasted marshmallow on a stick… in a rocking chair on our balcony. Can't help it: You want what you want. And if you want something, just ask the nice staff at The Ranch at Laguna Beach to make it happen. (Nevermind that we returned to our room at the same time a few of the young and hip staff members were setting up this whole s'mores scene… right around 10pm. 10pm?!?! I think we scared them. Made me laugh. 'What nerds these people are,' they must've thought. Sorry kids, we come home early these days… we get pooped out fast.)
The good news? Hubby and I hadn't yet run out of things to talk about and were still having fun — even if some of the staff might now consider us boring parents.
The BEST news? We slept about nine hours that night — without a 3 year old climbing into our bed and wedging herself between us.
The next morning involved an outdoor breakfast on the main patio, a sublime carrot smoothie, the most decadent brioche french toast you can imagine (involving hazelnuts and chocolate) and a homemade smoked bourbon bacon cinnamon roll.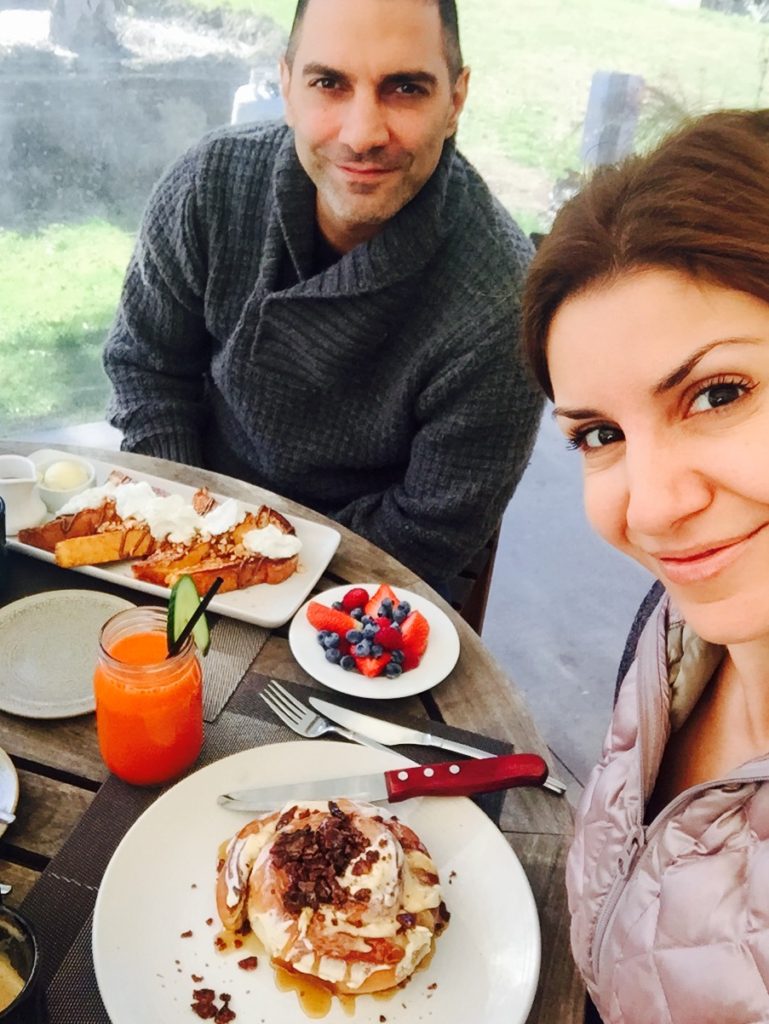 What? Oh. Let me repeat that: A HOMEMADE SMOKED BOURBON BACON CINNAMON ROLL. (It was almost the size of my head. I pretty much ate the whole thing. I'm not kidding.) Unsurprisingly, it's one of the most showstopping breakfast items The Ranch at Laguna Beach is known for. I'm game to go back just for this. (Now I want one again.)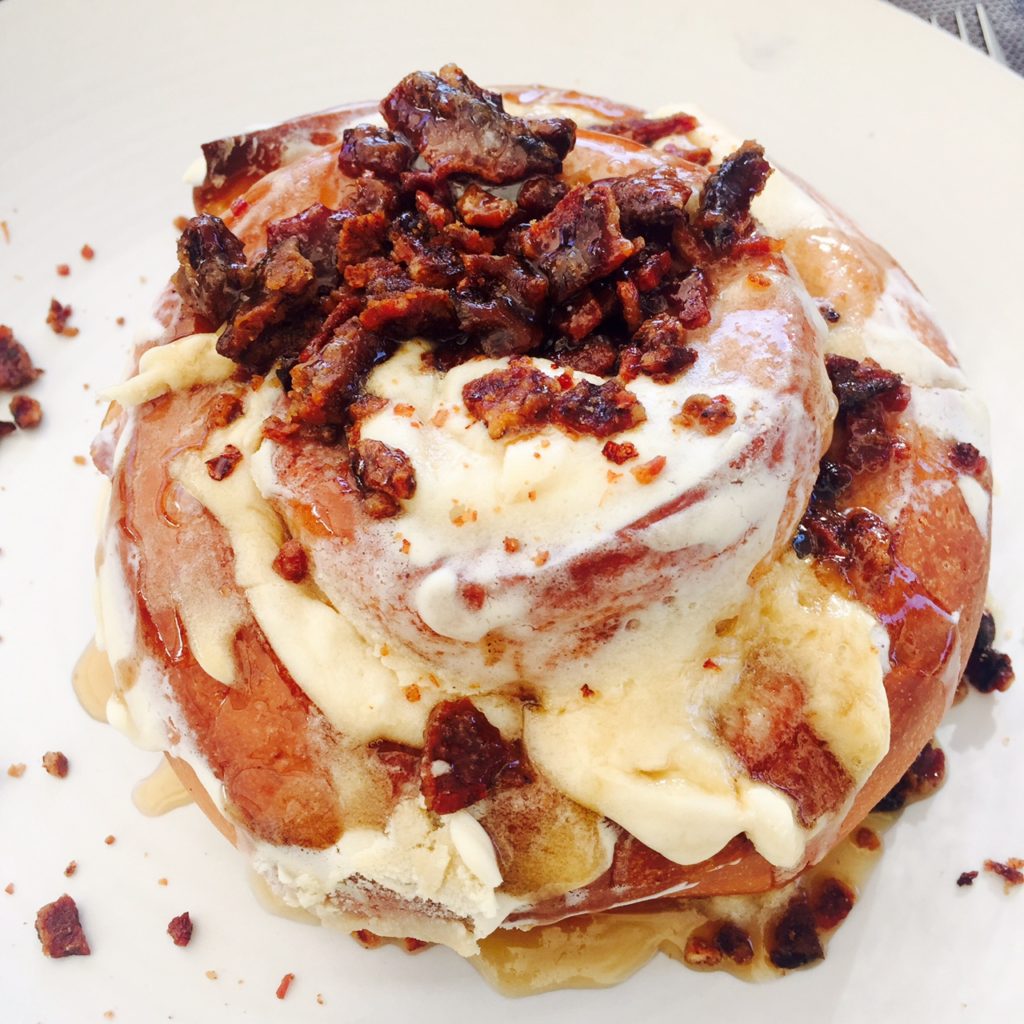 What a beautiful, restful and refreshing weekend we'd had. Not to mention some of the tastiest food I'd sampled in a very, very long time. And fun alone-time with my cute husband. (Yay! I still like him. And I think he still likes me.) We could've gone on a spectacular hike in the canyons. We could've bar-hopped all night. We could've stayed awake to see the sun rise on the beach. (Instead, we opted for an in-room massage… which was amazing.) At the end of our trip, I asked him: Does the fact that all we've done is eat and drink and be lazy and sleep make us boring? 
His answer then scared me and made me smile simultaneously: "If that's boring, I'll take it."
I'll take it too. But if you call us boring parents, I'm coming after you.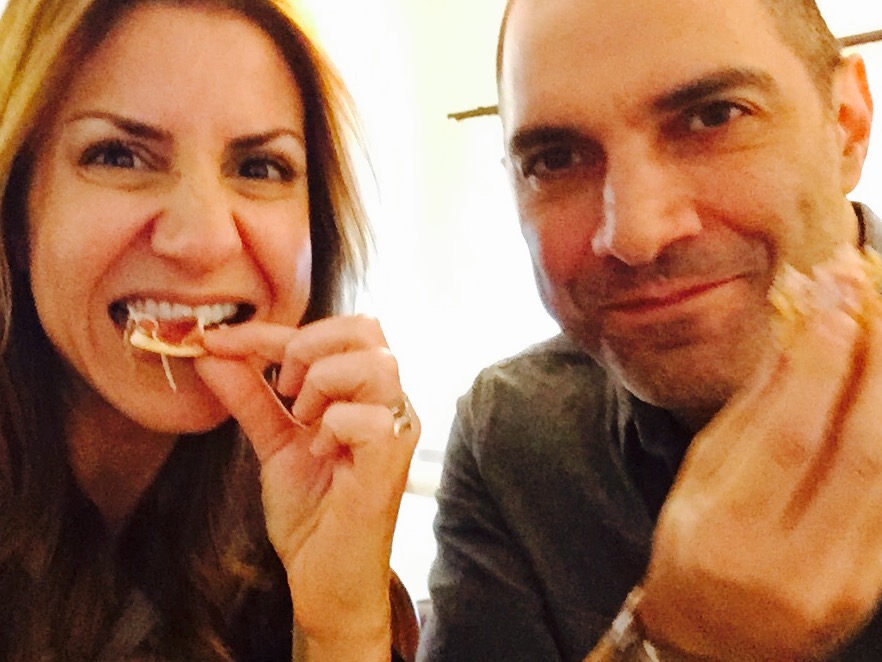 Although still under renovation, The Ranch at Laguna Beach is accepting reservations now for pre-opening sneak peeks in preview rooms. Official property re-opening is slated for June 2016, and will include a spacious and brand new reception area, spa, ballroom, restaurant/bar as well as several spaces for medium to large indoor and outdoor events (weddings, meetings, parties). The Ranch at Laguna Beach is nestled in Southern California's Aliso and Wood Canyons, at 31106 S. Coast Highway, Laguna Beach, CA, 92651.