You never know where life is going to lead. I used to say that before becoming a mother, but now (5 years in) I actually believe it. I know it. I feel it.
It's true: You never know where life is going to lead. Personally. Professionally. Emotionally.
Last week marked my second live appearance on NBC's "Today Show" within a 6 month period. (I still can't believe it… I've been floating and saying 'thank you God' over and over.)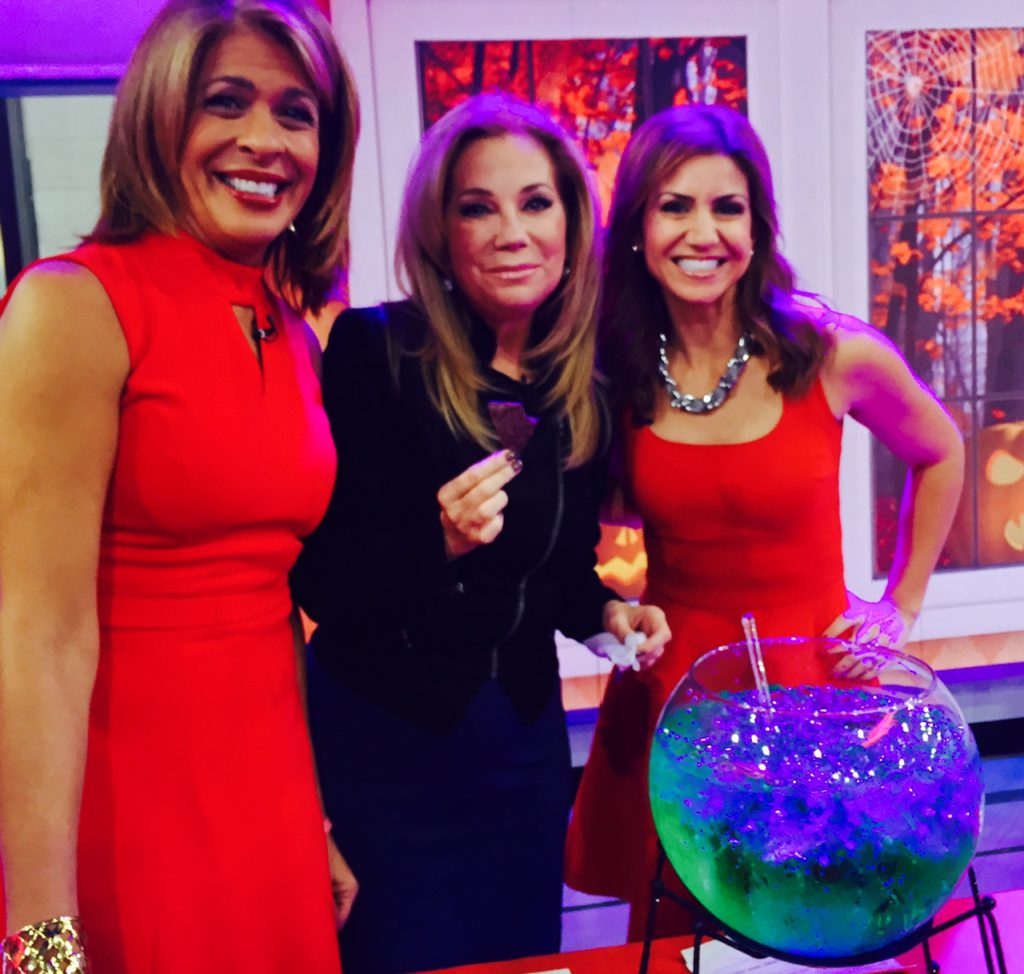 I showcased an incredible, vomiting Jack-O-Lantern (it was Halloween, people).
If you'd told me how this year would go down last year this time, I'd have fallen over laughing in my chair while peeing in my pants a little (meaning, I wouldn't have believed you at all).
If you'd told me how anything in the past 5 years would've gone down back in March 2010, when I was throwing up in the T.G.I.Friday's bathroom in New York City's Times Square, I'd have really lost my gut.
What? Oh yeah. You don't know that story about me vomiting in Times Square's T.G.I.Friday's back in 2010.
The story? I was in New York doing press for a show I co-hosted for a hot 10 weeks on Travel Channel called "America's Worst Driver." I was keeping my pregnancy a big secret — I didn't want producers, my agent or anyone else even remotely associated with the entertainment industry to find out I was pregnant for the sake of not getting booted from the show going into a potential second season (ha — there turned out to be NO second season… it was *that* popular).
While in NYC during that trip, I went to dinner at a hot and trendy new fancy-crafted-burger place (I think it was on 9th? adjacent to Times Square) with a friend I'd worked with years prior to ending up preggo. The irony is that this friend was working as a producer for "Today Show" at the time. I wouldn't breathe a word. I'm only 3 months in. No one can tell I'm pregnant.
Except I ended up having to tell her about being new to the bump club because, after eating a most rich and delicious burger, I felt like I had to puke. PRONTO. I'll never forget: We exited the restaurant, walked back towards Times Square and then I felt IT coming. The vomit. (Just like my Jack-O-Lantern from last week with Kathie Lee & Hoda.)
I thought fast. My choices were: 1) Puke on my friend on the street under the blaring lights of Broadway or 2) run into T.G.I.Friday's.
I ran into T.G.I.Friday's. The restrooms were upstairs (that nearly killed me). I slammed into a stall. I let it rip.
My friend was waiting outside the bathroom, asking me if I was okay.
I'm pregnant! Now she knew. This is the beginning of the end of my career, I thought as I bent over that toilet. That night my friend made sweet and reassuring comments about maybe doing some 'baby segments' on "Today." I remember her words because I held them in my head for a long time… I held them to give me hope that my dreams would not get flushed along with everything else that night. My burger! My dignity! (Who knew her spoken words would actually come true 5 years later? God Bless you my friend.)
After my incident that night, my friend and I hopped across the street into one of those tourist traps and I bought two overpriced baby onesies that read "I [HEART] NY" in the classic black, white and red design. Something for my soon-to-be nugget. Something for me to dress my baby in to remember the times I had during my thrilling days as a television host — because, I was convinced all my adventures in showbusiness would be over once mommyhood became a reality. Basically, I thought all exciting things would be over and done in my life because I was newly pregnant (for the first time).
I still have those onesies stashed (size 3-6 months & size 9-12 months)… somewhere. I now look back on my twisted and naive perspective about what I thought life would be like as a mother and want to slap myself. During this most recent trip in NYC, I passed a T.G.I.Friday's on my way into Times Square. (The one I'd vomited in back in 2010 wasn't in the same location anymore… I have a feeling this was the relocation.)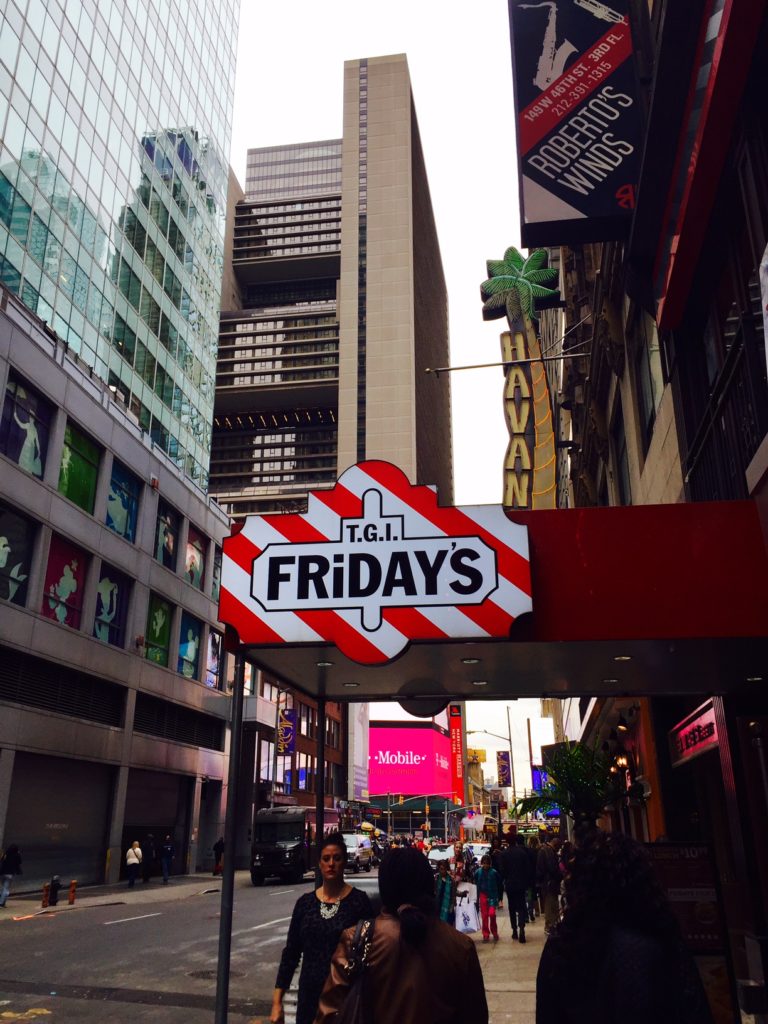 I laughed. I also had a hankering to pop into the bathroom just for old time's sake, but I didn't. I marched on towards Times Square.
Thank goodness I know better now. Thank goodness I now feel so differently. Thank goodness my first baby bursted into my world when she did. Thank goodness I've realized that life is not about how you control your circumstances but rather how you choose to navigate them.
I blame motherhood for making me grow up (well, a little bit anyways). To this day, I can't pass a T.G.I.Friday's without replaying that notorious night in NYC again in my head.
And thank goodness for all the "I [HEART] NY" shirts that still exist in Times Square tourist traps… and the 5 year olds that will put them on so that Mommy can get all weird and weepy and take a picture for her blog.
Lesson learned: You never know where life will lead. Memorize it. Remember it. Remind yourself of it. (I try to every day.) And tell your kids. We can never learn too young…