It happened again last weekend, for the third time. I was at one of my younger cousin's weddings in my hometown and felt IT. I knew the feeling from a few times before. The very first time it happened, at another younger cousin's wedding in my hometown last year, I thought it was a fluke just because I was away from my usual daily routine. The second time it happened, at yet another younger cousin's wedding, I got suspicious.
And now it's happened again. At yet another wedding.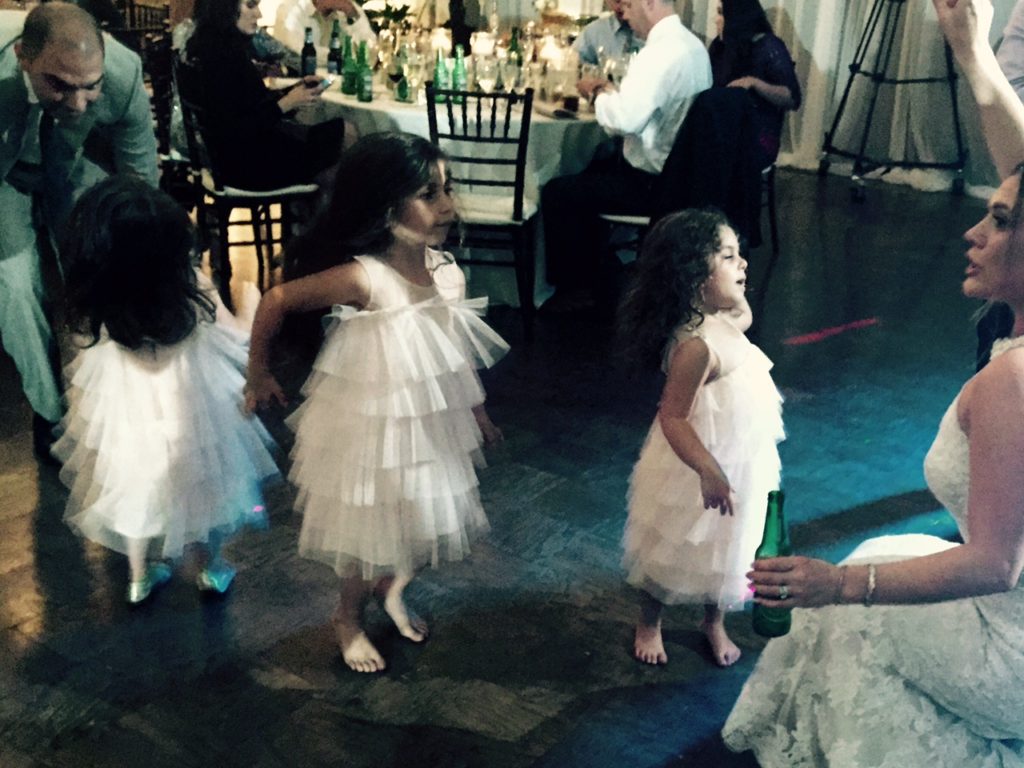 That same feeling. A precise, 50/50 mix of happiness and sadness at the exact same time. Simultaneously. Strangely. Uncomfortably.
Maybe I just have a thing with weddings. Maybe I just need more dressed-up events in my everyday mom life to counter the constant cleaning and feeding and dressing and spelling words out and being the end-all-be-all for my two little dolls.
Or maybe I'm homesick…. for a place I thought was so dull growing up.
Yup. I think I might be homesick.
(Crap.)
This is perhaps one of the most shocking fails I'm admitting to as a mom.
This wasn't supposed to happen. How could I be homesick? How?!? I love living where I live. I love what I'm doing. I love my husband and my family and my friends and the life we have here… away from my hometown.
I was always intent on moving away from my hometown of Fresno, CA…. Since the time I was around age 8 (no joke) I'd proclaim to anyone who'd listen that I was going "to move to LA" when I grew up. I'd tell family members that I wanted to go to UCLA — not because it happens to be such an incredible educational institution, but rather because it had "LA" in it's name. Anything that had "LA" IN it's actual name was surely more fabulous than my small, hometown that so many folks referred to as The Armpit of California (literally, it's location on the map is right where an armpit would appear if the state were an actual person).
There was no reason for my young restlessness with my hometown. My childhood was so close to ideal it was ridiculous. I was a happy kid with lots of family and friends and fun all the time. (I pray my girls remember their childhood like I remember mine.)
It's just that growing up in Fresno, CA seemed so… small. Lifelong options seemed limited… like there was so much more 'out there.' And there was. There is. But, after having babies, Fresno looks and feels so different for me. Fresno After Babies. (The 'f-a-b' sure doesn't stop on this site…)
Before babies, Fresno was hot, boring, too small and painfully simple. Now (after babies) Fresno is family, old friends that you remember going to football games with and neighborhoods you remember casing with friends in your dad's red Bronco with hopes of seeing that guy you had a crush on walk outside his house (don't ask). Fresno is still HOME. There's really no other way to say it.
The more I visit, whether it's for non-occasional trips or big family weddings, the more I feel that feeling.
I blame my kids for my change of heart. I also blame the weddings…
There's something awakening about seeing your girls' dresses hang on the back of the same closet door that I'd sneak into to try on and steal some of my sister's cool tops without her knowing (because she always seemed to have cuter stuff than me).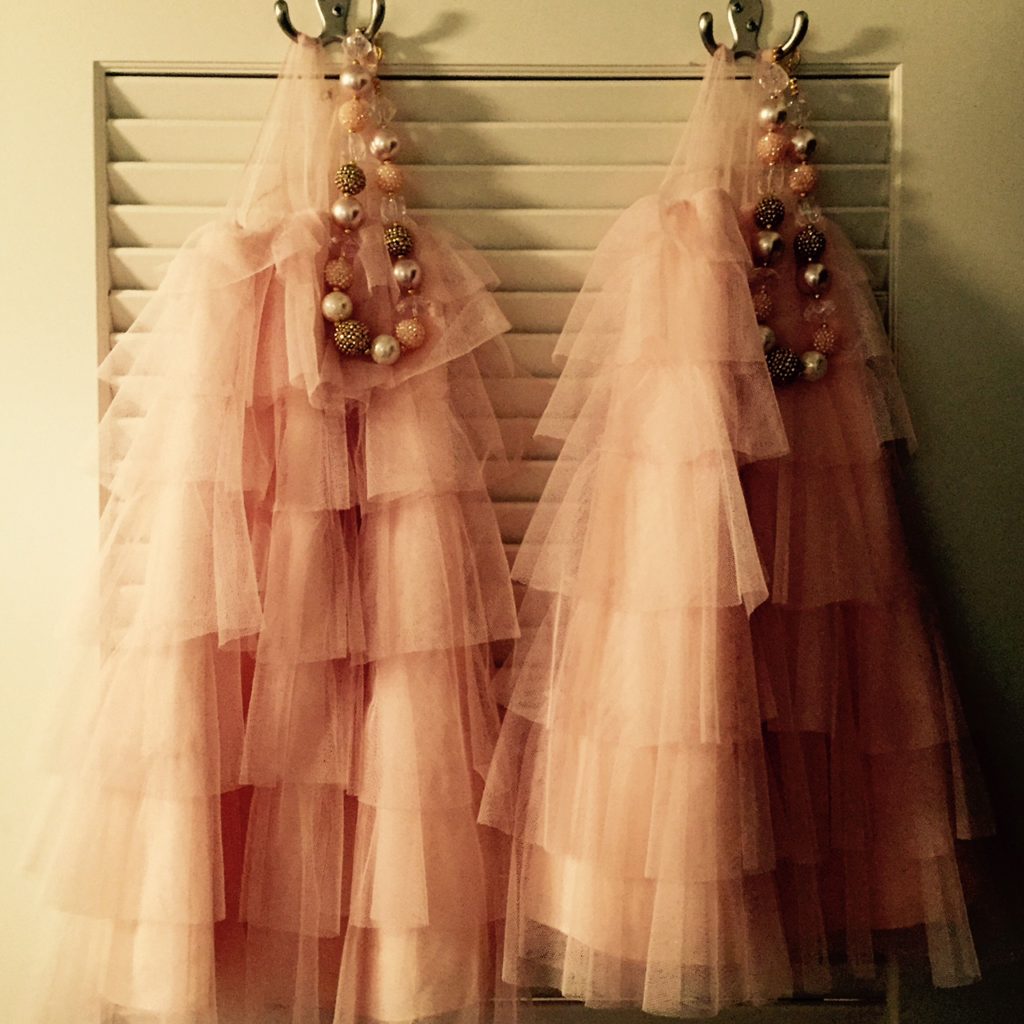 There's something awakening about watching your daughters try to coax an elusive bunny rabbit out of the bush at your grandma's house… on almost the same spot you remember accidentally breaking her badminton racket (while trying to play with your sister… before you started trying to borrow her clothes).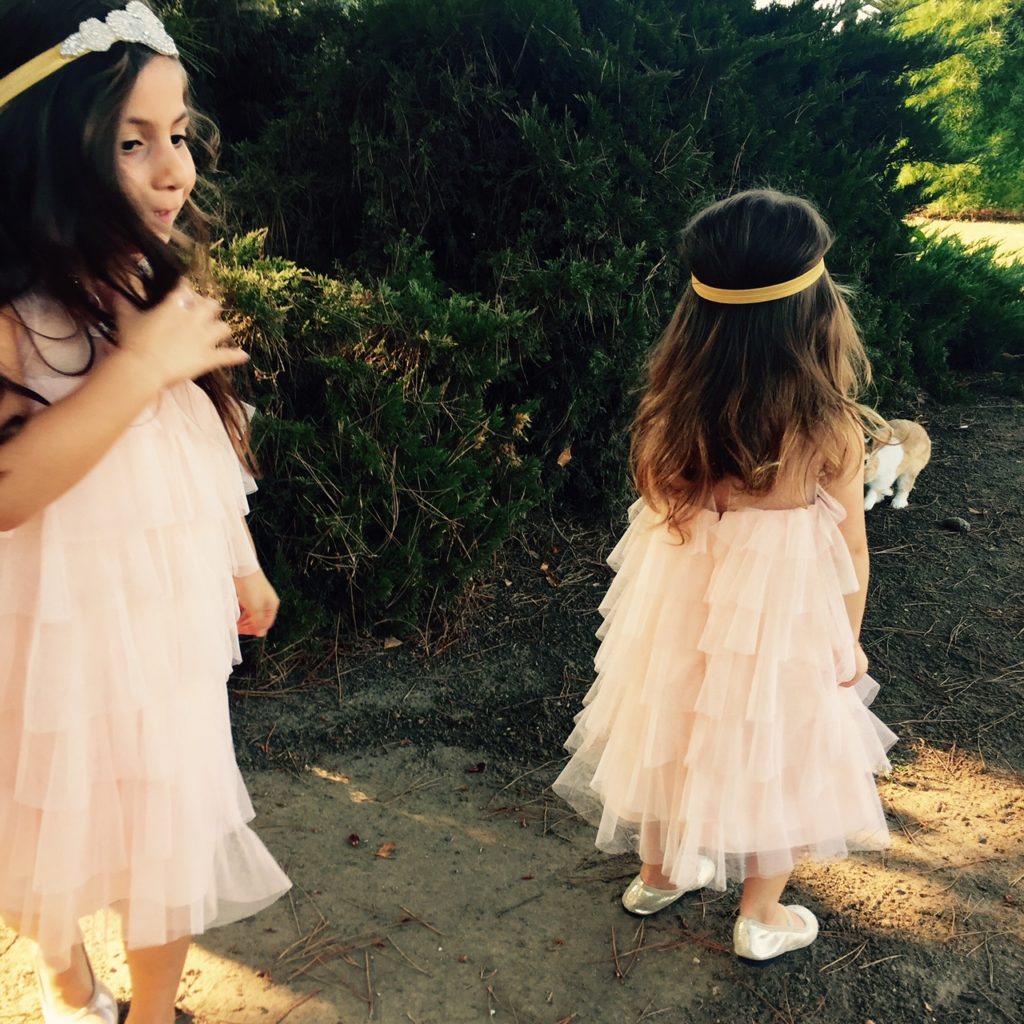 There's something awakening about trying to take a family photo with wiggly flower girls in front of the same church where you were many times a flower girl yourself – and attended Sunday School – back when you were about the same age as your daughters are now.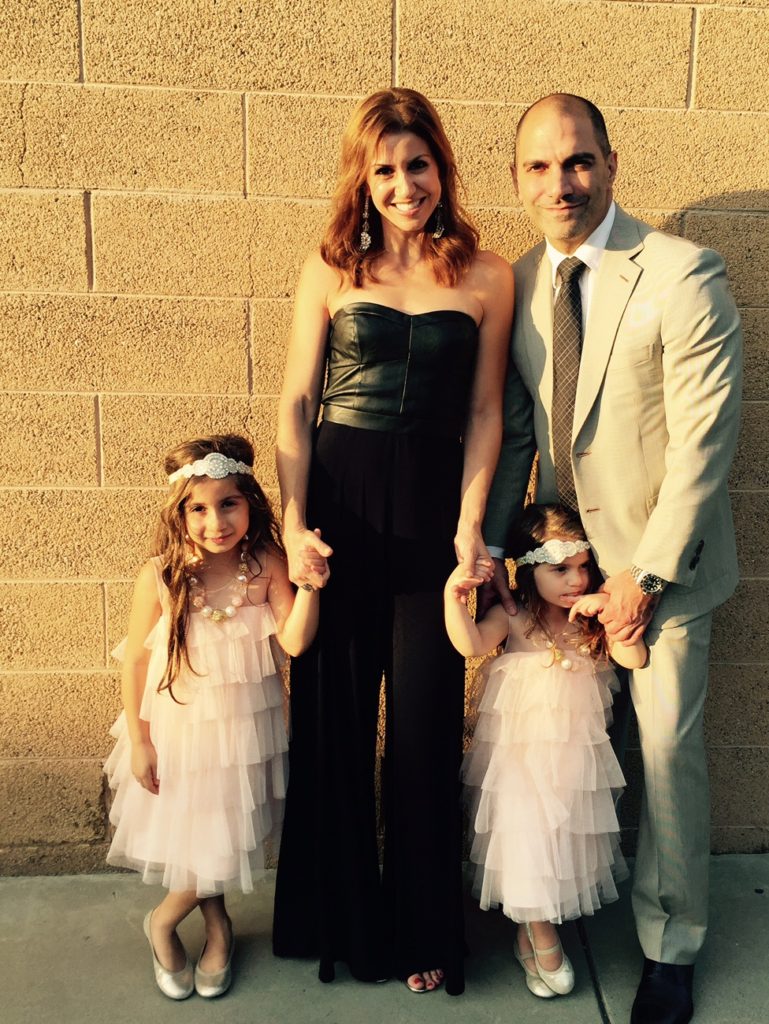 There's something about catching your 5 year old – who just started 'real' school – standing on the same spot in your parents' front yard that you did when you waited for the bus to take you to Kindergarten.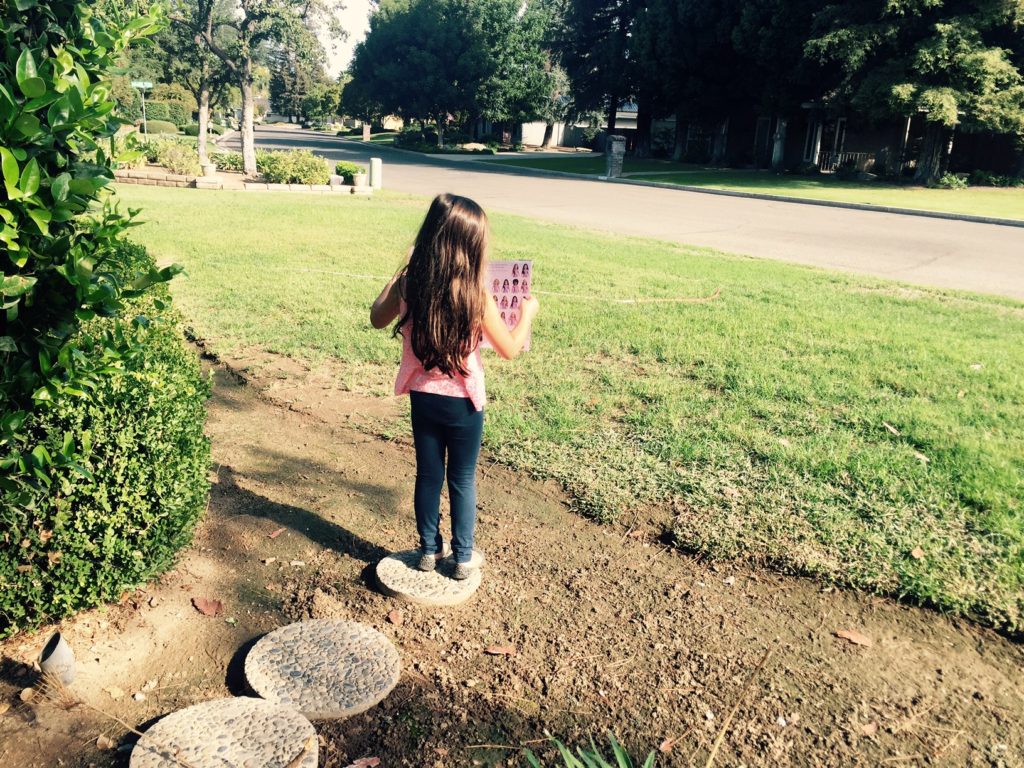 There's something about it all. Something I didn't understand or appreciate until after I had babies.
This year marks the tipping shift of how many years I spent at 'home' as a 'kid' versus how many years I've lived in 'LA' as a grown up. After this year, my number of years living in Los Angeles will surpass my number of years as a kid living in Fresno, and lately I've found myself surprisingly emotional thinking about it. I find myself wanting to take my daughters to Fresno more and more. So they know it. So they don't forget it. So they feel IT too.
Do I want to move back to Fresno? No. But there's a pulling and a hold that I can't quite make sense of and let go of. It's blindsided me. Never in a zillion years did I think I'd ever write something like this (the 20 year old me is flipping out right now). Who knew I'd get so nostalgic about someplace so hot, boring, too small and painfully simple? The irony is, I'm trying to raise my girls with the same 'Fresno' experience I had in this sometimes-overwhelming and mostly-complicated LA scene. Well played, Fresno, well played.
As I write this in my kitchen, (literally, right now!) my older girl just shouted from the den "Mommy! My na-na [blanket] smells like Fresno!" I ask her "Is that a good thing?" She replies: "Yes! And sissy's [sister's] does too."
Done deal.
So let it be noted: I live in Los Angeles (and I love it). Fresno is my home (and I love it). I guess I'll raise Fresno girls who happen to live in LA? Sounds fab to me.