Friendships change after babies. They get bigger, smaller, better or worse. Some friendships last. Some friendships don't. Some friendships end up in a gray zone.
We all learn from our kids one way or another… I'm trying to learn more about friendship through my girls.
When I was a toddler (literally, a toddler) I made my very first friend. She lived across the street in an awesome two-story house. We quickly became best friends. We were inseparable. I remember her mom cutting my hair in our patio (her mom was a stylist). I remember her grandparents buying us matching Bert-and-Ernie slippers. I remember when her awesome two-story house caught on fire and her family came to our house for refuge at night (I'm not hallucinating this, am I, Mom? I swear I remember this…). I remember posing for pictures in our driveways in fabulous bathing suits.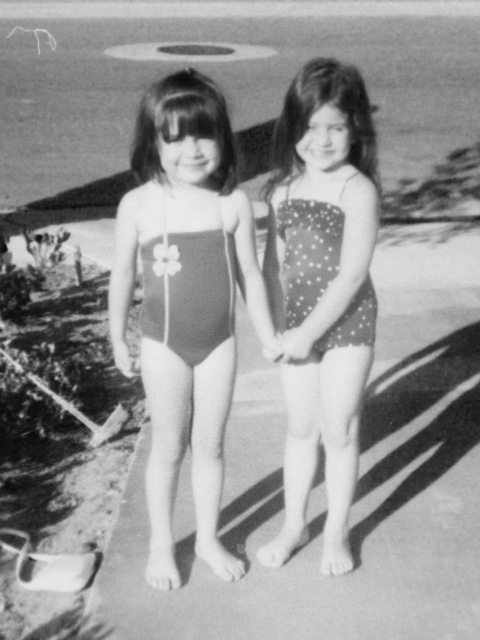 I also remember when her family moved to Idaho because of her dad's work. I was so sad.
SO SAD. (It's funny, after more than 30 years, I remember how low I felt as a teeny weeny little girl because my friend had to move away… I was somewhere around the age of 3 or 4. About the age that my two daughters are now.)
So she moved, we wrote letters and we stayed "Best Friends" (as pen-pals) pretty much until high school. It didn't hurt that her grandparents still lived in my hometown, so she'd visit every summer for a few weeks and we'd play and swim and do all sorts of weird kid things together. Somewhere around high school, the letters got fewer (I wasn't that great at keeping up my writing… to this day I get annoyed at myself for being so lackadaisical about it back then). I kept all of her letters — they're still (somewhere) in my old room at my parents' house… I probably have a hundred of them. We lost touch and then reconnected in person a few years ago… and although we hadn't been in touch for over a decade at that point, our conversation and interaction was easy, natural and fun. Just like it was all those years ago. She now lives near Chicago with two beautiful little girls. (If you're reading this J…. HI!)
She was my first, best friend and she had to go away. It was my first big life change that I fully remember.
That was such a special friendship. I always considered it a remarkable experience to have a childhood friendship like that, but now as a mom I look back and truly treasure and appreciate how unique it was for two little girls – so young – to be real friends like that. Long distance and everything.
I see my daughters' blossoming friendships and sometimes get sappy…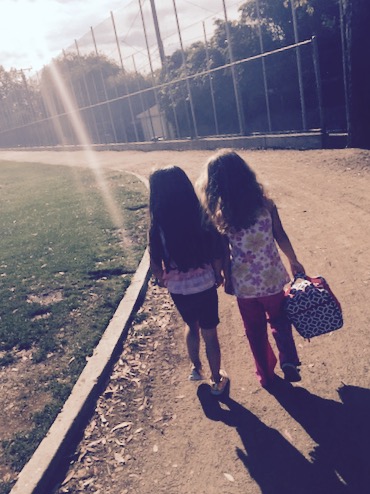 … because I know that so many things their lives – friendships and all – will evolve as they grows up. They'll have great friends, bad friends, confusing friends… some of those friendships will last, some will not. And they might cry about how some things change through their lives.
All of those things are part of friendships… whether we like it or not. Life changes. Kids sometimes must start different grades and go to different schools… even if they've been at the same school and have been inseparable. Lately my older daughter has been questioning me about the future whereabouts of her most special friends: "But why won't we be at the same school next year, Mommy?" Because we live in different neighborhoods sweetheart. "Why won't we be in the same class next year again Mommy?" Because she's starting Kindergarten… and your birthday falls within [California's] Transitional Kindergarten laws and guidelines. (It's true.)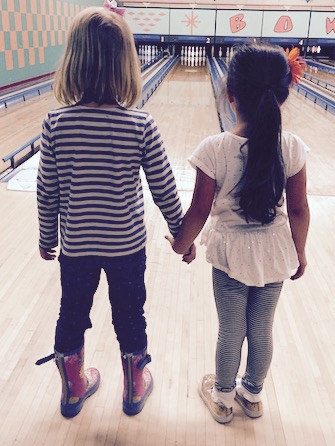 And some friends move far, far away.
I've been weepy these last few weeks (ok, months) because my daughter and I are both losing friends this summer. ('Losing' is totally the wrong word — but thanks to a major, career-driven geographic relocation we'll no longer be able to see our current 'best friends' like we were able to before. My great friend for 20+ years, my 'person,' recently moved to the Chicago area. The irony kills me… maybe I should hook her up with my very first best friend who probably now lives about 20 minutes away from her. I can't make this stuff up.)
It's only been a few weeks but I hate it already. (It's taken me a shameful amount of time to not be angry at her husband's job for this whole upheaval… I mean, you gotta get angry at something.)
But the hardest part has been explaining the big move to my girls. Every time my daughters ask me when they'll next be able to play with their great friend (my friend's little girl), when we're going to her house, when she'll come over to our house… my eyes get all watery. Because Facetime just ain't the same (sorry iPhone).
What is it about women and friendships… especially when our kids are also involved? It's like we need each other more after having babies (we do).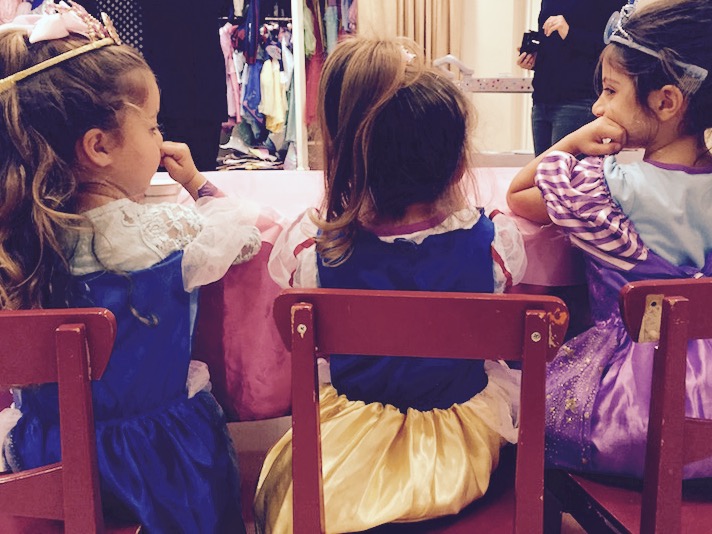 Some friendships get closer after babies… mostly because you want your kids to be friends. But moms must be strong, so I'm trying. I tell them how real, good, true, honest and deserving friendships can go on, even if you live in different places, go to different schools or will soon be in different grades. I tell them how lucky we are to have such real, good, true, honest and deserving friends in our life, even if we don't get to see them as often. I tell them that real, good, true, honest and deserving friendships are super-super hard to come by (although I think this point goes over their heads, but whatever). I tell them there will be visits and that the visits will be FUN (because there will be airplane-riding involved).
I tell them these things because they're true (because I've already lived this reality with my very first best friend)… but also because hearing them said out loud makes me feel better.
And my girls seem to believe me. Which then makes me believe that what I'm saying is right.
Kids seem to adjust and bounce and deal much better than us grownups (at least at my house)… and I need to take notes. Life keeps moving beyond our control. Kids keep growing beyond our control. Friendships change and evolve (sometimes beyond our control or preference).
But things that are real, good, true, honest and deserving tend to stick around for a while… and that's the part of friendship that I'm still trying to learn about and accept. As a kid it seemed so much easier…
Maybe we'll start writing letters. Just for old time's sake.