BIGGER. BIGGER!
Make it bigger. Do it bigger. Bigger is better. (Dance mom here.)
Anyone who studied dance at the same studio I did growing up (you know who you are… Smooth Criminals forever…) associates the word "bigger" with equal parts affection, fear and love. More affection and love, but still a little fear.
As a kid, my dance teacher would holler "Bigger!!!" at us kids (like, 10 years old) more times than I can even begin to remember 20+ years later. We'd be sweating in the hot studio, ready in position, thinking we were such hot shots as he flipped on our music to rehearse for our upcoming show or competition and 15 seconds into the routine he'd stomp over to the stereo, fervently push the power button so that the music went abruptly silent, snap his head around to face us and demand something like "That was atrocious… again! Bigger!" So he'd rewind, hit the music and we'd start again. Bigger. Better.
DO. IT. BIGGER.
Because he wanted us to be our very best. He knew we could be better than what we were doing. So he demanded it. And it made us TOUGH. We'd rise to the occasion (most of the time… I think? as much as 10 year olds could rise to an occasion like that). We'd deliver the goods, he'd tell us we were amazing and rant and rave about great we were and then we were all a big happy dance family again (with those 1st place competition trophies being icing on the cake).
Some parents weren't happy about his yelling, some parents (like mine) were totally fine with it. But we all loved him. Because he loved us all enough to make us feel tough, capable and better than we thought we could be.
THANK YOU FOR THAT TEACHER (you know who you are, D).
I've giddily been reliving these memories in my head each week (the last few years) now that my two girls are in dance class. (We just had our dance recital… and to say that I was semi-weeping backstage because I was so flippin' proud of my little tutu'd-out chicken nuggets and how they shook their tails on stage with genuine joy in front of hundreds of parents watching is the truth. If you're a parent of a dance kid – or just a parent – you feel what I mean. We're all in the same semi-weepy boat when it comes to our kids doing good and making us proud…)
And even though my girls are just 3 and 4… you bet I semi-brainwashed them pre-recital about being "bigger."
"Do it BIG!" I'd chant like a lunatic-ish, wacky-smiling, jazz-hands stage mom in our kitchen during impromptu rehearsals before bath time. They'd laugh and then look at me like, "Why are you being so weird Mom…" but I just kept on keeping on:
"DO IT BIG. BIG!" (And then I'd shoot my arms out straight like a rocket was blasting out of my body to show them what I meant. Crazy. Only a former dance kid gets the level of crazy I'm talking about here…)
Because if you're gonna do something, you'd better do it right. Do it BIG.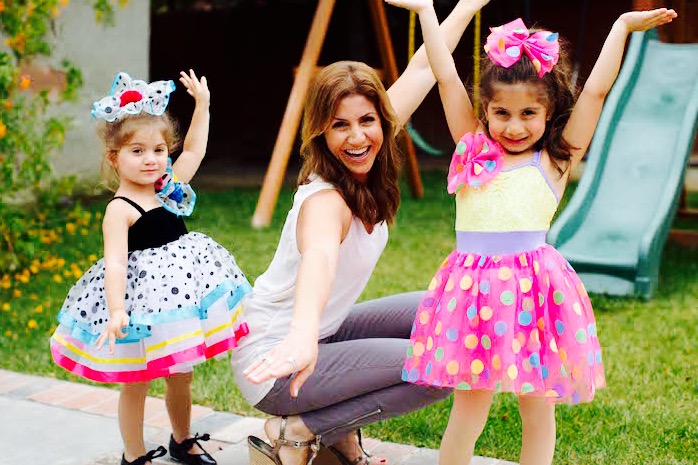 Dance. Sports. School. Music. Puzzles. Dress-up games. Art projects.
Life.
Do things BIG. Do life BIG. Make some noise.
If there's one thing I want to teach my girls… this is IT. (And also to be kind to people, but that's a given…)
Because what's the point of it all if you don't try hard, go big and make serious noise doing whatever it is you like to do.
With all the questionable parenting chatter there is today (this blog included) a few parenting topics always seem to make the rounds and pop up frequently: 1) Dream big. 2) Everyone's a winner.
I agree with the first point. I disagree with the second.
Because everyone is NOT a winner by default. I'm a big believer in teaching this concept to my kids too.
Everyone is valuable. Everyone matters. But everyone is not a winner just by being there. Winners must work. Winners must log time. Winners must practice. Winners must rehearse. Winners must give energy, effort and focus. Winners must work together. To win is a privilege… and that takes EFFORT. Big effort. Bigger effort.
All of us kids who danced together growing up, with our fearless leader yelling "Bigger!" at us, learned that expending effort, energy and focus matter in the long run… no matter what. (Who knew we were learning such life lessons with all those kicks and leaps across the floor…)
She who puts in the most effort wins. Not against anyone else… but for herself. From the inside shooting out. For dance, life, parenting and beyond. DO. THINGS. BIG. Because going big means you're giving your best.
And your best is always BIG. Really big. The biggest you can ever be. And that makes you a winner. No matter what…
Love and gratitude to my childhood dance teacher for teaching us that BIGGER is always best.