Ha! Made ya look. Nope, celebrity stylist and designer Rachel Zoe is NOT pregnant (read that again now, just to make sure you've got it and so I don't get in trouble for starting a false rumor: Rachel Zoe is NOT pregnant)… but Rachel IS re-entering the world of pregnancy. Zoe is touting a new baby these days: A brand new, chic maternity clothing line exclusively available at A Pea In The Pod.
If I may say (and I will!) it fabulously showcases the designer's trademark of free-flowing, glamorous style. Modern prints, timeless cuts, flattering silhouettes for glowing and growing bumps. You couldn't create this stuff when I was pregnant back in 2010 and 2011, Rach?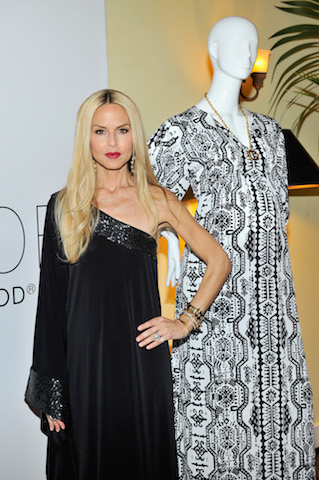 I was recently invited to celebrate the launch of Rachel's most beautiful new bump-wear at a candlelit soiree at legendary Hollywood hotspot Chateau Marmont, amidst an intimate group of celebrity moms and famous moms-to-be….
And yes, since I am also *NOT* pregnant, I wasn't shy about sampling some fabulous sips the second I walked in.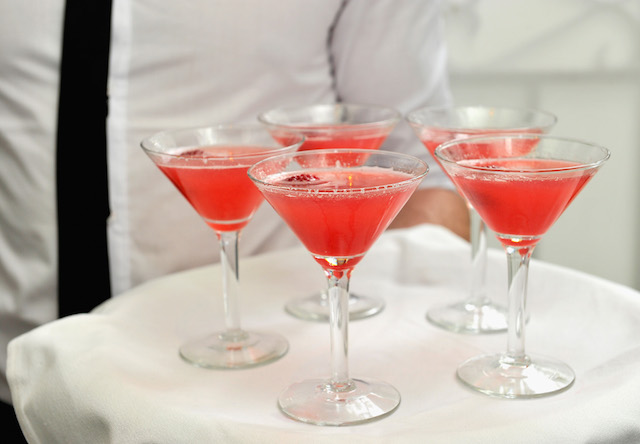 Between bitty bites of bacon-wrapped-dates (don't knock 'em 'til you try 'em, I think I had about 10…. YUM), Rachel and I briefly chatted 'bout bumps and babies (her boys' ages are now 4 and 1). Chick was down to Earth.
Did you ever envision yourself doing a maternity line? Once I got pregnant with my first child, yes. I actually couldn't wait to do it. It was at that point that every single person I came in contact with was like, 'When are you doing a maternity line…'
Aha! Girl knows how to work peer pressure into a positive direction. Give us what we want Ms. Zoe. I'll take it if it looks like that. Smart.
Because your style is so distinctive, did you have trouble finding [pregnancy] designs you liked [when you were pregnant]? I just wore a lot of my clothes… like caftans… for me it was important to put a collection out there that made women feel like they were wearing their favorite clothes. Women can wear it in pregnancy, after pregnancy and *if you eat a little too much at some point* before pregnancy, it doesn't matter. The idea is that they're cool, on trend, comfortable clothes that can transcend.
(Ha! So YES…. I can snag one of these sexy pieces and wear it for big Mexican meals? Who needs an actual pregnancy? Wear maternity clothes for big dinners. Love. It.)
Has your style changed at all after you've become a mom? More black… because I have two boys that are constantly eating and basically what happens is that I'm holding them, I'm on the ground, and all I take is a baby wipe and go "zshink" and I wipe it off and that's it.
Your oldest boy is almost 4, with opinions I'm guessing [like my 4 year old daughter]… does he ever critique what you're wearing? No, because this is what happens when you have a boy: They think their mommy is Queen Elizabeth. Skyler looks at me and goes 'Mommy, you look so beautiful. Like a princess.' He says that to me every time before I leave the house. And he says, 'I love your jewels.'
Well the woman had some most incredible jewels on that night. I think I recall a massive, black-and-white knock-you-out Chanel ring on her right hand. I died.
Is there anything a woman should *not* wear after becoming a mom? Miniskirts? Half-tops? No… no! Being a mom makes you better. If you feel good and you're lookin' good, wear it. May the force be with you. Go for it. 
And to think I almost wore a miniskirt but changed at the last minute.
Note to Self: Wear glitzy short dress to the next Rachel Zoe event you attend in the name of fabulous motherhood. Here's hoping I got points for the sheer blouse. Rachel and I also chatted about how she now works faster after becoming a mom (me too) and how finding a way to separate, combine and differentiate work from family time is a constant struggle (hear ya, feel ya). Celebrity moms… they're just like us. Go figure.
Now pretend that you're a model and strike a pose if you're going to shamelessly ask a famous designer to take a picture for your mommy memory book.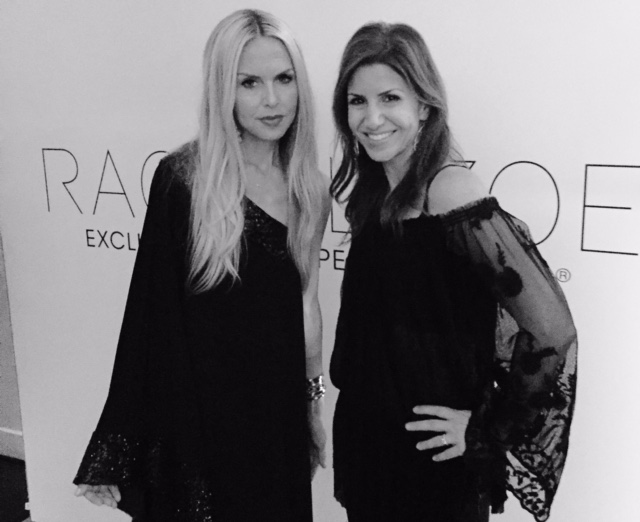 Shop Rachel Zoe's maternity designs exclusively at A Pea In The Pod.
Event images courtesy Donato Sardella/Getty Images for Destination Maternity.