Need some fast new ideas for family food? I've got your next dinner right here. You know me, folks… I feel like I'm always stuck in a rut. Thanks to the days of summer, Hubby has now been requesting 'slimming' foods. Meaning, I've been cooking more fish lately. Meaning, I feel like I've been grilling way too much salmon for my own good. (Hey, it's the easiest to do.) Here's a little dinner change-up I did last week… using salmon. It's a fast no-brainer and just might fool you into thinking you're a fancy chef:
Get yourself some skinless salmon fillets and rub all over with ready-made basil pesto sauce (I adore Classico brand… I find mine at Ralphs).
Line up the raw salmon steaks on a large piece tin foil and fold up the edges to make an 'open tent' of sorts (sorry, forgot to take a pic of this while I was actually cooking… didn't intend on this to be an actual blog until it turned out so good). I like to poke a few holes in the bottom of the foil with a fork so that any drippings drip out and don't stay soggy in the foil against the fish. Put the entire tin foil tent with fish on a preheated medium/high grill and pretty much leave it there (I close my grill's lid). YOU WON'T NEED TO FLIP ANYTHING OVER. I cooked this while watching my girls play in our backyard. It'll take about 15 minutes to cook (keep checking it until fish feels firm and doesn't jiggle when you tap it with a spatula… that's my scientific method). It'll look like this when it's finished: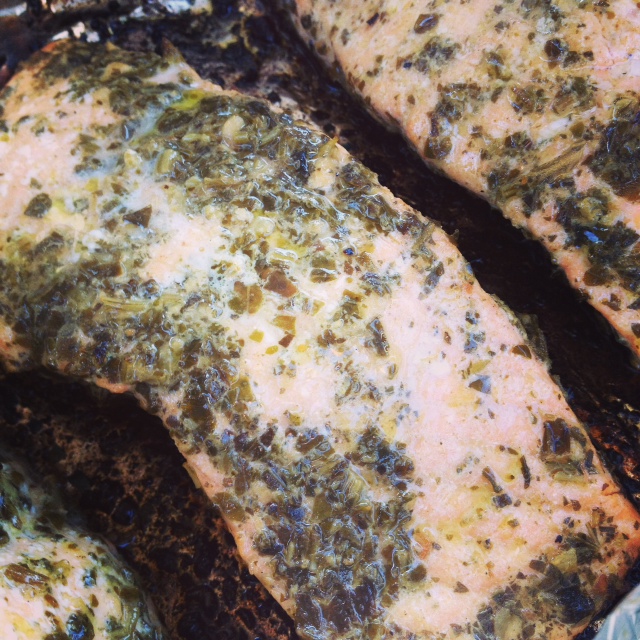 When done (YUMMMMMM) let the steaks rest a bit (to cool slightly). Now, here's the big trick: tear the steaks apart with your fingers or a fork. Don't be shy. Get in there. Spread the shredded fish between grilled or toasted bread or rolls. Aha! You didn't expect that, right? Whisk some mayo, lemon juice and pepper (it takes about 5 seconds) and drizzle on top. TAS-TY. If you can believe it, my two year old was even interested to try this (I think it was the mayo sauce that did it). This fast little creation is also good enough to serve to guests… you can have a grilled salmon sandwich bar with all kinds of sauces and breads if you really want to get crazy with it. Happy fast and fabulous family grill dinner to YOU!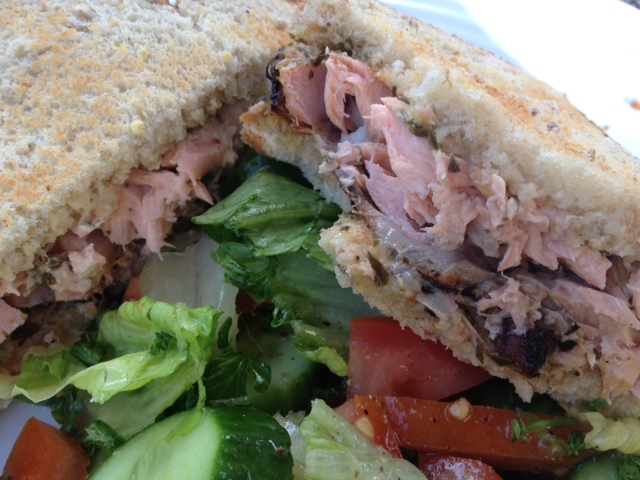 DO YOU HAVE A FAVORITE FAST SUMMER DINNER?