Tired of gifting the same baby registry items for your pregnant friends expecting buns in the oven? On the hunt for a fabulous and frugal DIY baby shower gift idea? Shake things up and whip up some cupcakes… using baby onesies. It's a DIY baby shower gift that's easy (no mess!), inexpensive and absolutely darling. You can credit the all-powerful Target for igniting my creativity on this one. That, and that I tend to focus at the mere mention of the word 'cupcake.'
Looks a bit too fab to be true, right? Trust me, if I can do this, YOU can do this. (You all know I'm not much of a DIY person… except for cute random flower arrangements and that one time "Home & Family" required me to craft a holiday gift for my friend and on-air Design Expert Kenneth Wingard.)
But I know baking. I figured that no-mess cupcakes would be a CINCH for an aw-worthy surprise for my new tiny cousin… a project that I could enlist my older toddler girl in on to help. I also love this craft as an activity for a baby shower (for each guest to make one, to give to mom-to-be) or a DIY for older siblings to make for an expected baby in the family. ("Let's make a surprise for when our new little sister/brother arrives!" Clever huh.)
To get started on your cupcakes, GO SHOPPING. Easy enough (as though all of my children's clothing doesn't already come from Target). Pick a few of your fave Circo onesies (around $5 each… I like to choose varied sizes so baby has options as he/she grows).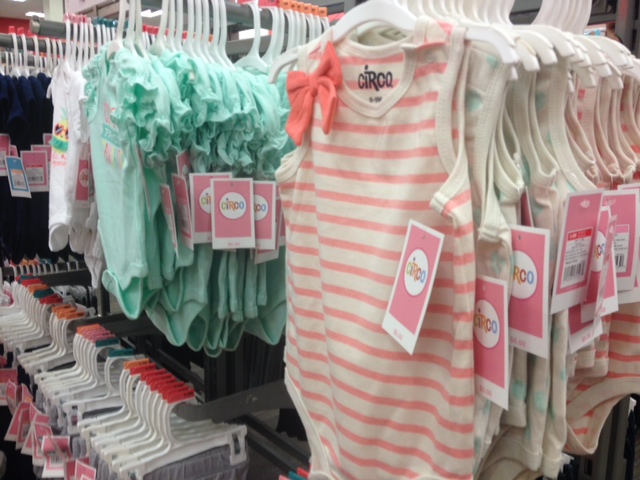 You'll also need: 1) Clear tape (Target's Up & Up brand makes a quality products that's a fraction of the usual name-brand price… as I found out and was compelled to apologize for it a few years ago), 2) Cupcake liners (the crazy colored ones look best) and 3) Circo baby socks (I used 2 pairs). Then I enlisted my 3 year old's help… which I was HAPPY to employ since I knew this was a no-mess scenario — no glue, no glitter, no paint to be smeared all over my glass kitchen table. (Please. That's what preschool is for.) Spread out allllllll these cupcake cups for Mommy please… good job!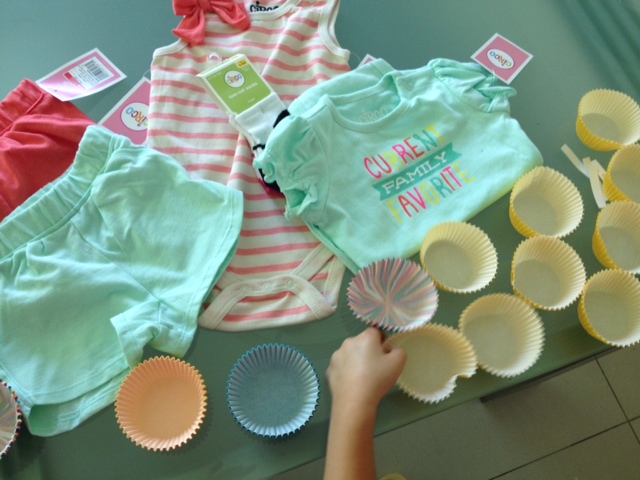 We soon found ourselves in my kitchen, way too excited and READY TO GO.
Before long… viola! Just be wary of hungry little hands. These babies DO look deceivingly delicious.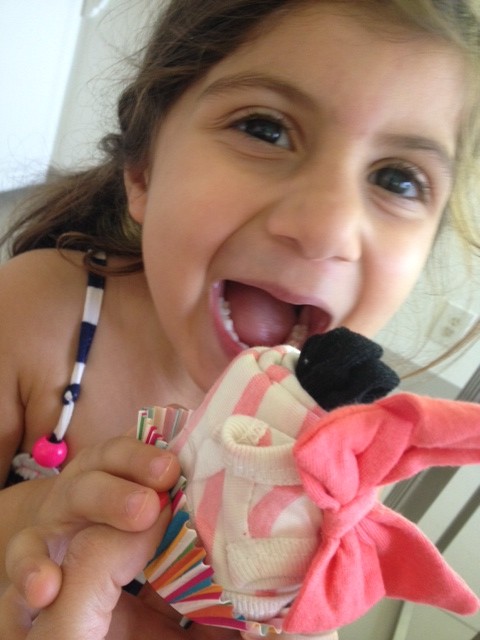 Just for fun, I displayed our finished cupcakes on a tray. Hey! There's an idea for a centerpiece for the mom-to-be to take home the day of her shower! (Except I'd doll it up extra with real cupcakes, candies and a ton of frilly ribbons on a full-on cake stand or something… if you're going to put the whole thing on display for a real party.)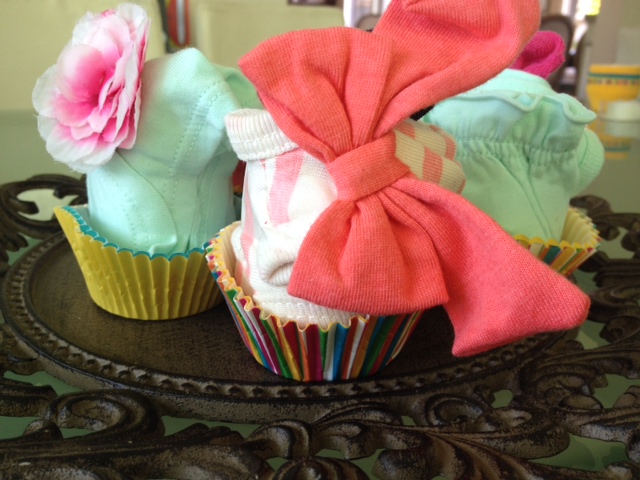 You'll notice, I stuck a little flower clip in the cupcake on the far left… if you're gonna get girly, then GET GIRLY, right? Totally impressed myself with that move. Nabbing some of Circo's baby headbands, and wrapping them completely around each cupcake, would be snazzy too. Wow I am on a roll here. Blame Target.
This whole operation took me… oh…. about 20 minutes. No time at all. And that's WITH a toddler slowing you down, folks.
Now before I tell you to check out Target's detailed and easy how-to video for making these fabulous onesie cupcakes, step by step, I should mention a few crafty clues that I figured out along the way: 1) In the name of amping the design up a notch, I took selected colored & embellished onesies (instead of plain ones)… just be sure to roll them up so that all embellishments/designs are on outside of roll when finished. 2) Roll everything up EXTRA TIGHT so that the tape holds everything together nice and snugly (i.e.: you may need to re-do your toddler's rolls when they're not looking). 3) Stack a few cupcake liners together to use as one cup… it ends up more sturdy that way. 4) Don't limit yourself to onesies! I also mixed in some cutie-patootie Circo newborn-shortsets… but you might need to adjust the way you fold-and-roll, to make it fit into the cupcake liners. 5) Remove clothing tags if needed. I removed the tags on the bows and socks (duh), but I was able to leave tags on the onesies and shorts. FYI from me to you.
Now that you know my tricks, watch Target's how-to video for the full deets:
Cute, right? And now… IT'S YOUR TURN! LEAVE A COMMENT BELOW (OR SEND ME AN EMAIL) DESCRIBING THE CRAFTIEST THING YOU DID FOR A NEW BABY AND YOU MIGHT WIN A $50 GIFT CARD TO TARGET! Target is providing TheFabMom with one gift card to give away. Winner chosen at random. All in the name of making onesie cupcakes of your own, of course. Enter contest by Sunday June 22, 11:59pm PST. Limited to U.S. residents only.
DISCLAIMER: This post is part of a sponsorship with Babycenter.