I may only have toddlers, but let me tell you: The schedules are getting crazy. (And to think, I really don't believe in overbooking my kids for playdates and lessons they're not ready for.) My oldest enjoys a weekly dance class… as well as two mornings a week at preschool. We have never-ending artwork (from said preschool). We have school picture days that I've marked on my calendar so that I remember to put a bow in her hair. And then there are regular doctors appointments, birthday parties, family visits, friend get-togethers. We even have pre-planned shopping trips just to get new shoes (how do their feet grow so faaaaaaast?). And then there's my new work life. (Yes, the most recent day involved the legendary Kenny Rogers!)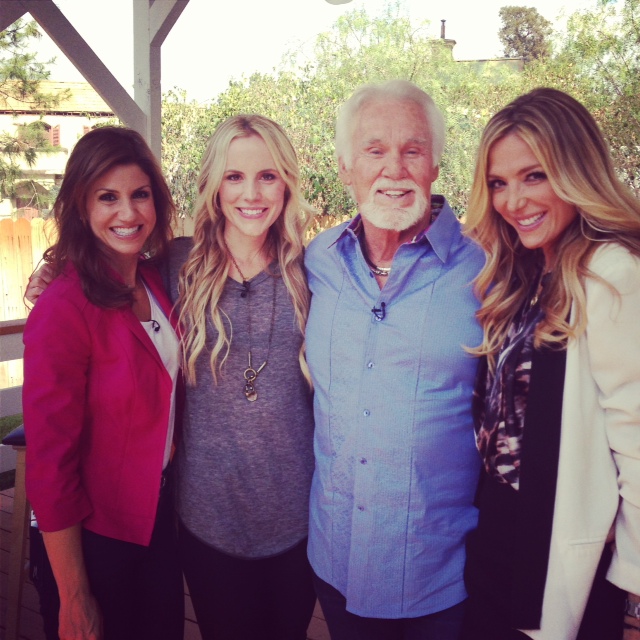 As Kenny has sang: You gotta know when to hold 'em. Boy I am learning. I'm gonna go so far as to say you'd better know when to get organized before your kitchen is plastered with pieces of paper reminding you about things that you don't know what to do with. If you saw my most recent segment on Home & Family, I filled you in on a few organizations apps that I personally think are amazing and most helpful.
Here's a recap… plus some bonuses:
Cozi: A shared family planner. Create a FREE account with a family name, password and everyone's email (that has a mobile device) and BAM! Your whole family is privy to seeing everyone's scheduled events so that there are no "Honey I thought you were picking up the girls" misunderstandings. Weekly reminders also emailed to you as you wish… And if something a bit more sassy suites your taste, try Intuition+ (Hello, Gorgeous!).
LaLaLunchbox: Stop arguing with your kids about what to put in their lunchbox! This iOS app is a perfect and FUN way to give your kids the dirty work of selecting their own 'virtual' lunch menus (for which you then need to make in real life). Kids can create virtual lunchboxes (looking like monsters… my LadyP gets a kick out of this feature) and select available 'foods' in the menu options (you can customize and/or remove food choices according to taste and budget). The app can then generate your grocery list for you BASED on what your kids want in their lunch. (This app is also a way to occupy impatient children when waiting in a long line anywhere: "Here. Pick your lunches for next week.")
Artkive: In a word, BRILLIANT. I'll be blunt — Don't let THIS happen to you (see picture just below):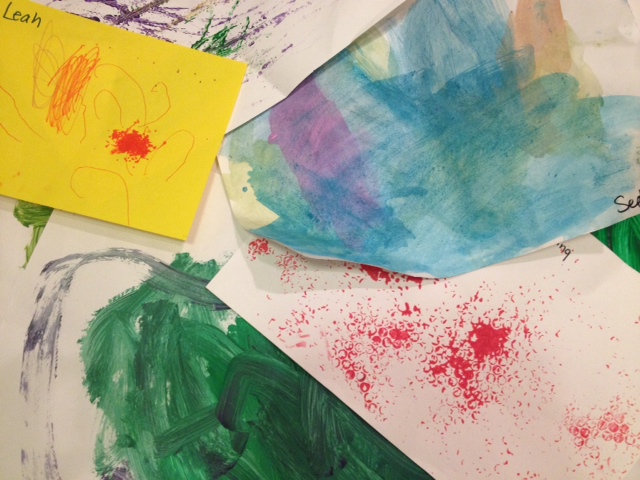 Yes, those 15+ stunning and spectacular paintings are from my genius LadyP's preschool activities. It's been 3 weeks and I'm already overloaded space-wise… but not ready to throw them away. What to do? Save it in Artkive… the easiest way to store and chronologically organize your kids' artwork, school work or extracurricular projects with only a few steps (and yes, Artkive can make a book for you too).
Mosaic: An unbelievably-easy way to make a photo book straight from the pictures on your iPhone… perfect for capturing sports seasons and school dances without too much hassle.
Life360: As my Home & Family colleague Debbie Matenopoulos pointed out: It's like LoJack for your kids! Yes. It IS. Life360 is essentially a GPS tracking program for your phone, that allows you create "circles" of loved ones and/or child caregivers so that you can track each other's whereabouts with a one-touch check-in system during the day. There's even a panic feature that sends you reports about any crime activity within your circle's geographical "zone." Pretty fabulous. And very James Bond.
WHAT ARE YOU FAVORITE APPS TO KEEP YOUR KITCHEN COUNTERTOP CLUTTER-FREE?