In the middle of my older toddler finally figuring out how to spit in the sink (yeah!) I was recently a panelist for HuffPostLive again in light of Miss Utah USA's most recent evening-gown guffaw that's gotten everyone talking about whether pageants are still relevant. Feel free to watch the whole chat and see what I said (video just below)… alongside budding politician (and Miss America 2000) Heather French, actress/TV host (and former Miss USA) Susie Castillo, eating disorder awareness advocate (and Miss America 2008) Kirsten Haglund, HuffPostLive host and author (and former Miss America'Top-5er') Nancy Redd and accomplished author (and daughter of a former Miss America) Hilary Levey Friedman. To say that I was elated to be in the company of these women is a major understatement.
Particularly because they were all 'winners'… and I was not.
On this panel for HuffPostLive, I was nervous. I felt like I was an early-20-something competing again and about to do what Miss Utah USA just did a few days ago. In my experience, pageants have been a constant contradiction: they've served as sources of inspiration, powerful disappointment, incredible motivation and even conflicted disgust. (Keep in mind, I was 'that' contestant who wanted to win but did NOT want to wear my crown to events, so that I could make a statement and prove that 'pretty pageant girls' were also smart, down-to-earth women who didn't need to waltz around with a crown on their head like a 4 year old playing dress up. Boy, did I get reamed by some pageant officials at the time.)
You might already know that I competed in Miss California (Miss America system) a few times back in the day. I'm a former Miss Hollywood, Miss Southland and Miss Gavilan Hills (it's a supposed area in Northern California, although I'd never before heard of it until I competed in pageants). And if you really know me, you'll know – that at a fresh 21 years old – I unexpectedly and miraculously found my way to being the Talent Winner and 2nd runner up at the Miss California Pageant as a first-time competitor. (I'm pretty sure I pissed off a lot of hardworking girls who'd been at it for years before me that year.) So with an unexpected sense of rookie accomplishment and motivation (and a somewhat-inflated ego about scoring a Top 5 slot as a total newbie), I made a commitment to compete until I won my ticket to the Miss America Pageant, so that I could catapult myself into working in entertainment.
Except I never actually won Miss California and I never got to the Miss America Pageant.
The following years I scored slots in the Top-10 and even walked away with the Swimsuit Winner prize, but that first year I competed for Miss CA was the closest I got to actually winning THE crown. Talk about a crook in my big plans. It used to haunt me.
It doesn't haunt me anymore. It hasn't haunted me for a long time now…
Looking back, NOT getting to Miss America has done me much more good. I am sure of it. I can't wait to tell my daughters about all my 'it-never-happened' stories involving onstage questions about illegal immigration and gun control (yeah, fun).
Despite that I'm proud of what I did, NOT WINNING the big crown was what pushed me to pursue other goals and has truly made me who I am. NOT WINNING made me examine how hard I actually worked at certain things I could stand to improve (like communicating my thoughts more clearly and intelligently), rather than relying on a fun personality to get people (ie: judges) to score me high and push me through just because we all had a giggle in the interview room. NOT WINNING made me learn how to be more self-assured. NOT WINNING made me tough and resilient. NOT WINNING is the exact thing that I needed to happen in my life to get me to a point where I can now say, "Yeah, I'll tell my girls to go for it" IF they're interested in pageants when they're appropriately aged. I may even suggest it.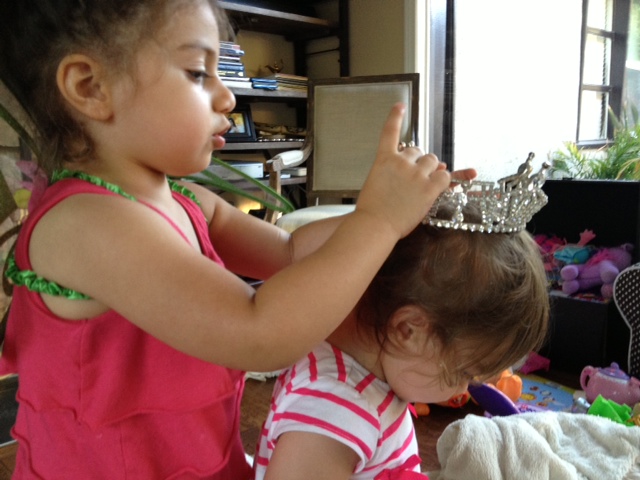 Because (as we talked about in the video)… pageants aren't what they seem at face value. Underneath all that spray-on butt-glue (so that the swimsuits don't ride up your a$$… truth) are real women, with real goals, with real accomplishments and real college bills to pay. And every single one of those young women – hair extensions and all – are striving to be the BEST version of themselves that they can be, inside and out.
If you can put yourself out there and strut in a swimsuit in front of thousands of people, you can do anything – intense job interviews are a piece of cake compared to that. And if you can put yourself out there to attempt to answer the world's most serious problems while decked in sequins – with your peers and judges and family and friends hanging on your every word, knowing your entire future is riding on what you say in that stupid and fleeting moment – then you're one step closer to learning to handle real things that life will throw your way.
The undercurrent of pageants – the focus, determination and spiritual strength that goes into preparing for competition – conditions young girls to be their best selves in every way. Hell yes, I want both my girls to learn what winning and losing is like in a highly-competitive game… and I will be there to comfort and tough-talk them (like my mom did). So what if pageants are shrewdly competitive, so is getting into Harvard (HuffPostLive host Nancy Redd knows it). In a world where we are raising our girls and boys to be the most curious, be the smartest, the best that they can be, why do people get so testy about another type of competition? So what if it's 'glamourous' and involves looking 'pretty.' So does everything associated with entertainment. Keep things in perspective.
Competitions of every kind challenge us and truly teach us about the most important person in our lives: OURSELVES. And if you really pay attention, competitions can also lead you closer to the person you're striving to become. How many times have we seen a figure skater blow their triple-axel at the Olympic finals? Same thing happened to Miss Utah USA. Life goes on… maybe she's already got a new dream. (I only imagine how much her mom wanted to run up there onstage and hug her after her un-answer.)
Are there shady and less-then-admirable things that go on behind the scenes of pageants? Of course – every kind of competition has that. BUT: The art of competition is timeless… and so are the lessons we learn from competing. The last time I checked, America was built on ideals that, no matter what your background, we can all be BETTER… STRONGER… and eventually WIN if we work for it. Sometimes the 'winning' is metaphorical, but it's still winning.
The trouble with pageants is that the benefits far outweigh the negative perceptions. (This coming from a gal who had a very up-and-down experience whiile competing. Now? The downsides seem to have faded away and all I can remember are the upsides. Funny.) Consider my girls signed up for their tiaras IF they wanna, later on… And here's an extra hug to you, Miss Utah USA, for putting yourself out there.