As seen on TV, folks! (And now also in my book for first time pregnancy… The FAB Mom's Guide: How to Get Over the Bump & Bounce Back Fast After Baby.)
Let's just get this outta the way quick: I spent the day with THE LaToya Jackson on account of my responsibility to inform YOU about my most fave and fabulous products to help a new mom bounce back in mind, body and spirit after having a baby on Hallmark Channel's "Home and Family" show. (There. That's done.)
Back to the scheduled program: True to this blog's 'filosophy,' these goodies had nothing to do with B-A-B-Y (mostly). They had to do with YOU. And ME. And all of us who've given birth to precious little bundles and then wanted to feel less "gross" (just like I said multiple times on the show). And this is possibly for LaToya too (should she adopt a baby in the future, as she spilled her dream on "Home and Family" right before my segment.)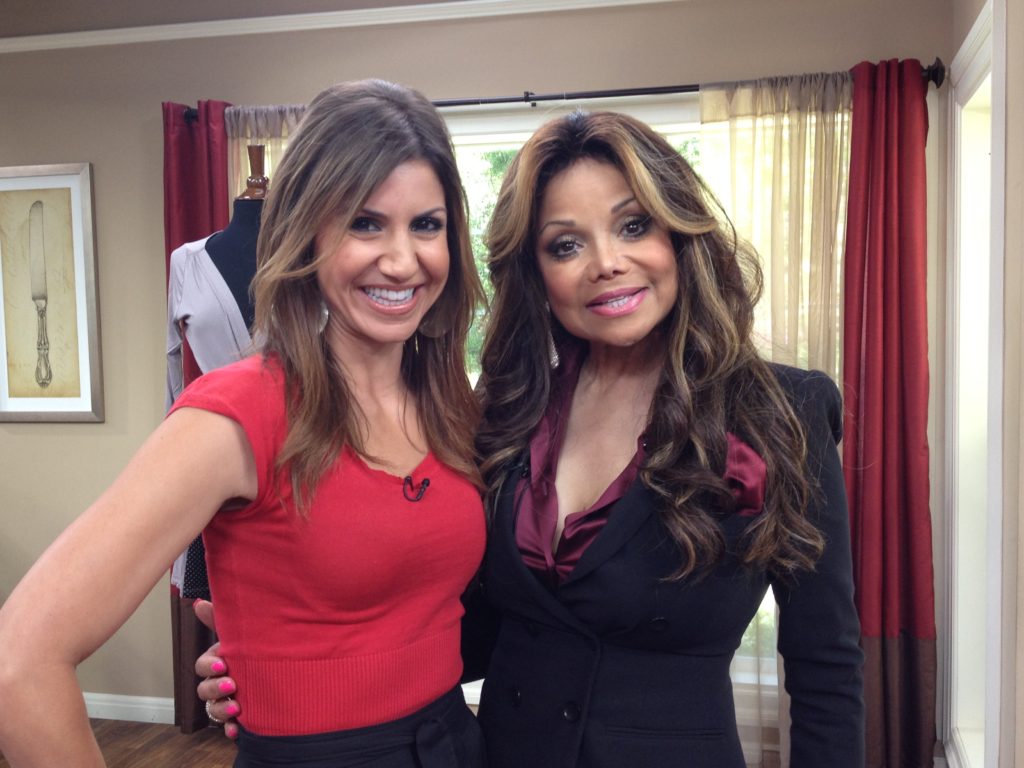 So, drumroll please… my absolute fave finds for bouncing back in mind, body and spirit after you've have a baby (or two, or three… no guarantees for four though).
WHAT TO WEAR?
CAKE LINGERIE. Yes, contrary to what it looks like, this is NURSING lingerie. Fabulously flirty and FUNCTIONAL. Easy snap-on/off straps for nursing needs… and very supportive. This brand was created by a mom, out of her sheer want to wear comfortable, functional and pretty underwear that was actually attractive as an expecting mom for the first time (as opposed to the majority of not-so-attractive nursing-wear and new mom nighties on the market today). Prices vary. Available online and at select stores. (Warning: Wearing of this sexy stuff might make another baby before you plan on it.)
SKECHERS GO WALKS. Lightweight, fabulous colors, options in design and bouncy joint support (because we all know that our joints ache right after we birth a baby). And what better motivation to get you movin' and groovin' outta house, pushin' a stroller and burnin' those calories? New shoes, of course. $65 retail.
BABOOSH BABY TAUTS BELLY WRAP. By Brooke Burke. (Need I say more?) I know what you're thinking: Does that thing really work? Gimme a break. I WILL UNABASHEDLY TELL YOU THAT IS DOES. At least, it worked for me. (For the record, I am NOT being paid to say that.) Belly-wrapping post-birth has a long history to encourage your uterus to shrink back to it's pre-pregnancy size, as well as help with water retention and 'reorganizing' your organs to remind them where they lived before that baby took over your belly. Just as I explained on "Home and Family," I slapped this thing on me post-LilMiss' birth last year, shrunk 4-inches in my waist after ONE week, and didn't take this off for the recommended 40-days. Finito. I'm a believer.
WHAT TO EAT & DRINK?
COCONUT WATER. It's one of the most healthfully-hydrating things out there for nursing moms. According to studies, coconut water is low in calories, naturally fat-and-cholesterol free, it has more potassium than four bananas and is super-hydrating. It's full of electrolytes, enzymes, vitamins and minerals. Get it at your local grocery store.
MILKIN' COOKIES. Love cookies, love the name… and love anything that might make your own cookies bigger after childbirth. Cooked up by two fabulously-inventive physicians – who also happen to be mommies – these cookies are made with food galactogogues (substances that can boost milk production in new mothers). All natural with no additives or preservatives these tasty treats are safe to feed to hubbys and kiddos too. Shipped to your door anywhere in the USA. Starts at $21.99 for a 2-week supply.
GETTING YOUR LOOK BACK?
SEPHORA COLLECTION INSTANT DE-PUFFING ROLL-ON GEL & MASKS. An easy, therapeutic roll-on eye gel and quick eye mask (that boasts "better than a nap!") which instantly shrink puffy eyes from all those sleepless nights the first few months… and beyond. (Keep that roller by your bed, I say.) $15 gel, $6 mask. Available at Sephora.
DRY SHAMPOOS. What new mom has time (or energy) wash her hair? (Crickets.) Oscar Blandi's got a fabulous one that smells delicious as it soaks the excess oils from your hair, and Bumble & Bumble boasts a dry shampoo spray with color tint to hide post-partum hair loss. (I'm telling you, these goodies saved my life… they still do.) Prices vary according to size (I find mine at Sephora).
BELLA B BODY CARE: STRETCH MARK FADING & POST-PREGNANCY FIRMING CREAMS. Forget that this a fave for celebrity moms like Tori Spelling, Bella B is family-owned business, all-natural and made right here in California. The brand offers a TON (I'm serious, a TON) of fabulous creams and convenient skincare treatments for mom, baby and pregnancy. Start combatting those stretch marks and firm up your skin again. Prices vary. Available online and at Due Maternity.
So LaToya, if you ever decide to become a mom… don't say I didn't have your back.
WHAT ARE YOUR FAVE POST-PREGNANCY BOUNCE BACK TIPS & TRICKS?