Do you have trouble fixing your bed with a crying baby in the house? Is your disheveled bedroom making you annoyed even as you walk past it for the fifth diaper change in one hour? Do you wish for the days when you could keep a tidy house without being distracted and interrupted? Aha! You've come to the right place… the place that showcases my most favorite of the few-and-far-between new mom tips:
How to fix your bed with a baby. Never heard of this? Aha! Read on…
I'll admit I came up with this fab little system when LadyP was an infant, but forgot about it until recently. You see, despite my efforts to stay fab with 2 babies now, I seem to be slipping more and more. And it all starts with me NOT fixing the bed. 5pm will roll around and whoops – the bed still looks like I just rolled out of it. Not OK with me… particularly because not fixing the bed sets the tone for me to not be productive. Weird, but true. Not to mention, seeing my Hubby's face read "So what did you do all day?" when he sees the mess of sheets after he gets home from work makes me feel like I really didn't do anything all day (which, as you know moms, is a load of junk). And then I remembered what LadyP and I came with. I'll let LilMiss break it down for you in a step-by-step.
FIRST, place your baby IN your bed: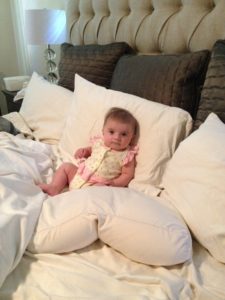 NEXT, pull up the blankets and do exactly what you'd normally do if there wasn't a baby in the bed. (NOTE: You might begin giggling at the sight of your little one having a ball during this process):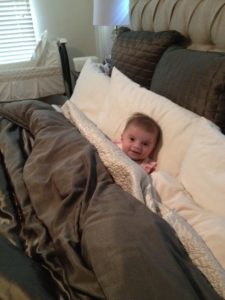 FINALLY, step back, laugh, take a picture and get ready to conquer your day ahead. Viola! You're done. Now go do what you need to do before that husband gets home…. and don't forget to take your baby with you.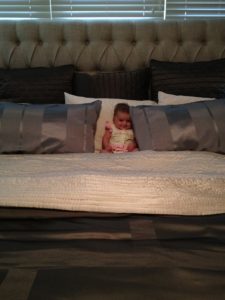 WHAT DO YOU HAVE TROUBLE GETTING DONE DURING THE DAY, AND HAVE YOU FOUND A WAY TO OVERCOME IT? SHARE HERE!