You ready for another *Real Fab Mom*?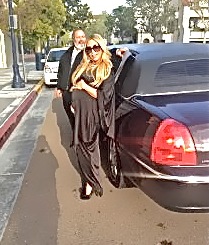 MEET ANYA SARRE. She's sassy. She's smart. She's sweet. She's stylish. As in, THE celebrity stylist for TV's top rated Entertainment Tonight and The Insider. Oh yeah… she's also expecting her first baby in July. With her long blonde hair, head-to-toe designer duds and a glamorous lifestyle that'd make most anyone envious, she pretty much looks like a walking poster-child for the City of Angels… and she is. It's part of her charm. But don't let appearances fool you: She WORKS HARD for her fun. This is a chick who built her career in a cutthroat industry, thinks fast, juggles all-things-crazy and runs her butt off in a fast-paced showdown every single day. And she also happened to be really friendly and open when I approached her at a recent event. That's real fabulousness. She not only dresses TV's top entertainment news shows, she also cranks out additional on-camera segments for StyleHaul while moonlighting as a ShoeDazzle stylist (among other projects). Yeah, she pretty much looks and acts like a rockstar… who happens to be eight months pregnant. I was thrilled to chat pregnancy, baby style and spitup with her.
You are KNOWN for all things fab. What is the most UNfab thing you've had to deal with during the pregnancy and how have you dealt with it? Hormones, mood swings and crying mascara down my face is definitely not fab. Passing out at 9pm at the dinner table or an event is not so fab either.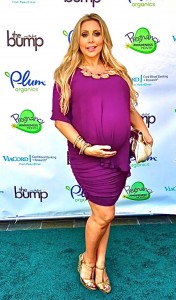 You looked like a rockstar at the kickoff event for Pregnancy Awareness Month… and were rockin' some seriously tall shoes (my kinda gal). Your biggest tip for keeping pregnancy fabulous on the outside? Just because you are pregnant, doesn't mean you have to change your style. I always say if you look good, you feel good and if you feel good, you look good. During pregnancy you need to do whatever you can to make yourself feel good and look good. So for me that means wearing heels, getting dressed up and having my hair and make-up done.
Don't lie: How much amazing pregnancy and baby products have you been privy to thanks to your job? I would never lie about that! I am obsessed with this little nautical outfit that Mud-Pie sent me. I am really in to the L'oved Baby clothing line because it is so organic as well as Kate Quinn Organics. However I have splurged on over the top stuff like this little baby shirt that says "I left my Louis in the Jet" from Kitson Kids and a Gucci baby carrier. Luckily, I already had a Chanel diaper bag, because I have been using it as my everyday tote for years. As far as all of the strollers and gadgets go, I am so excited to use my Quinny stroller. I am so lucky that I have been privy to a lot of products but I have also taken it upon myself to do a bunch of research and really investigate the natural organic products available for babies.
Poopy diapers and spitup can ruin an amazing outfit. Have you prepared your postpartum wardrobe yet? What is it? Pre-pregnancy, I always ended up changing my outfits 3-4 times a day based on where I was going so I am very used to having multiple outfit changes. I think my post baby uniform will consist of a maxi dress, a light cardigan and statement necklace because.
You were so gracious to recently let me check out your FABULOUS baby shower first-hand… Do you wish that you could style/plan all your own baby showers because you love the process so much? Yes, I have planned dozens of baby showers for celebrities and friends. It was very hard for me to give up the control for my own shower, but I made a presentation with my vision and detail boards and requests and my 12 shower hosts created an amazing over the top event that totally wowed me. I was allowed to do the cake and the gift bags for my own shower so that made me happy.
All new mothers have first-time concerns or fears… what are yours? Well, not finding out if my baby is a boy or a girl has been stressful but exciting at the same time. So once I know I will be able to plan, organize and decorate a lot more.  I think I am just like every other mom, I worry about being able to do it all.
Don't worry Anya… you'll still do it all. It just might take you a teeny bit longer – and more cups of coffee – to get some things done. Trust me. (I'm living it.)
To keep up with Anya, check out her website and follow her on Twitter. (How else are we going to know if she has a boy or a girl??)
[REMEMBER HOW I FEEL ABOUT FINDING OUT BABY'S GENDER?]
And to get the juicy details about Anya's fabulous over-the-top baby shower and her MOST INCREDIBLE GIFT BAG, check HollywoodHotMoms and ModernMom soon!