Those of you who know me know that I had a love affair with ruffled underwear after LadyP was born (which I wrote about on ModernMom). But why should us mommies have all the fun? Treat your little girl to ruffled OUTER-wear this Valentine's Day.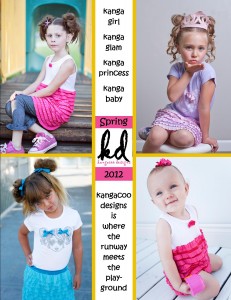 I heart Valentine's Day. Always have. Maybe it's because my mom always used to surprise my sister and I with frilly little presents. In honor of all things mother-and-daughter and girly-and-ruffle-related, TheFabMom is giving some free love to YOU… from Kangacoo Designs! Where the runway meets the playground. And yes, the designer is a real life mommy of a little girl.
Of course, I'm not about to blindly gift you with a product that LadyP hasn't tested herself. (And boy, did she have a good time… giggling and running her hands up and down the ruffles.)
So here goes… in our experience, Kangacoo is:
And this isn't all… Kangacoo's got leggings, socks, hoodies… you name it. My only iddy-bitty teeny-tiny issue? There's no lining inside the leggings, and they're relatively sheer (which limits the ability for your tot to wear them out in cold weather). But who wants to wear ruffles in the snow anyways? Just know these are spring and summertime cuties…
LadyP's verdict? These are fabulous, flirty, fun, sewn together well… and we really do heart them!
DROP ME AN EMAIL TO ENTER FOR A PAIR OF *FREE* RUFFLE LEGGINGS FROM KANGACOO! CONTEST ENDS FRIDAY FEBRUARY 10 AT NOON.
OR, PURCHASE YOUR OWN KANGACOO ON ETSY AND GET A 20% DISCOUNT BY USING 'FABMOM' AT CHECKOUT!
TheFabMom was generously gifted leggings and bloomers from Kangacoo Designs to test and enjoy in real life.