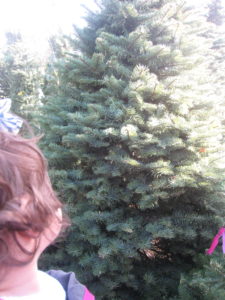 No hate to the fake Christmas trees out there, but I just can't do it. I need the smell. I need the annoying pine needles everywhere. I need the oh-crap-it's-too-big-for-our-room feeling when it's delivered…. which is what happened this year. Oops.
A tradition I started last year (when LadyP was just 3 months old) was heading down to the local tree lot, sizing up the merchandise and shucking out the cash for a live tree to live in our family room for the month of December. It was OUR outing. Her and me. This year: same story (except now I have a baby bump). We went, we picked out a beauty, we got it delivered and then had to explain to Papa why it seemed too big for our living room. Oops. Again. Damn. Oh well.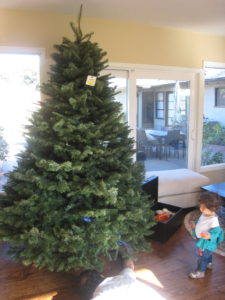 I eyeballed the height exactly, but it was just too fat. Too fat for our family room space. (Maybe LA has finally gotten to me… how dare I call a beautiful piece of nature fat.) We pushed it around and around, trying to squeeze it into our open corners. No luck. Our tree needed a diet…. or, a haircut. I busted out our scissors and chopped about 3 inches off all around the sides and bottom. Pine needles EVERYWHERE… along with confused looks from LadyP. But it made it fit where it's supposed to.
Lesson learned? Do watcha gotta do to make things work when you don't have time or money to waste. Figure it out and fix your own flubs… quickly.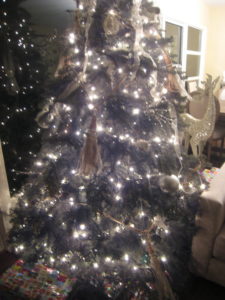 To find out what other shenanigans are happening in my 'world of new mommy' this season, check out my Momversation video with Stacee of Medieval Mom and Liza of Blahggy below as we chat about all things holiday. Happiest of Holidays to You!
DO YOU HAVE A WACKY STORY THIS SEASON? SHARE!