Don't be mad, but I'm just gonna say it: It's time to suck it up and learn how to boil water. I'm saying this because I love you. Really. Cooking seems to be a lost art these days (at least where I live) and it makes me sad. I say this NOT as a gourmet cook (because I'm NOT one), but as a woman and a mom.
I know that many women (many who I know and love personally) don't like it, don't have time or don't want to be bothered. But please, just try… try for the sake of adding something new to your know-hows. Consider it an experiment.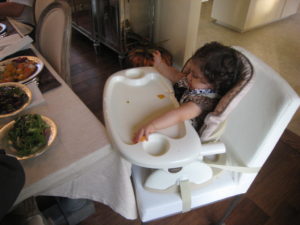 I don't care if you bake cookies out of a pre-made mix or sauté veggies and burn them to a crisp. I don't even care if your toddler doesn't feel like eating anything except pumpkin pie (like mine this past Thanksgiving, despite that my turkey actually turned out pretty yummy)!
I'll say it again…. just TRY. Just try for the sake of teaching your kids to try. Follow directions, have a glass of wine (or shot of whiskey) and GO! It's OK if it flops… you tried, you went there, you learned. And you rocked…. no matter what. Pllltttth to everyone else. They can go home if they don't appreciate it.
In an age where us women want to conquer it all (career, home, family, lifestyle)… I happen to think that knowing how to sizzle a bit in the kitchen also falls into the category of 'conquering it all.' The more experiences we have to learn about, discover and improve ourselves (whether it's traveling and exploring a remote location on the other side of the world or right inside our very own kitchens) is WORTHWHILE. Again, I am NOT a gourmet cook…. but I've gotten to be pretty decent thanks to lots of practice (that may have been induced by Friday night booze long ago). I plan, follow directions and genuinely do have fun experimenting.
Now go forth, conquer and remember to preheat your oven.