One of the beauties of having "mom" as a title is that you can blame your baby for any and all things. I used to blame my baby for wanting to needing to drink several cups of coffee to get going. I used to blame my baby when I accidentally farted (I would tell my husband that she did it). I used to blame my baby for not returning phonecalls very quickly ("She kept me soooo busy"… actually I was just lazy).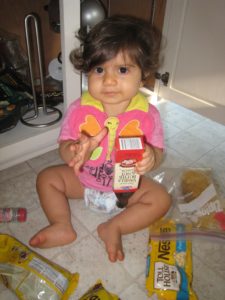 This weekend, I blamed my baby for coercing me into baking a big and tall Alice-in-Wonderland-styled chocolate-and-vanilla whipped cream-and-strawberries cake. I didn't have a choice. LadyP told me to. Actually, she showed me by beginning a new game/habit of opening my pantry and pulling out all my baking supplies. LadyP's got Mommy's sweet tooth — she could care less about the potato chips on the bottom shelf… she wants the chocolate chips on the next shelf. That's my girl.
So, here's what I did to appease her:
I baked TWO 9-inch round cakes (1 chocolate, 1 vanilla… nothing fancy, just followed the directions on Betty Crocker's mix outta the box. TWO cake-mixes gets you FOUR rounds). I then started stacking… and stacking.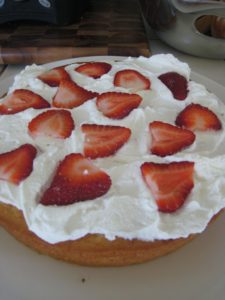 A round of cake, whipped cream, strawberries (with a bit of whipped cream to cover them up so that the next cake layer would stick), then another round of cake, whipped cream, strawberries… on and on. (Yes, I did *whip* the cream myself… it's the only way to make it work. Oh! And add vanilla extract and sugar to the cream – as you're mixing – to taste per LadyP's indication, as she pulled out the bottle of vanilla from my pantry.)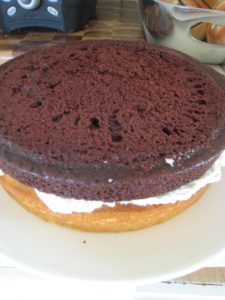 After stacking and layering everything, here's what you get: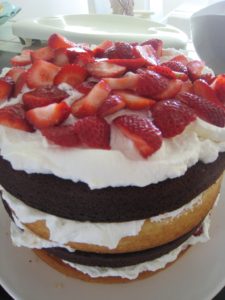 I will tell you this is one of the EASIEST desserts I've ever made… I was almost embarrassed and felt like a fraud when I served it to my guests. Store in the fridge until ready to devour.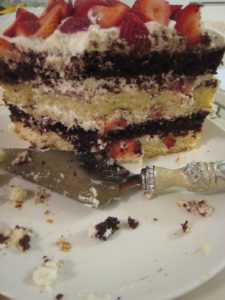 Besides the yum-factor, I needed this. I needed to do this. It had been ages since I got creative with sugar in my kitchen… and if you don't use it, you lose it. So thank you, LadyP, for making a mess of my baking shelf and hinting to me get back in my groove.
(And thank you to my friend Nicole, who came up with the idea to *not* frost the sides of this cake… otherwise, I may have had a different outcome with whipped cream dripping all over the place!)
WHAT DO YOU LOVE TO DO THAT YOU HAVEN'T DONE IN A LONG TIME?