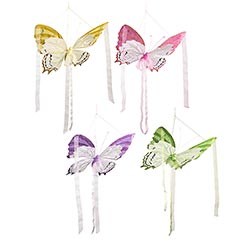 I'm usually a sucker for anything under $10 that packs a colorful punch and induces "oooohs" and "aaaahhhs" from those who see it. This is one of those things… and, it has wings!
Despite dealing with a fidgety baby who wanted OUT of her stroller at my local Pier 1 Imports, my recent drama-induced venture proved to be worth it. I found these magical, glittery lightweight organza butterflies to hang, post, clip or tie ANYWHERE that your fabulous little mind can imagine. The options are endless for these little babies… and looking at them makes you happy. (At least, they make me feel happy.)
Up close, these are frilly, flirty and fun. There are butterflies for girls, and dragonflies for boys! Available in 2 sizes (12″ for $7.95 each, or 25″ for $14.95 each)… pink, green, purple and yellow. Use 'em to decorate a nursery, tie 'em on a gift, or…. wait! I'm not gonna tell you what else… you'll have to check back here to find out more. My own unexpected burst of creativity with these will be revealed come Monday… stay tuned!
Happy Weekend!