Where can I find some motivation for moms? It's been a hell of a week, kids. In 3 completely unrelated work experiences, I buddied up with Soleil Moon Frye (the gal formerly known as Punky Brewster) for Her Say, interviewed Julia Roberts, and possibly made an a$$ out of myself in front of Brooke Burke. Even though I'm a professional, I sometimes can't help turning into a fan for about 1.5 seconds every now and then. It didn't happen with Soleil, it didn't happen with Julia, but it happened with Brooke. So kill me. I'll 'xplain:
Yesterday I hosted Skechers USA's annual corporate conference (yes, that shoe company that seems to be taking over the world these days). It was incredible, inspiring, and super-fun to see all my old colleagues (I worked there before making the jump to TV several years ago). The best part? Supermom and Skechers spokesperson Brooke Burke showed up. No I'm not a crazy stalker, but I got giddily nervous when I met her. I've always been a fan and cheerleader for accomplished, balanced women. Meeting her, I felt like like I was in high school and trying to be 'cool' all over again.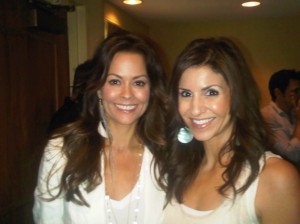 Yeah yeah she's gorgeous, but is also sincerely nice and accomplished as a mom/entrepreneur… and she was wearing this bitchin' feather earring thingy that I've now decided I must try out for summer (but probably won't be able to pull off). See? Cool. When I shook her hand and said "Nice to meet you" I told myself not to smile and laugh too much and come off weird. We chatted briefly about new-mommyhood and babies and I had a bazillion questions/comments in my head that I wanted to ask/say: Have you ever had to deal with babysitter drama? Do you ever feel like disappearing for a few hours and not telling anyone where you are? Do you get exhausted? Do you know that you were my motivation for keeping a healthy body throughout my pregnancy? How long did it take you to write your book? Can I contribute blog posts for ModernMom.com? Where the heck did you get that bitchin' feather earring thingy? Alas, the more logical voice in my head told me not to go to any of those places (at least not the first time I met her). And since I was semi-listening to that voice in my head as I was meeting her, I'm guessing that I probably came off as a strangely distracted & celebrity-crazy mommy-fan. Despite the fact that I've met and interviewed literally hundreds of celebrities over the years, I was oddly starstruck.
It wasn't until she made her speech onstage that I snapped back to reality: she's just another woman/mom/person trying to live her life to the fullest. She talked about always being nervous about getting/keeping a job (in TV), experiencing high highs and low lows, raising a family, and continuously scaring herself into challenges that push her forward. Wise words to remember and remind yourself about no matter who you are and what you want to accomplish. (Her latest goal is to try and run a marathon at some point, despite not being a runner.) Inspiring.
So thank you Ms. Burke, for reminding me (and other mommies) to SCARE ourselves in order to keep evolving as women… no matter how many kids we may end up with in the future. I certainly hope I didn't scare you with my enthusiasm (and asking for a picture)! And Brooke, IF you happen to read this: Please feel free to answer any and all of the questions/comments mentioned above (especially the one regarding the bitchin' feather earring thingy… that one's urgent).