It's been a weird few days. Monday I interviewed Ryan Reynolds for his new movie Green Lantern. Sunday I screamed so loudly that I took the tail off a lizard… literally. Saturday I talked sex scenes with Cameron Diaz (and her ex Justin Timberlake). Eclectic to say the least.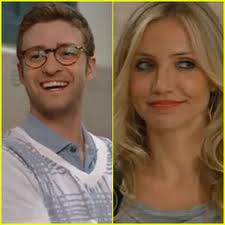 I'll start with Saturday… aka my first "official day" reporting for CNN/HLN's "Showbiz Tonight." Aka: a really big opportunity for this meek little mommy still trying to fuel her TV career. Aka: lots of pressure mixed with totally over-the-top fun and completely ecstatic glee. (Good thing that exact combination of emotion has always been my drug of choice.) So, off to my Bad Teacher interview I went… somehow getting into a discussion with Ms. Diaz about how it wasn't a big deal for her to shoot an unforgettably-hilarious "sex" scene with her ex-boyfriend (those who see the movie will know *why* I put quotes around "sex"). Cameron accepts each phase in her life as it comes and doesn't dwell on the past or future. "Always give love" she said. Good lesson. Note to self to remember that one, even though I didn't the next day.
Sunday: LadyP wakes up with her very first cold (unstoppable snot and tears continue to run all day). I missed the Plush event with my heart breaking for my little girl while clumsily tending to her needs. However, my heartbreak was rudely interrupted by our backyard friend Mr. Lizard running into our open back door while Hubby installed deadbolt locks to keep unwanted intruders out of our home. (The irony here kills me.) Standing in my baby daughter's nursery (with the door closed) and spotting the 7-inch critter scurrying under the closed door and right towards me, I screamed at the top of my lungs like a panicked lunatic (while holding LadyP in my arms). I jumped and hopped all around in sheer terror, paddling my feet like a football player receiving a hike. Hubby laughed. I shrieked. LadyP cried bloody murder in response to Mommy's shrill scene.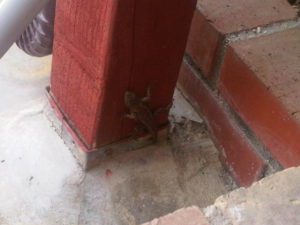 Mr. Lizard was scared so $hitless that his tail fell off. (Did you know that lizards drop their tails as a last-resort defense mechanism? So my hubby says. Look closely at the picture… the second half of his tail is gone.) I felt terrible for frightening LadyP and costing the poor creature his tail. I should've gone zen like Ms. Diaz does and showed him love rather than hate. Guess I missed that opportunity.
Monday: Interviewed the yummy Ryan Reynolds. What I wanted to ask him was: Did you know that lizards lose their tails when they panic? Did you know that sick babies cry their heads off and refuse to sleep anywhere besides your bed when they have a cough/fever? Did you know that I was up all last night trying to suck snot out of my daughter's nose with one of those blue sniffer-things, only to be swatted at and clawed by a freakishly strong, pissed off infant? Did you know that THIS interview (right NOW!) is part of my test audition/interview for a long-awaited job at CNN? But I didn't ask any of those things.
So we talked about things like the movie, dealing with fame and that sizzling skintight green unitard he wears in the film. (Again, you can watch on HLN's Showbiz Tonight this week.)
Cut to today: LadyP is still recovering (most of the snot is gone), I'm working another gig for CNN, and that poor lizard is still running around my backyard without his full tail. Alas, a Fab Mom must forge ahead. The pre-baby me would've lamented the chaos of a crazy lizard and a sick baby during one of the most important weeks of my life. This new me just sucks it up, gives as much love as I can to little people who need it and strives to be the absolute best I can be in each moment (kinda like Cameron Diaz). If I'm not good enough? C'est la vie. There are worse things that can happen… I could lose my tail.
Tell me what the hell happened to YOU this weekend…