What kind of love are you sending this Mother's Day? Flowers usually work for most chicks, but here's my fresh and funny get for PREGGY friends, wives, sisters or moms this year: Bumps. Or, technically, [bump] aka "baby under manufacturing process" wear.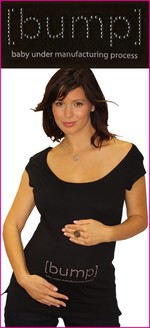 [bump] was MY personal fave while I was bakin' my own bun last year, and I'm now giddily sharing this cheeky brand with a few of my expecting girlfriends.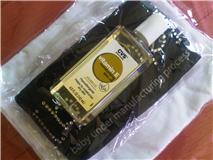 For added kick, I gift-wrapped their little surprises with Vitamin E oil (to prevent stretch marks for their growing bellies… hey, it worked for me!) And, depending on your hubby's sense of humor, he can even get into the action too with [bump]-daddy shirts. (An easy and early Father's Day?)
Celebs sport 'em, they're comfy, flirty, creative, give others a giggle, spark some of the most unexpectedly interesting conversations, made in the USA and are perfectly fabulous to sleep in too! (And, it doesn't hurt that the owner/founder of this brand is one of the most friendly, outgoing and engaging women I've ever met.) Get 'em bling'd out or au natural, and shop online here while you eat ice cream on your couch. Now go [bump] yourself.