According to my husband, I get teary if the wind blows the wrong way. I cry when I'm happy, sad, stressed or inspired. Always have, always will. Releasing all that energy is strangely cathartic and liberating.
It happened last night: I've been packing to move into our first house (next week!) and am finding all sorts of forgotten things. Pictures, books, random stuff from old SWAG bags… all from my pre-baby life. (You think those old lipsticks are any good?) It's memory lane around here. But, the tears didn't come until I found the guest book from my wedding. Last night, I rediscovered how I continued our guest book after we got married.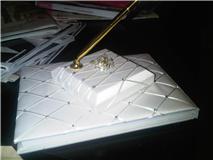 Following the signed names of our family and friends who celebrated our special day were pages and pages of notes from houseguests, descriptions of parties at our place, a chronicled first year of our marriage (I did a short entry every single month on the date of our anniversary). After our wedding, someone suggested that I keep my guestbook in my home as a permanent fixture to add to when guests came over or we threw a party. (My husband even humored me and wrote a beautiful love letter on our one-year anniversary that I didn't even know existed until I read it last night!) All sorts of memories, from our first Christmas party to celebrating the 4th of July, flooded back and made me cry my little eyes out in the best way possible. This little tradition slipped by the wayside after LadyP was born, but I'm not going to forget about it anymore. May I humbly suggest that you don't forget about it either. (Call me crazy, but handwritten words seem to evoke deeper-set emotions… as opposed to looking at pictures.)
Silly little things like this keep love in your life, give you perspective for the past/present/future, are easy to do and will remind you of the good even when you are having a crappy mom-day. If you enjoy a good cry like me, go find your wedding guestbook (or start a new book) RIGHT NOW. Put it on a shelf in one of your most accessible rooms, kindly ask your family and friends to sign/write in it when they are guests in your home, then go to it whenever you feel a little low (or are packing up for a big move). You may or may not cry, but I guarantee you will feel fabulous.