I'll get to Bacon in a second… first, let's talk about cheese.
A recent gig of mine had me saying cheese across the country with 5 inspiring women who make their communities BETTER…. or, shall I say, FABULOUS, in their very own way. Some plant herbs. Some make lunches. Some play with makeup. Watch the Life Well Laughed series over the next few weeks to see how each one gives back with what she does… and kick yourself in the bum to do something too! Part of being fabulous includes contributing something to your community… time, money, old clothes or even your own homegrown talent.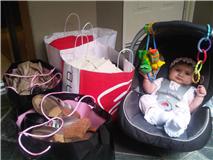 DO IT… make it a once-a-year goal (or once a quarter like I do). After shooting these segments, I raided my closet and donated clothes to a local charity that helps struggling women get back on their feet. Knowing that my old suits might land another woman a job somewhere – and change her life forever – makes me very, very happy. It even makes LadyP happy. It's never too early to teach kids that it's not all about them… this way they're not shocked to find out later. Check out Charity Navigator or Volunteer Match to get started… or my personal fave: SixDegrees by Kevin Bacon. (See! Told you I'd get there!)
You can also be fab just by nibbling on cheese and crackers… visit Life Well Laughed for more info. Not to be overly-mushy, but I really got inspired to be a better mom (and woman) after doing these segments. You will too. I suppose the free snacks didn't hurt either (even though there wasn't any bacon).
CLICK HERE to see my LaughingCowTV segments!  Watch. Love it. Do something.