Today, on The Today Show, there was a segment all about Mommy-guilt: Why we often feel guilty and how to cope with it effectively. My mom used to say (and still does) "Guilt is a wasted emotion." Get tough and get over yourself.
I know that I DO have a lot of lessons to learn, but I'm getting pretty good at this. I honestly don't feel guilty about my choices in the past 6 months I've been a parent (95% of the time). As someone who had an epidural and a C-section and then didn't breastfeed (gasp!) I don't feel guilty about my choices. They worked for me at the time and I've moved on. If I'd beaten myself up about any of those things… I would've started my motherhood experience encircled in self-doubt. Not good for anybody. Moms may not all agree on all things, but we shouldn't be comparing and contrasting what's 'right' and what's 'not' inside our heads. My time is too valuable for nonsense like guilt. I have things to do… like work, clean, wash my hair, play with that baby, etc…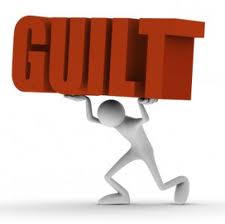 Guilt is counterproductive. Guilt is an incarnation of self-doubt. Constantly questioning your actions and wondering if you're doing the right thing (by leaving your kids with a babysitter, going to work… or whatever else has the possibility to incite "guilt") isn't productive for ANYBODY. It wastes time, messes with your head, triggers you to feel like a failure (when most likely you're not) and can also leave kids feeling doubtful. Guilt takes a toll whether you like it or not. I also happen to believe that guilt makes us weaker and might possibly contribute to creating a whole generation of mothers who are overwhelmed and can't keep their own households together for fear they're doing something 'wrong.' Again, not good for ANYBODY. Suck it up, be strong and handle it.
Most moms that I've gotten to know (in person and online) are creative and capable women. They didn't get to where they are by feeling guilty. True, having babies changes your outlook on things (as I'm discovering this every day!), but don't let those realizations infringe on what you must do to get through each day and accomplish what you need for happiness, financial security or a moment of sanity. If you need to work, then you need to work. If you need to leave your kid with a sitter, then do it. Make your choices and stick with them. Done. Over. Negotiate your value system, decide your plan of action, and get on with the rest of your life. (However, if you find yourself unable to escape guilt, then perhaps you need to suck it up and change your lifestyle.) I find that I almost have to be mechanical and treat certain choices like business decisions. My emotions automatically kick in and I naturally compensate for what I feel 'lacking' (more time with LadyP, etc) when I am able. There is time for everything – and you can handle it – if you are organized, stay focused, minimize the unnecessary noise in your noggin and have a little bit of a b*tchy attitude about it. It's survival. There is no need to add to the load already on your back with 'guilt'…. period. This is how my mom raised my sister and me… and we turned out OK (and never resented her).
Now repeat after me: I will do what I need to do, I will be confident and I will get over it.
Guilt is a wasted emotion. Let's just hope I remember this when it's time for kid #2…. help in advance?