I left my baby for Matt Damon movies.
Truth is, my mom made me do it. It's the first time I've been called to NYC for work since LadyP was born… aka the first time I left her overnight. Earlier today, I interviewed Matt Damon, Emily Blunt and the  rest of the cast from the soon-to-be-released movie The Adjustment Bureau. As I write this, I'm 10,000 feet in the air, 29 hours from last being with LadyP, 4 hours from touching back home in LA and miraculoulsy OK with having been gone from my little nugget. In fact, I'm great. Heartless? Detached? No… BALANCED.
Yes, I missed LadyP's little face, but I didn't feel guilty about it… correction: I didn't allow my guilt to manifest.  I was not a happy camper yesterday morning though, when I tearfully planted a million kisses on her chunky cheeks as I dashed out the door with my suitcase. Seeing my own mom and her wave goodbye to me on my doorstep made me question my intentions. It's true what they say… your heart gets all mushy. But then, I made myself get over it. Rip the Band-aid off quickly, compartmentalize and be a grown up. This was work. Moms can work. If I embraced the guilt (like some mothers suggest) I know exactly what would've happened: I would've traveled across the country only to be preoccupied, bomb my interviews and potentially risk not being hired by this particular employer again. It would've been a complete waste of time, and moms don't have time to waste.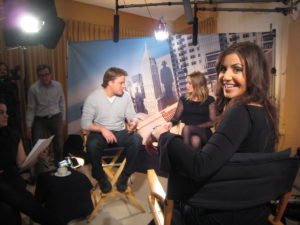 When one of my employers called a week ago offering me the trip, I immediately said yes (knowing that my mom could stay overnight with LadyP to help my Hubby). I didn't allow myself to weigh whether I "should" or not. It was a quick domestic trip, LadyP would be cared for, and I had to get back to my before-baby activities if I had any desire to continue working. (Entertainment is a tricky business: you fall out of the scene long enough – without being a famous "name" – no one remembers who you are… and good luck trying to come back.) It wasn't until a few days later when I almost wimped out and changed my yes to a no-thank-you just to keep life easier. As I shared my budding feelings with my own mom, she insisted that I take the job and told me to toughen up. She is one of those rare mothers who believes guilt is a wasted emotion, and has always been an advocate for staying true to yourself after kids (within reason). "You have to go…  it's Matt Damon!" she teased. (Now that I think about it, she probably concocted this little plan just so she could stay with LadyP overnight!! Aha!) But she was right: I wouldn't say no interviewing Matt Damon, before, so I'm not going to start saying no now. (Would you?) I needed this nudge from fate to make myself experience this rite of passage NOW… before it was too late. The longer one procrastinates, the more difficult the task is to accomplish. Movie stars or not, 4 months is long enough to wait for any woman getting back into the full swing of things after having a baby. My humble recommendation to all new mommies is to require yourself to do an overnight trip somewhere (without husband/baby) before that kid turns 6 months old. Put it on the calendar, whether it's for work or play. Waiting past the 6 month mark will only make the goal more distant. Then, if you're like some moms I know, you find yourself tired, exhausted, burnt out and wondering why you can't get a moment for yourself 5 years later.  I'm not suggesting to be an absent mom, but a little separation is a good thing for all parties when it's appropriate. I can't wait to get back home now… I'm refreshed and energized. Had I felt guilty, I'd just be confused.
So yes, Matt Damon, I will forever remember that you were the reason I left my baby overnight for the first time…. and I can't thank you enough. Am I wrong?