A version of the piece below was previously published in my monthly 'FAB Mom' family column in The Fresno Bee on December 1, 2018. 
Parenting through family Christmas traditions sometimes mean eating your words. Call me flocked.
Since first becoming a mom I've taken deep pride in keeping traditions from my own childhood alive with my daughters. Our favorite holiday to-do's always include baking cookies for Santa, doing a 'dressed-up' lunch-plus-shopping trip and going to a local lot to pick out our real Christmas tree.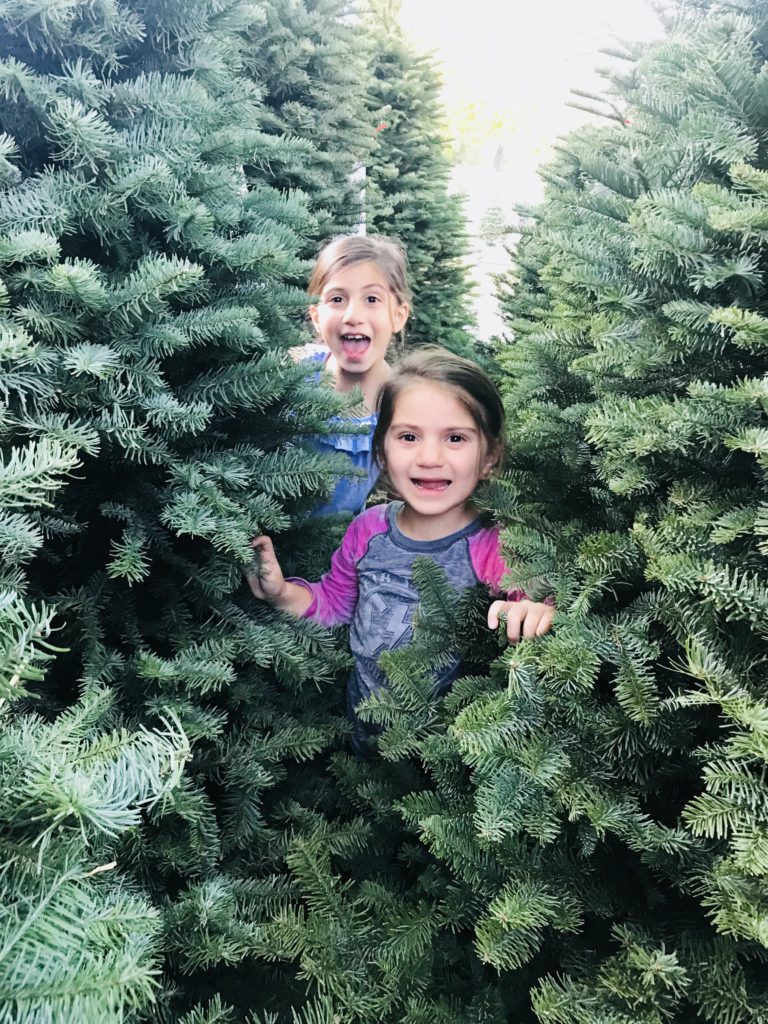 This year, I made a hard and swift choice that backpedals on my longtime preachy big-talk about real trees and the importance of family traditions: We now have fake Christmas tree.
It's flocked. It's flourishing. It's fabulous. And I feel like a big fat phony.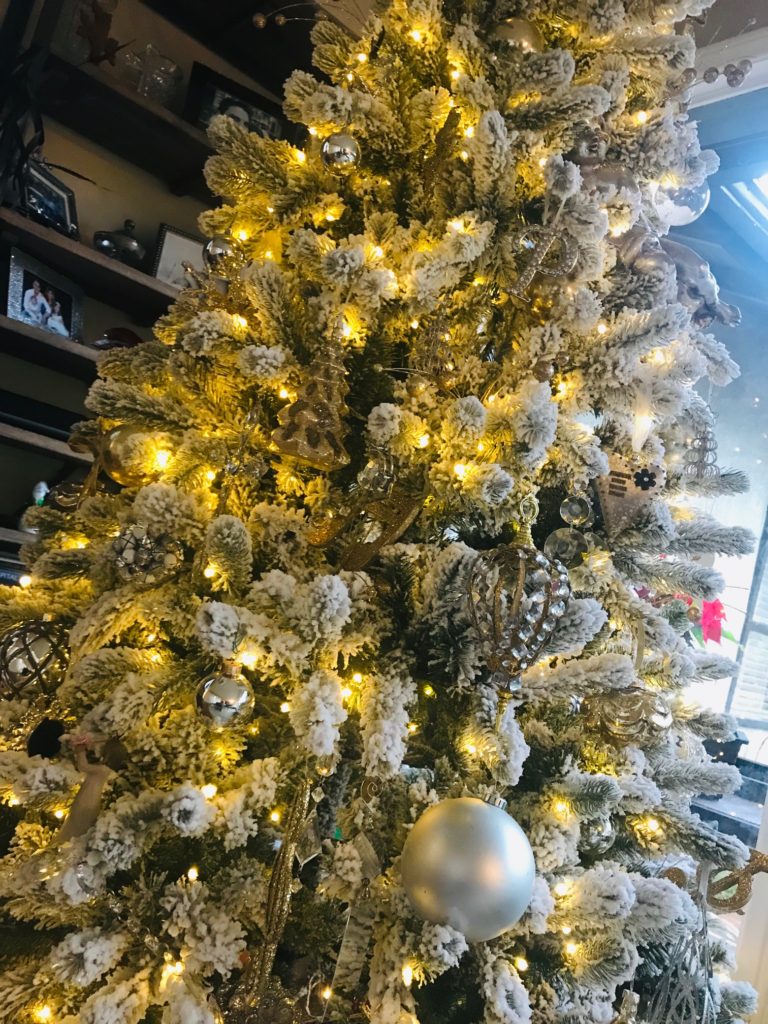 I've never had a fake tree — ever. For nine years, my daughters and I created a yearly tradition/quest of running up and down aisles of pine needles at our local lots to compare and negotiate which trees were prettiest, which ones would fit in our corner, which ones smelled the best. (Same thing I did when I was a little girl, with my family.) We'd then either plop it on top the car (for my husband to help unload when we got home) or I'd arrange for delivery (to which hubs would say, "Why are you paying an extra $30 for delivery — pop it on top of the car!"). Either way, Hubs didn't get it. "Just join the rest of the world and get a fake one already!" he'd laugh. He hated the inevitable mess in our den as I'd manually lace hundreds of lights through the branches. He also hated having to drag it to the curb for special green pickup in January.
I always argued, "If you don't have pine needles all over your floor, it's not a real Christmas!" 
What changed my mind this year? Life. (And maybe the thought of dealing with all those pine needles when my brain was already convoluted with too much 'life.') Last year's devastating loss plus… 2018's launch of a slide of not-so-great situations — lost jobs (me), a broken arm (my daughter), a fender-bender (me), a shattered knee with no walking for 2+ months (my husband) and weird unexpected worries and conflicts I can't get into here — countless emotional, mental and physical pitfalls to figure out and get past. Reinventing my usual holiday formula will surely usher in a refreshed and renewed energy and spirit, right? Right. 
I'd be faking my Christmas spirit this year, so what better time than to get a fake tree?
I found the best looking falsies on Instagram and ordered one pronto — sight unseen (that's how desperate I was). FAKE IT WILL BE. I'm officially naming this experience 'The Fail That's Getting Me Feeling Good.'
Because if we don't figure out how to feel good fast when we need it, that's bad news for our kids… and you can't fake good parenting no matter what. 
Our most important jobs as moms is to SOLVE — to keep getting up, to create family happiness through stability — and this includes being gentle with ourselves when we ain't feeling something that used to make our heart sing, regardless of what our opinion was previously. I used to smack-talk fake Christmas trees, but a sparkling, plastic winter-white sapling (with 800 lights already on it omggggg I don't need to manually wrap lights around branches?!?!) is proving to be one of my best solutions this year. For. My. Sanity. 
It arrived in a box, we popped it up and my girls and I decorated it together, at night, with our best Christmas music blasting — our tradition. My husband was so proud (lol) — "Finally!" he pronounced.
It was gorgeous. The most real fake gorgeous thing I'd ever had in my home. 
"So does this mean we're not going to pick out a real one, Mommy?" their big eyes looked a little sad, after we all oooh-ed and aaah-ed about how beautiful and easy and fun our new tree was. My heart hurt a little. "Maybe we can go hunt the lot for a small one, for old time's sake…" I smiled. "For the dolls!" my LilMiss bursted. "Yes, for the dolls."
And I meant it. And we did. (Because, TRADITION is real!)