A shortened version of the piece below was previously published in The Fresno Bee on September 1, 2018. 
Back to school has been fabulous so far… except for that one mean little girl who keeps bossing her 'friends' around (I use that word 'friend' lightly) and prohibits them from playing together without rotating all sorts of intimidating tactics to keep 'control' over others in the group during recess.
No, I'm not delusional. Yes, other moms have noticed it and discussed it. No, I haven't said anything to the parent of this child. (YET.)
So I'm writing about it here. (Naturally.)
My daughters are not always angels (hi, NO kids are!) — but, I'm finding out through daily rundowns of what happens during recess and lunchtime, that my younger girl LilMiss is continually getting ousted from playing with her group of friends because one little girl continues to tell her "You're too small, you can't play with us," and then tells the group of otherwise sweet little ladies to "Come on, let's all go play," to leave my baby by herself. (According to big sister, who shares the same recess time…)
EXCUSE. ME.
So, my LilMiss tells me, every day, how she instead opts for the swings, the jungle gym or the blacktop [by herself] to stay away from the drama and not disrupt this little girl's pathetic playground agenda. I'm proud of my girl, but I'm admittedly ticked off at this child. (Sorry not sorry.) I've seen truncated versions of these incidents first-hand and so have several other moms — we all are aware of how it's "a problem."
True, there are likely underlying issues at home contributing to said little girl's behavior. I know this little girl's mother casually, we say hello when we pass each other — she's friendly enough, not really interactive with her kid, always on her phone or computer. [Granted, I'm on my computer now… but my kids aren't around.]
In other words, every time I see this mom and her daughter outside of school she doesn't seem to be paying much attention to her daughter or anything that's happening around her, for that matter.
So it's her fault her kid is mean. There. I said it. Pay attention, lady.
Mean kids are our fault. Yes: OUR fault. Parents' fault. As in, if our kids are rude to others, that means we're not paying close enough attention to how our kids are treating their siblings, us, or even themselves. Time to take responsibility, moms and dads. Stop blaming iPhones or the rushed essence of 'modern childhood' for kids being mean.
This is on all of us, together.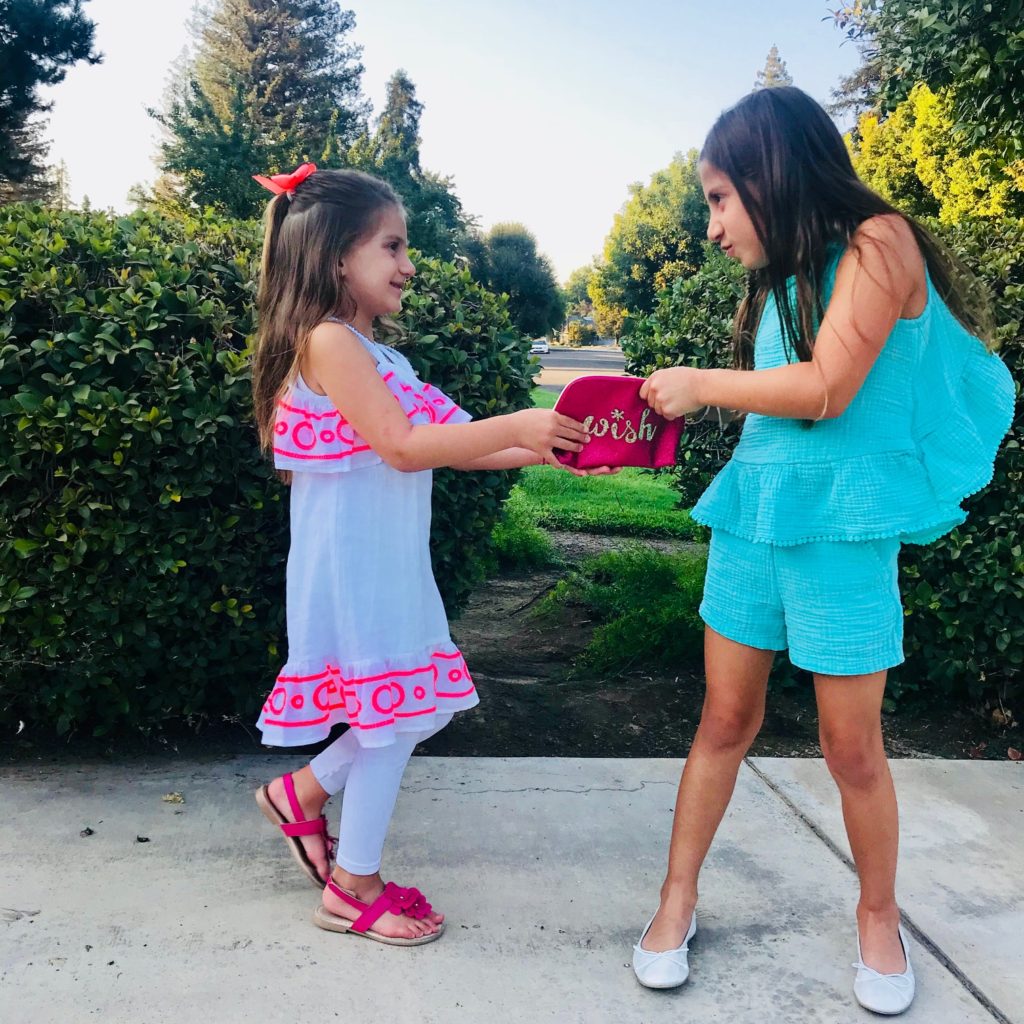 It doesn't take a certified child therapist or psychiatrist to know that kids act mean if/when they're feeling insecure, frustrated or anxious. As a regular mom I do know that when my kids feel overwhelmed or just plain confused about something, they act out. Do they act out with me? Yes. Do they act out on their friends? I hope not … but maybe they do. It's my job to find out and act accordingly. They're kids — they're learning to how regulate emotions and what the concept of showing someone respect actually means. It's our job to stay on them and show them the way.
How do I keep tabs on my kids?
How are they treating each other at home? If they're extra prickly with each other, chances are they might be lashing out at friends.
I ask their teachers — How are they doing socially? I also tell their teachers the following (and you can quote me on this): "If ever you see or hear my girls treating anyone rudely, disrespecting them or just plain being exclusive… YOU TELL ME."
I duplicate this quote/ask with my daughters' friends' parents too.
I tell my girls on the daily: "If I ever hear that you're treating someone not nicely and acting like how you describe [insert rotten kid a school's name here] I will be so disappointed/sad and you will be in trouble…. got it?"
BECAUSE I NEED TO MAKE CERTAIN THAT MY GIRLS HOW THEY TREAT OTHERS MATTERS.
If my kids act mean, whether it be to each other or anyone else, then it's my fault. (Period.) Does little sister smack big sister because she doesn't want her playing with her toys? Call her out and punish her for hitting. Does big brother say demeaning things to little brother when he's in a bad mood? Discipline him with consequences. Ask other parents how your kids act when you're not around — it's not weird or shameful, it's just decent. Explain you want honest answers and that you give them full permission to tell your kid to knock off whatever bad behavior they might be experimenting with on their watch.
Yes, call out my kid. It's OK. It takes a village, remember?
On this same note: I have, and will continue, to call out other kids if/when I see them acting like jerks (I've tackled this so many times on television it's almost getting ridiculous.)
The other day I was on a school campus and walked past a group of young boys (who I don't know at all) harassing another boy in their group with some of the most vile language I've ever heard — and I've heard it all. I walked up to them, said "Are you guys saying what I think you're saying?" They stopped, shocked, and just stared at me. "Do you think it's respectful to talk like that to each other? How do you think your parents and grandparents would feel if they knew you were acting like this?" They apologized, frozen, and I walked away as they stood in silence looking at each other.
Say something, do something. We're all parents, raising kids … and how kids learn to treat others is on all of us. Lookout, brats. I'm not letting you off the hook so easily anymore.
Because it takes a village.