DISCLOSURE: This post sponsored by Aurein Swim. All experiences and opinions are mine. Follow Aurein on Facebook & Instagram. Discount code at the bottom of this post… 
The ongoing moms-in-swimsuits convo online makes me laugh and also kills me. Do you wear one? Do you cover up? Do you rock the bikini? Do you stick with the one-piece? It always seems like there's some kind of score to settle with no real answer.
Summer went quickly and I can tell you this: My girls and I spent most of it in swimsuits.
Do we have a pool of our own to jump in and out of on a whim right here in our backyard? Nope.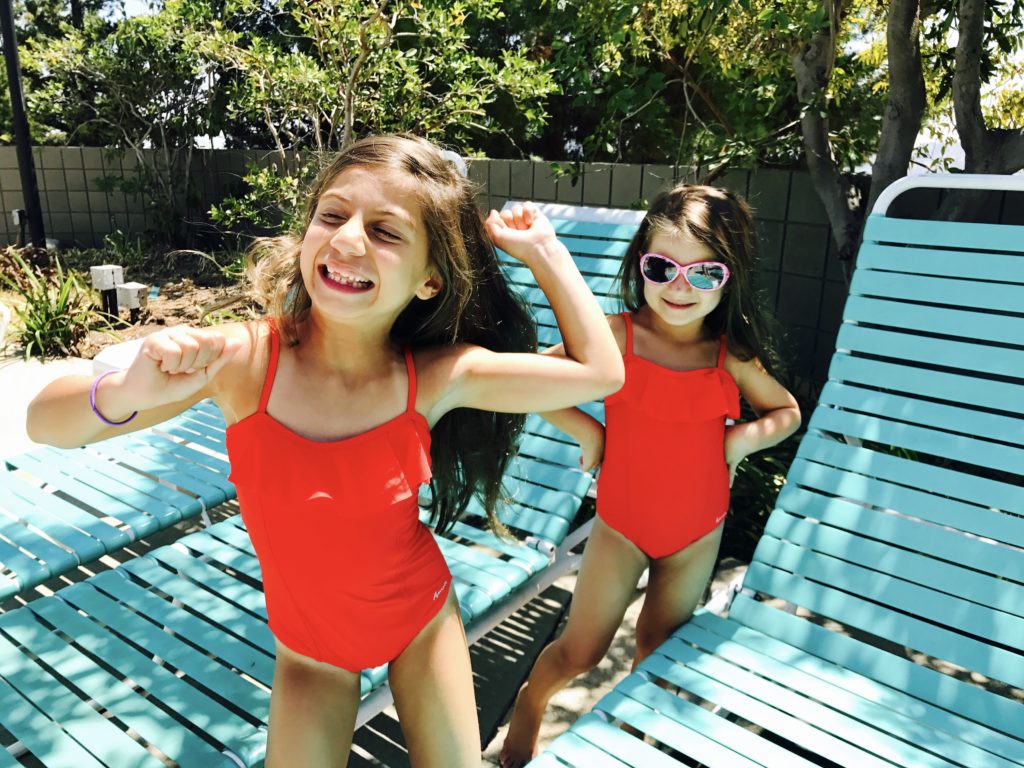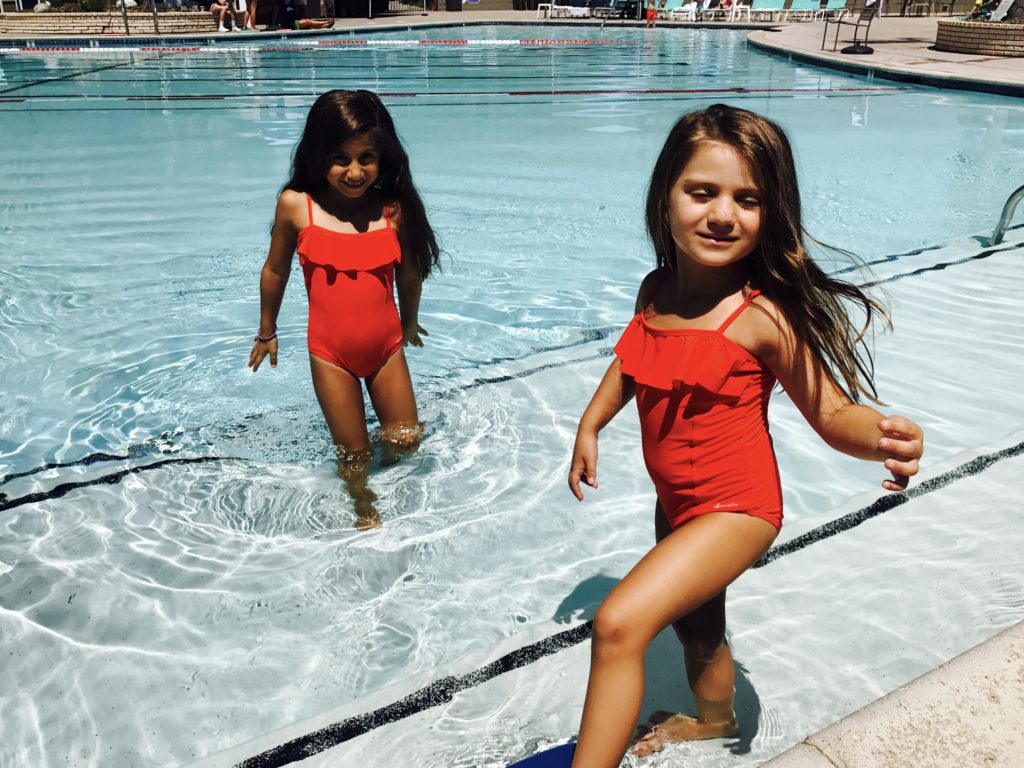 Do we live at the beach and go frolicking in the sand and waves day in and day out? Nope.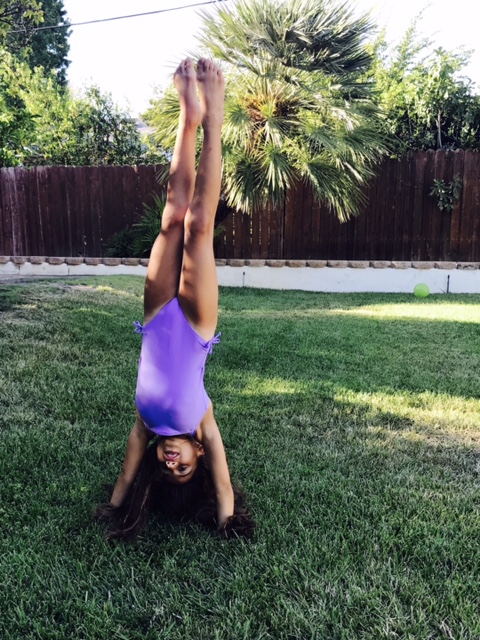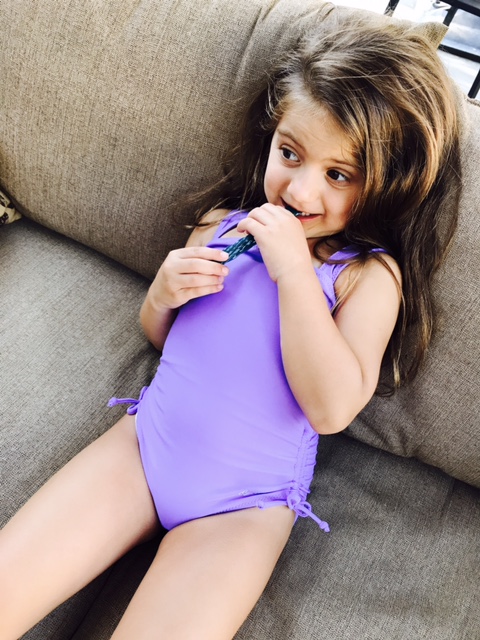 Do I believe that wearing swimsuits — no matter where we are with our kids, in our own homes/yards/local-pools — gives us magical superpowers that we take for granted? YES.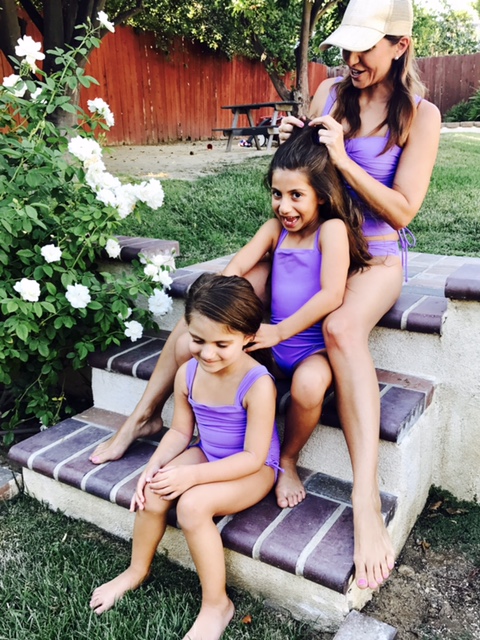 Don't freak out: I like wearing swimsuits… but not for the reason you may think! No matter how we feel we might look in a swimsuit, one truth about them remains: Swimsuits can be gatekeepers to making us more confident IF WE JUST ALLOW OURSELVES TO BE OPEN TO FEELING MORE CONFIDENT IN THEM.
You're talking to a woman here who wrote a whole chapter in a book about the benefits of living in skivvies — how the more we see of our mom-bods post-birth, the less we eventually care that our legs/arms/butt/boobs/tummy/hips/thighs/neck/elbow/big-toe look different than before we had kids. (It's true. Try it… with or without children around.)
I also know that swimsuits yield major power because, once you shelve your fear about them — and walk around in one, onstage in front of thousands of people and five judges for the Swimsuit Competition at the Miss California Pageant — you feel like you can do ANYTHING no matter what. (Done it: 1999, 2001 & 2002.) Wearing a swimsuit is a mind game about making a choice to fake confidence even if you don't truly feel it (yet) from the inside. Because people will believe what you project. (It's true.)
All emotions aside, the real score-settler of the matter is this: Our kids want us to be PRESENT — swimwear included. (This isn't news, folks.) "Mommy, can you play with me? Mommy, can you help me swim? Mommy, can you push me on the swing?"
Most every modern child psychologist or family therapist sings praises about the benefit of play for kids and adults, and how valuable play is to form a long-term bond between parent and child… I don't know about you, but I sure as heck don't want to 'play' in anything that's not going to hold me in, push me up or make me feel insecure in any way. Whether at the beach or in my own backyard…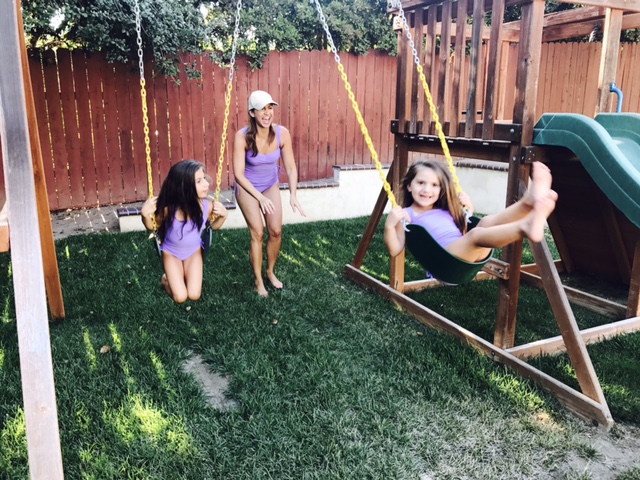 This summer I got to try out Aurein Swim… here's what I found (Brooklyn & Diana designs):
The material sucks me IN! It flatters curves (caves & lines) and let me move every which way while feeling supported around my mid-section.
I feel cute, comfortable and confident wearing them.
My girls get a big kick out of all of us matching in the same thing — and kept telling me how exciting it is when we all look like lifeguards together…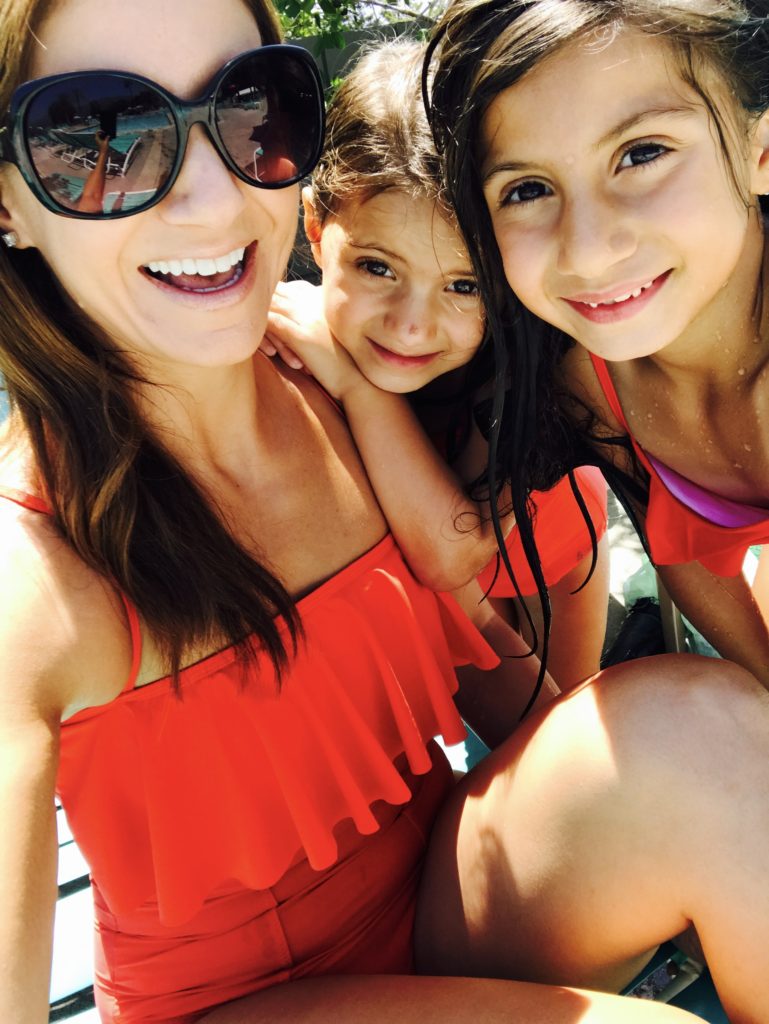 Aurein Swim
 uses 'visual design tricks' to shape and guide focus towards the flattering parts of the body. In other words, they use ruffles, ruching and high-cut lines to make things seem bigger (busts!), smaller (waistlines) and longer (legs!) than they actually are. They also use one of the best eco-friendly recycled Italian fabrics that's two times more resistant to chlorine, sunscreens and oils than common fabrics and blocks out more than 97% of the sun's harmful rays (hello, anti-aging). The material also prevents the color from fading, is breathable, soft and designed to last 2+ years. Let's just say I've washed these suits a few times now (in my washing machine AND using the dryer!) and they still look great. I guess it's also a big deal for me to mention that Aurein was started by a mom who wanted to create swimwear for new moms to flatter and embrace curves after having a baby. (A real FAB mom!)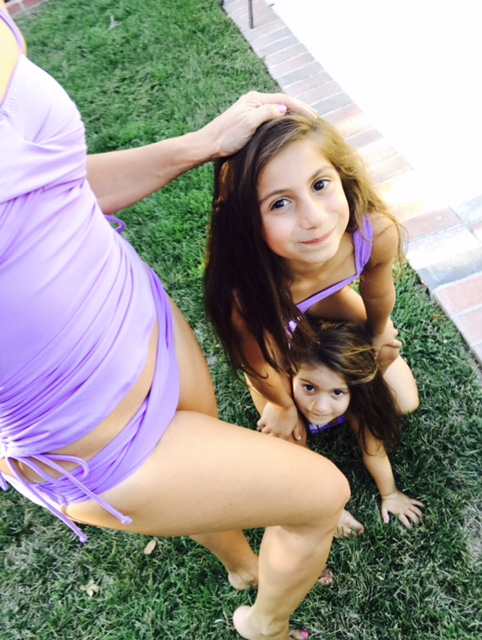 Why bother sharing all of this? Because even though it's the end of summer, I really believe (with all my F-A-B mom heart) that part of our jobs as moms is to find the right swimsuit that works… and then wear the damn thing without hesitation, self-scrutiny and question marks about whether we should be wearing it and on and on.
Just put the swimsuit ON. And play. And laugh. And be there. And feel good. And match our daughters (if we have daughters). And not worry.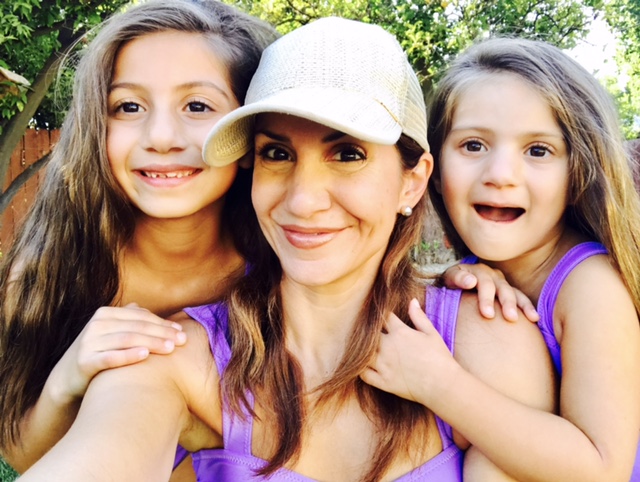 Because even the people who appear to feel absolutely comfortable in their skin tend to have some kind of invisible insecurity about the jiggles on the back of their arms (that they can't get rid of no matter how many stupid push-ups they do at their bathroom sink!) and the uber-padding they secretly slip into their bust line to fool everyone into thinking they're not really as flat-chested as a 12 year old boy. Trust me — I know.
SHOP AUREIN SWIM AND GET A 10% DISCOUNT USING THE CODE 'THEFABMOM'!
NOTE ABOUT DIANA DESIGN: Due to production error, the Diana top currently runs 2 sizes smaller than it should — the issue has been fixed for the next collection. At the moment, the biggest size for Diana top is US-8 (UK-12).