I was right! I was right I was right I was right. (See, husband?) Cyber security for families is nothing to laugh at… because that little Furby can breach our privacy.
This week, the Federal Bureau of Investigation's Internet Crime Complaint Center put out a public service announcement urging parents to "consider cyber security" before giving kids Internet-connected toys — you know, stuffed animals and dolls that talk back to your kids or put together picture slideshows using your family's photos from your computer when they say hello…
We talked about this new FBI warning on my regular 'FAB Mom' CBS Los Angeles segment:
(As though teaching kids how to safely monitor social media isn't confusing and time-consuming enough…)
And to think, my darling husband told me I was 'crazy beyond reasonable logic' just a few weeks ago when I had a temper tantrum about him buying an Alexa without discussing it with me first. That's right, I came home from work, saw the cylinder on the main counter in our kitchen, said "what the hell is that?! I know what that is and why is it here?!" and then erupted into an argument about how I didn't appreciate being spied on in my own home.
"But it lets you turn the lights on in the other room just by saying 'Alexa, turn living room light on!'" I don't give a $hit, I said. Get up and turn the light on. It's exercise. And then I went on another tirade, interrogating him about if he'd explained what this new thing was to our daughters, what privacy is and how we can guard it, how this new fun toy that turns the lights on might actually be listening and recording our day-to-day family life… and then I just got even more angry. (I never said I was logical here.)
I quickly took it upon myself to tell my girls. "Hey ladies. See this thing? It's cool and it turns on our patio fountain, but it also might be listening to conversations that we have here at home — private, family conversations — and we don't know who or what might be listening on the other end. So just be careful, be aware, and that's that." And that was all I could think of to tell them in a way they'd understand at the ages of 5 and 6. I didn't want to scare them about some 'spooky person' in 'the cloud,' but I just wanted to make them aware of what privacy IS.
After much back and forth (and him tired of hearing me whine) my husband moved Alexa to his back office — right next to a mini-Buddha he got on one of his trips before we'd met. (How zen.)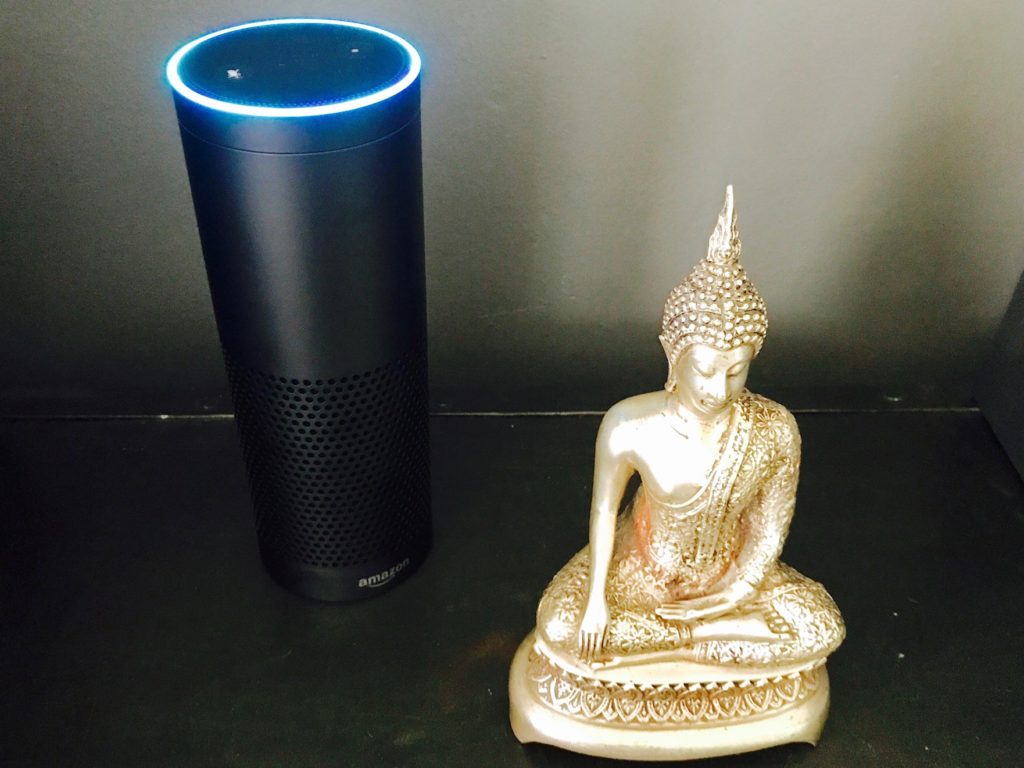 At least this thing isn't in our common family area anymore. But yeah, I still feel like I'm being spied on when I'm vacuuming the carpet in there…
BECAUSE. I. WAS. RIGHT. (LOL!)
Dear FBI: If you feel like putting out any warnings about Alexa, I will happily talk about them on-air.
Since February 17, 2016, you can now catch "The FAB Mom on 2" every Wednesday night at 5pm and Friday mornings at 6:30am on CBS Los Angeles' Channel 2! Like CBSLA on Facebook, Like The FAB Mom's *NEW* Facebook Page and comment, ask, request and shout what YOU want us to talk about. And share, share, share what you like on Twitter & Facebook using #CBSLA … just like your mama taught ya.