You have a family emergency plan? My recent FAB Mom CBS Los Angeles segments challenged all of us to get focused this summer — get our kids drawing on pillowcases and get ourselves to learn infant/child CPR (the CPR challenge thanks to actress and mom-of-2 Blake Lively's Instagram callout earlier this week)… But seriously: start drawing on a pillowcase.
This "Pillowcase Challenge" started by the American Red Cross is a clever savvy way to get families to break the ice with children about family emergency/fire-escape plans. Here's how it works:
Grab an old pillowcase
With kids, talk about what kinds of emergency items you'd put in that pillowcase if you needed to get out of the house quickly because of an emergency/fire (water bottle, radio, socks, a comfort item, Band-aids, a sweatshirt)
Draw those items on the pillowcase
Discuss a fire-escape plan (through the house, out which doors, where to meet as a family outside, out-of-state emergency phone numbers, etc) and then draw all those things too
Pack the pillowcase and keep it under the child's bed — if you can do test-runs and practices, great!
My daughter's big plan of attack here (yeah, she had a blast drawing this).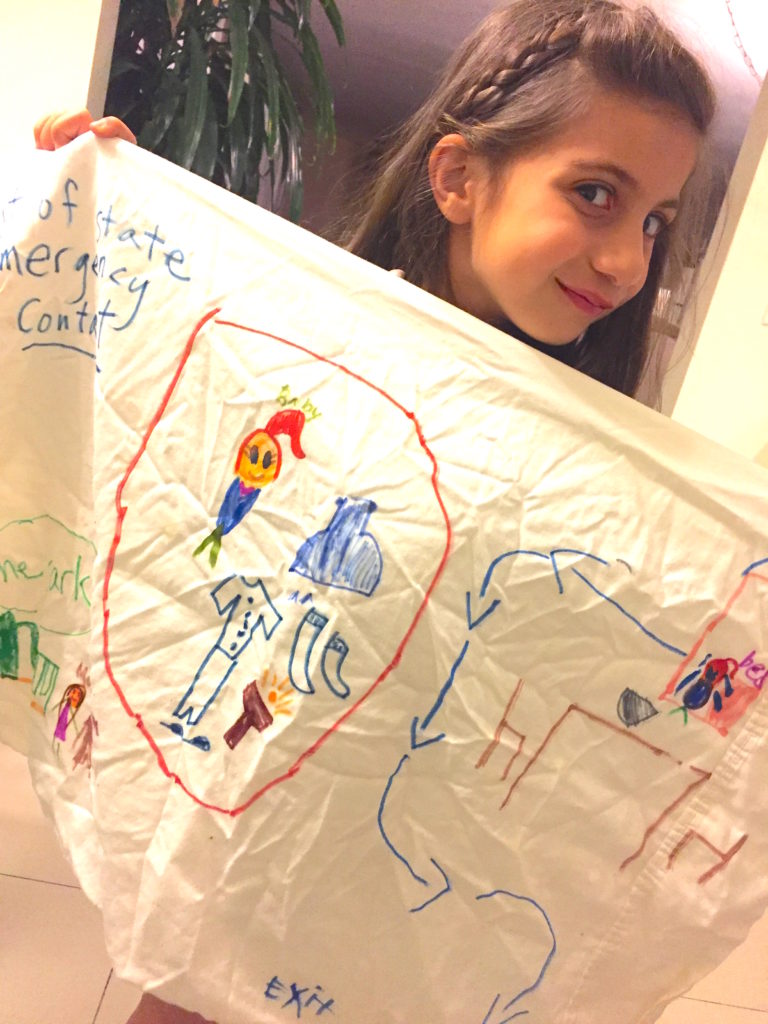 The object of the game? To get kids prepared and thinking about 'what to do' but also to quell fears about emergencies for small children… so they feel more confident, capable and equipped should something unexpected happen. Now that I've talked about what to do in case of earthquake or fire at our house with my girls (ages 6 and 5), it's like a load has been lifted. We did the big sit-down talk, now I just randomly quiz them "What would you do if an earthquake happened right now?" while we're sitting at dinner or reading or something — and they actually remember their plans!
As for Blake Lively's challenge for all of us to learn infant/child CPR, I found a fabulous and popular LA-local option called The CPR Party — an instructor certified by the American Heart Association comes to your home and teaches you and a group of your friends the basics (yes, you can have snacks). Check 'em out and get crackin'.
More info here for American Red Cross Infant/Child CPR classes or call 1-800-REDCROSS.
Now for kicks, watch how anchor Jeff Michael playfully questions my daughter's drawing about her wanting to take our dining room table with us should a fire happen at our house… (hopefully never).
Since February 17, 2016, you can now catch "The FAB Mom on 2" every Wednesday night at 5pm and Friday mornings at 6:30am on CBS Los Angeles' Channel 2! Like CBSLA on Facebook, Like The FAB Mom's *NEW* Facebook Page and comment, ask, request and shout what YOU want us to talk about. And share, share, share what you like on Twitter & Facebook using #CBSLA … just like your mama taught ya.