Have you punched in your numbers yet? I did. I won't lie: It was a bit depressing. As someone who personally believes in the long-term family value of taking my career down a notch while my kids are small (so I can be home more, with them) I was shocked to discover the "lifetime earnings lost" calculator via Working Mother Magazine. Somebody find those stay at home jobs. We need more.
Basically, this smarty-pants of a tool tells us how much money we can lose, according to our personal salaries, over a lifetime should we opt to ditch the workplace in favor of full-time motherhood. FIND THE CALCULATOR HERE. (I dare you.)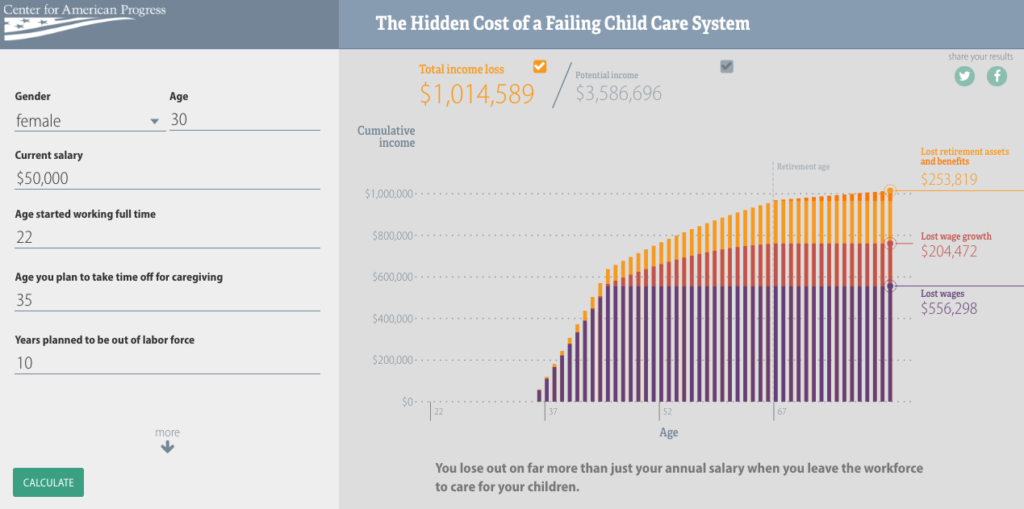 So what to do if you want to have more time with kids while they're small? Keep one foot in the workplace scene as best you can — keep professional networks warm, work part-time, take advantage of flex-jobs if possible… and don't be afraid to volunteer for the preschool board and add your duties to your resume so you can shine as being 'working and active' when you do apply for that future position once your kids are in school! Another thing to keep in mind: Don't be afraid to negotiate below-the-radar benefits with your employer if/when you find out you're expecting and are thinking about pursuing more flexibility.
My most favorite resources that address and offer solutions to most of these issues — all written by whip-smart moms who've walked the walk:
Here's the Plan: Your Practical, Tactical Guide to Advancing Your Career During Pregnancy & Parenthood; by Allyson Downey.
Fearless and Free: How Smart Women Pivot and Relaunch Their Careers; by Wendy Sachs.
The Pie Life: A Guilt Free Recipe for Success & Satisfaction; by Samantha Ettus.
Mom Boss: Balancing Entrepreneurship, Kids & Success; by Nicole Feliciano.
Whatever your choice or circumstance, go forth and be confident. Because staying focused after babies is FAB no matter which way you slice it. xo
Since February 17, 2016, you can now catch "The FAB Mom on 2" every Wednesday night at 5pm and Friday mornings at 6:30am on CBS Los Angeles' Channel 2! Like CBSLA on Facebook, Like The FAB Mom's *NEW* Facebook Page and comment, ask, request and shout what YOU want us to talk about. And share, share, share what you like on Twitter & Facebook using #CBSLA … just like your mama taught ya.