DISCLOSURE: I was invited to take part in this blogger event for purposes of this post and celebrating the upcoming movie Keeping Up with the Joneses. All experiences and opinions are mine. 
It was a Thursday morning. I had gleefully RSVP'd YES. I was gonna fly, baby! Like, really fly. I used to have dreams about flying as a kid… and now I was going to do it. Mic drop.
I was excited. I was scared. Above all, I was pretty damn close to desperate to pull myself out of my rut of mom-ing, working, cleaning, cooking, wife-ing, repeating. I was inexplicably frustrated lately, tiring of repeating all the fill-in-the-blank-ing the past few weeks. I was growing tired of constantly keeping up and I needed a fun diversion.
Enter the Joneses.
In the spirit of this fall's fantasy-flick for burnt-out parents everywhere, Keeping Up With the Joneses (starring Isla Fisher & Zack Galafianakis as a married couple who have trouble keeping up with their gorgeous and ultra-sophisticated neighbors played by Jon Hamm & Gal Gadot — Mr. & Mrs. Jones who happen to be covert operatives) I was invited to 'Spy-ce Camp' (get it? like a spy) to get a taste of what it feels like to walk on the edge of adventure via dart-throwing, cooking up a sexy meal and indoor skydiving at the awesome and epic iFly Hollywood at Universal Studios City Walk.
I was so cool. Look at me. I work, I mom, I cook, I clean. So what if I was burnt out? So what if the last few weeks kicked my a$$? I would mom up and power through for this. I would keep up with the hippest of them all no matter what else was going on. No big deal. Make it happen. Keep up. I believe I can fly.
My plan to defy gravity (figuratively and literally) was going so well… until my sitter cancelled at the last minute, leaving me responsible for my four year old and picking up my Kindergartner from school at exactly 11:50am that day. (Don't ask. A combination of poor planning plus a commitment she couldn't get out of…) I was screwed.
But oh no, I would keep up. Keep up with the Joneses, keep up with adventure, keep up with myself. I could hit up the flying portion of Spy-ce Camp in the morning, conquer my coexisting fears and dreams to 'fly' and then take off in time to pick up my Kindergartner. I took my four year old with me. (Hey, it was a mom blogger event… I figured bringing my kid would be legit, right?)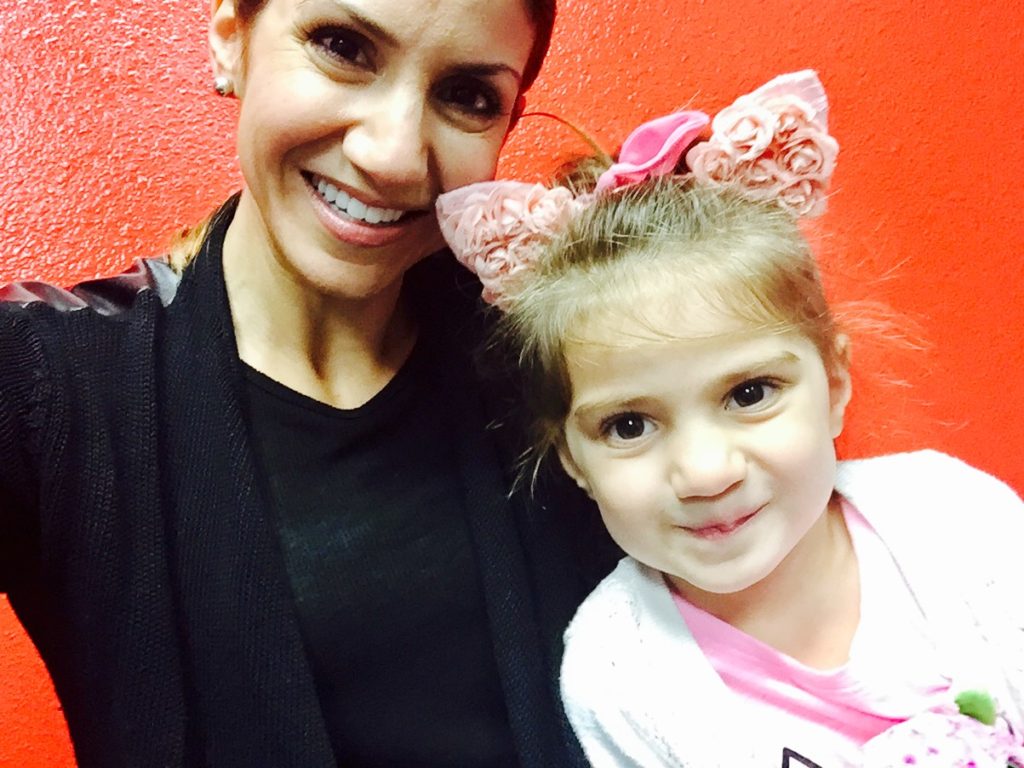 We arrived a little after 10am. We filled out all the safety forms and signed my life away with regards to relinquishing all rights to sue should I, say, injure myself in some freakish way on this flight. We listened to our instructor — he told all of us moms to point our toes during our flight.
I looked at the time — 11am now. Oh no. I had to leave in 30 minutes.
I suited up. I goggled up. I helmut-ed up. I locked all my jewelry in the locker (because you're not allowed to wear earrings to fly, makes sense). I selfie-d some more. I was getting excited.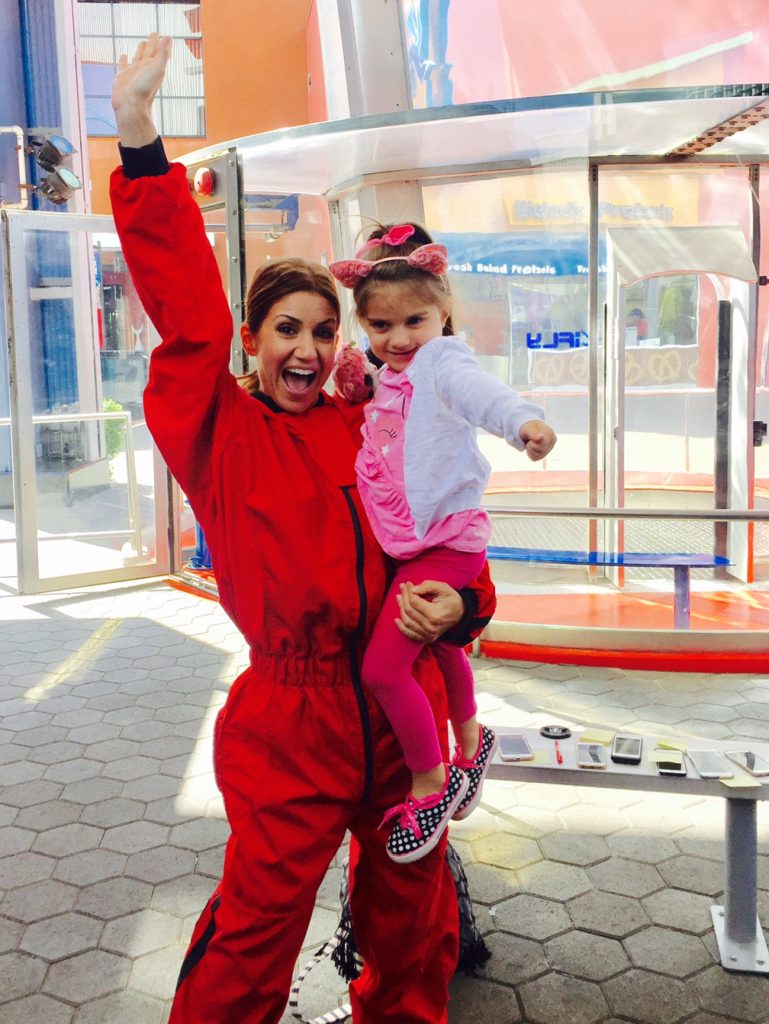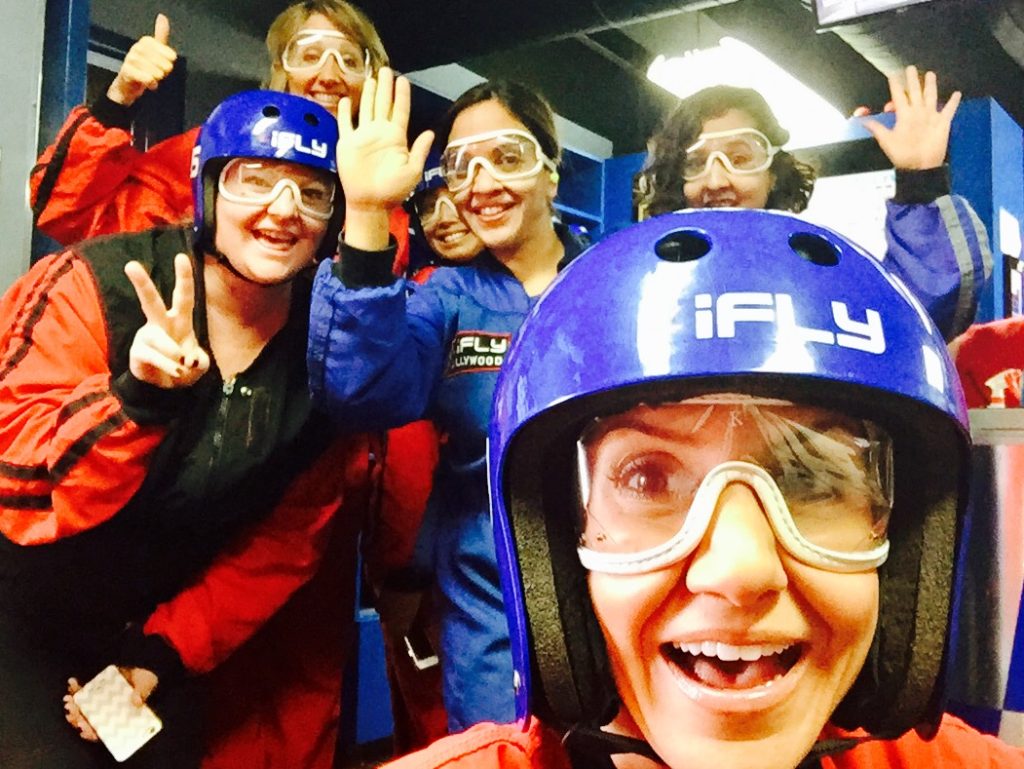 AND THEN I GOT NERVOUS. I looked at the time again — 11:25am. We weren't yet lining up to go inside the larger-than-life air-vent thing that blows all the air and lifts you up to 'fly.' My four year old was turning to mush (thanks for the cuddle, Jet Set Nicole).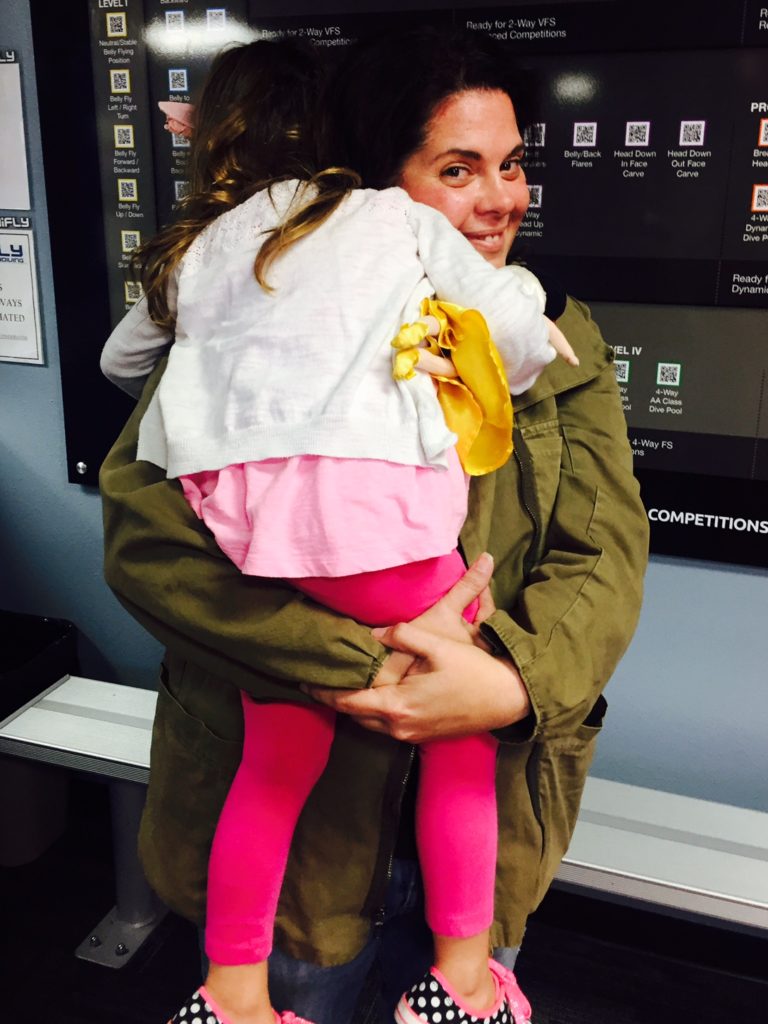 I waited a few more minutes. 11:28am now. My heart started pounding. If I didn't get on the road right now, there would be a sad little girl waiting by herself on the steps of the school — or in the office — wondering why mommy was so late.
I shut down my need to keep up and mom-ed up. Off came the goggles. "I'm sorry, I have to go right now. I have to pick up my daughter at school." I ripped off my helmut and suit and stuck my earrings back into my ears. Everyone — the staff, the PR team that had graciously and creatively concocted this genius activity for all of us to enjoy to celebrate the upcoming movie — were so cool. "Don't worry! You'll make it!" my friend Heather of Motherhood in Hollywood and everybody else shouted to me as they lined up to go into the windy flying machine and I literally ran towards the Universal Studios parking garage carrying my LilMiss.
I got to my daughter's school in the nick of time (literally), but I found myself worried that day.
I felt so embarrassed. Not because I had to tend to mom duties or that I had to jam out of there so quickly or because my sitter bailed and left me holding the bag to scurry around and solve the unplanned dilemma that day. I was embarrassed because I tried to pull off something that I knew was going to be nearly-impossible and absolutely inconvenient for me to do on that day.
I was mortified by my own obsessiveness to 'keep up' — despite that the Universe dealt me a 'just sit tight' deck that day. I resisted to listen. I insisted on my own drive and desire to make things work… I insisted on keeping up at the expense of my own stress and chaos.
And then I snapped out of it the next day. An minor epiphany hit me.
If I didn't try to make it all work that day, I would've never known the outcome. Keeping up means that we try to smash in what we need and want to do — as moms, as wives, as colleagues, as people. We always get points for trying, even if things don't work. That's life. That's work. That's living. That's what keeping up is all about — even if we feel like we're flailing, falling or failing.
Maybe I'll still fly one day. After all, I was this close. And big things can happen if we just keep up.
(As for the movie? You bet your a$$ I'll be seeing it one way or another — check out the trailer below. You think I can take my kid?)
Keeping Up With the Joneses parachutes into theaters nationwide Friday, October 21. 2016.