The thought and process for moms returning to work after being home raising children for several months or years can be scary, intimidating and stressful. (Why do you think I've tried to keep one foot in the career door since the birth of my babies… I'm petrified of losing ground in the working world!) CBS Los Angeles news anchor Suzie Suh knows what I'm talkin' about…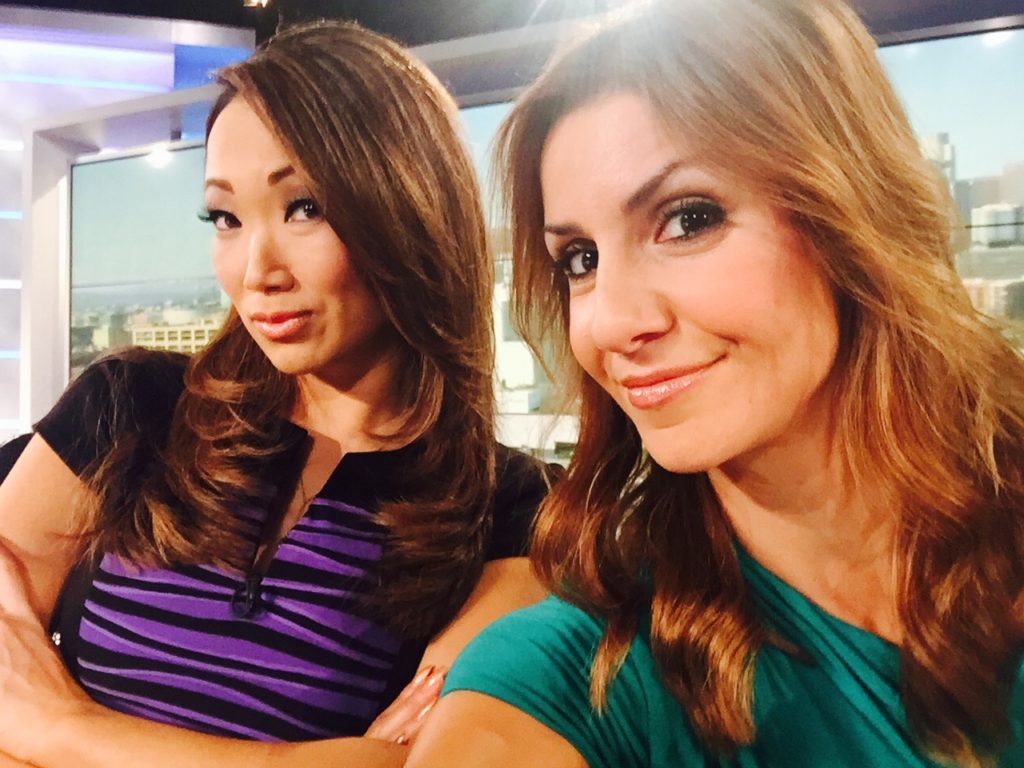 With school back in session and the release of the brand new book Mom Boss: Balancing Entrepreneurship, Kids & Success (written by mom-with-major-moxie and founder of Momtrends, Nicole Feliciano… available now!), I got revved up to tackle how moms can jump-start the process of re-entering the workforce for my latest 'FAB Mom on 2' segment on CBS Los Angeles. Hint: Transferable Skills, mamas! TRANSFERABLE SKILLS:
If you think about it, fall is a perfect time for stay-at-home moms to consider re-entering the workforce after taking time off to raise kids. Eight out of ten moms work and about forty percent of moms are their family's primary breadwinner. Devoting 15-30 minutes each day to reaching out to new contacts and/or rebuilding your previous ones can start the ball rolling quickly — if you're looking for work, start telling people about it.
Laura Gerson, Co-Founder of Los Angeles based
MomFair
(a conference and online resource dedicated to helping moms return to the workforce by connecting and sharing expert insight and information) suggests starting the process by visiting
LinkedIn
, updating your resume, creating a professional profile (by exploring and comparing others' profiles) and approaching every step with confidence. "You did productive things during those years at home with your kids. You led committees at school, managed community gatherings, and organized charity events. Find a way to represent that on your resume. Skills are most important to recruiters and hiring managers, even if those skills were learned and implemented during volunteer hours." Transferable skills learned in other areas of life (including volunteer and/or parent involvement at school) include managing groups of people, delegating duties, creating programs and/or activities from scratch… they all count.
Check out these gems online for career ideas, opportunities and up-to-date insight, thanks to MomFair for all the following advice here and in the video — check out their site for more info and events too):
FlexJobs: An online resource, with a monthly subscription fee, that screens and lists flexible jobs for parents. Companies do not pay to be listed on their site. Working Mother Magazine, Power to Fly (for tech jobs) and Work at Home Mom Revolution also provides valuable insight and email blasts with cutting edge information. General Assembly and Skillcrush can help you develop and/or hone a new skill relevant to working in the digital age for minimal investment of time and money.
Since February 17, 2016, you can now catch "The FAB Mom on 2" every Wednesday night at 5pm and Friday mornings at 6:30am on CBS Los Angeles' Channel 2! Like CBSLA on Facebook, Like The FAB Mom's *NEW* Facebook Page and comment, ask, request and shout what YOU want us to talk about. And share, share, share what you like on Twitter & Facebook using #CBSLA … just like your mama taught ya.