What happens when two moms of two daughters each bust into the pool party at Tao Beach Las Vegas? Well…
Now now, don't judge. This was a matter of practical research. This was a matter of reigniting energy. This was a matter of seeking some unconventional fun in the name of reducing stress.
This was a matter of two sisters who wanted to see if they'd really changed all that much since their joint bachelorette party 7 years ago in the same place. (A 7 year itch?) It was pay or play, people. And 7 turned out to be lucky.
Why were two moms of two daughters each in Vegas in the first place? We went with our mom, okay? It was a first-time, mother/daughters trip to the City of Sin so that we could relax by a pool, get dressed up and go to dinner at that cute little French restaurant that had a patio just across the street from Bellagio's dancing fountains… without kids or husbands. Why? Because we like each other so damn much. Our mom is our best friend and we thought it'd be a blast to hang out.
We relaxed by that pool and ordered an impressive pitcher of pink lemonade (with a power-packed punch). And cherries.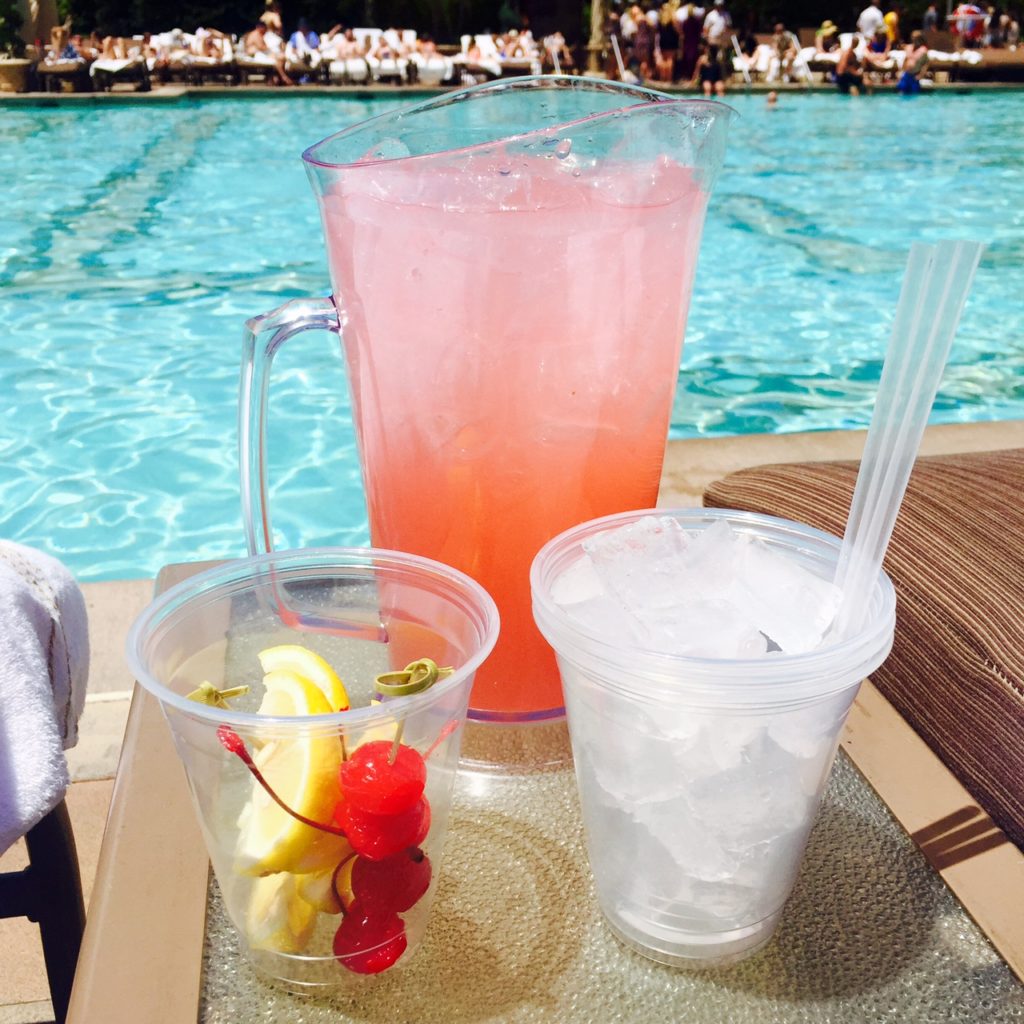 So we sipped it. (So you know, that pink baby yielded almost 6 full drinks to kickstart any poolside Vegas experience.)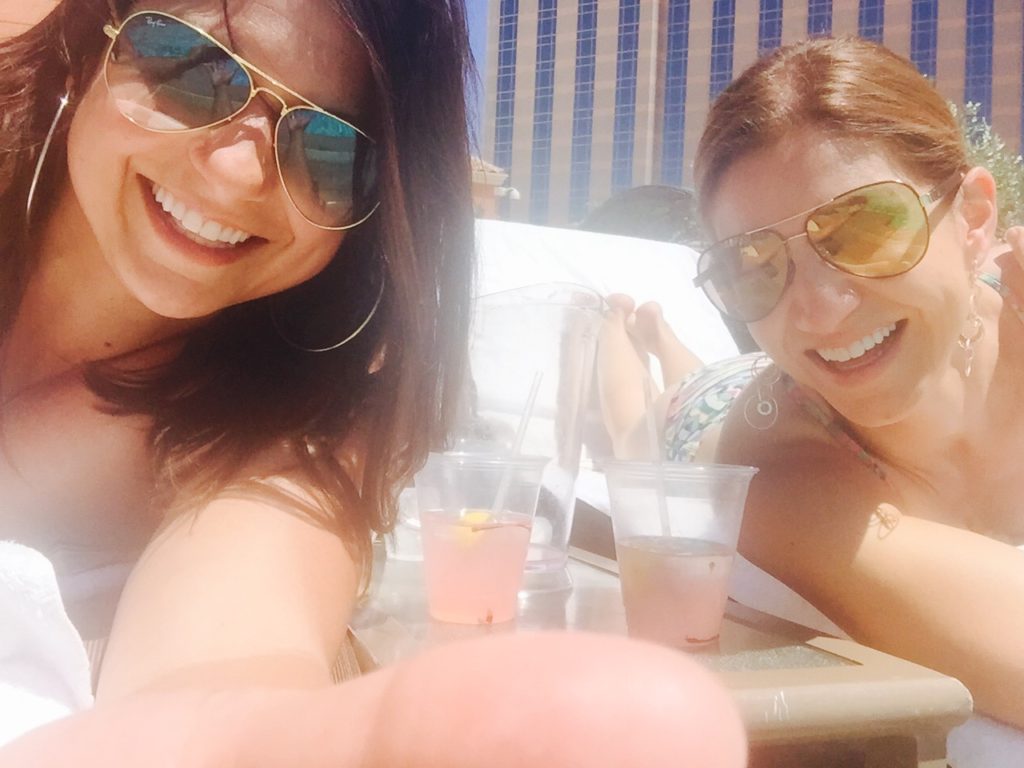 As we sipped, we looked across the pool and talked about all the weird/wild/wacky/wannabe fun we'd had just 7 years ago at the 'club pool' Tao Beach just across our serene scene… on the other side of the wall that keeps all the old folks out and the young ones in, shielded from judgmental stares and comments.
"We should go in there again," my sister suggested. I laughed it off (but really wanted to, just to see if we could get in as older and wiser MOMS).
"Don't let me stop you!" blurted my mom on the chaise lounge next to us. MY MOM.
So we sipped some more, slipped on our flip-flops and strutted over. (In days gone by, we'd have been in high-heeled, glitzy platforms at the pool…) They're not going to let us in, we have frumpy shoes on.
We kept our sunglasses smashed to our faces so the bouncers couldn't detect the all-telling dark circles and fine lines under and around our eyes.
"How much to get in?" I asked the 20-something (maybe almost 30) guy with the IFB earpiece at the gate.
"Are you staying at the hotel?" he asked. "Yeah," I said. "Then you can just head in."
That was it. We didn't wait in line, we didn't have to take our sunglasses off. ?!?!?!?!?!?!? We hurried before Mr. Earpiece came to his senses and changed his mind. We walked in. To this: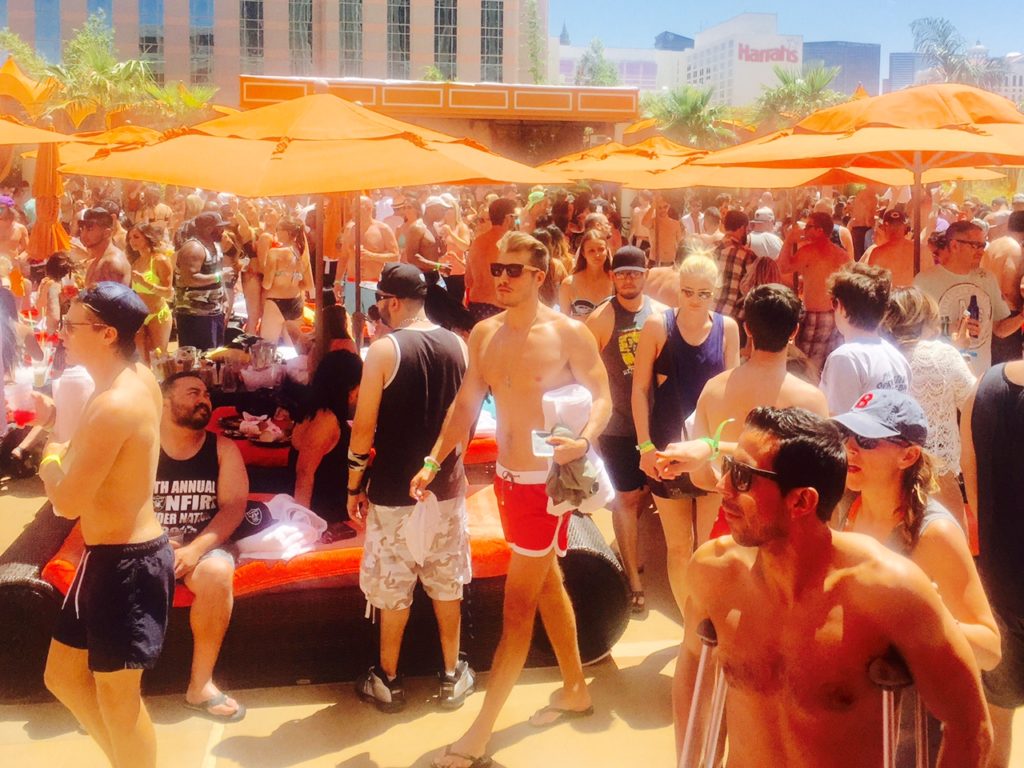 I mean, you have to be committed to want to head in there with crutches (spot that guy in the picture above? lower right corner. look again). There was also THIS: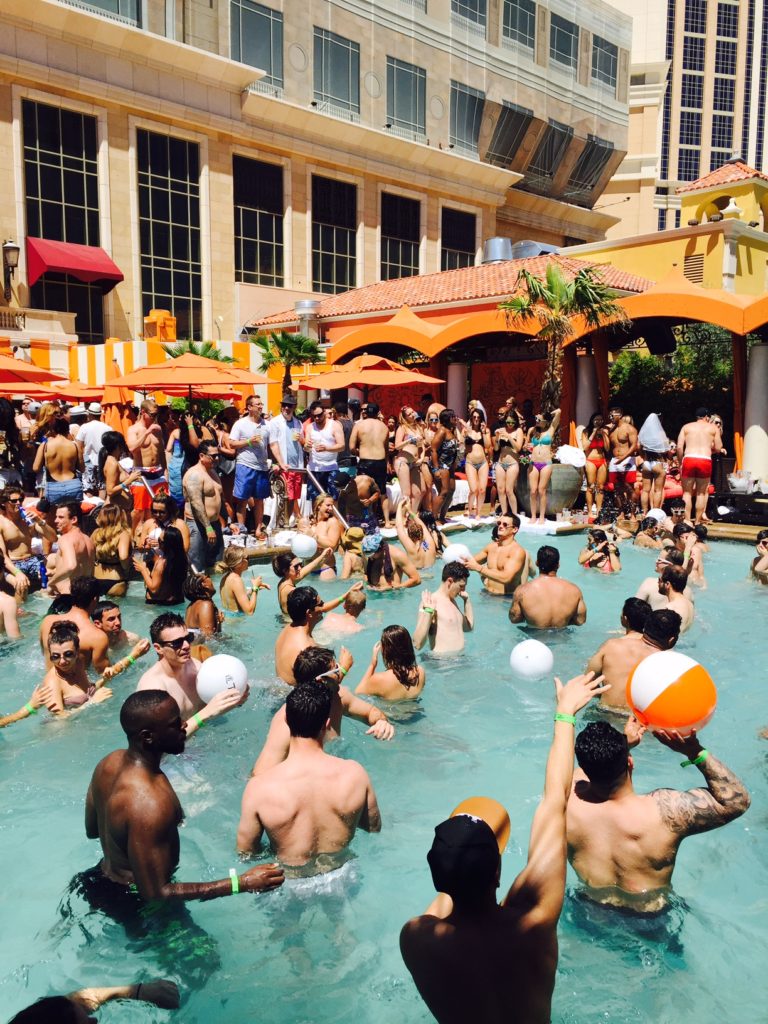 I felt a rush of excitement and youth mixed with total fear and dread that everyone would soon be staring us down as the aged women who shouldn't be in the place. Keep the sunglasses on no matter what. We went to the bar.
Anna, is that you?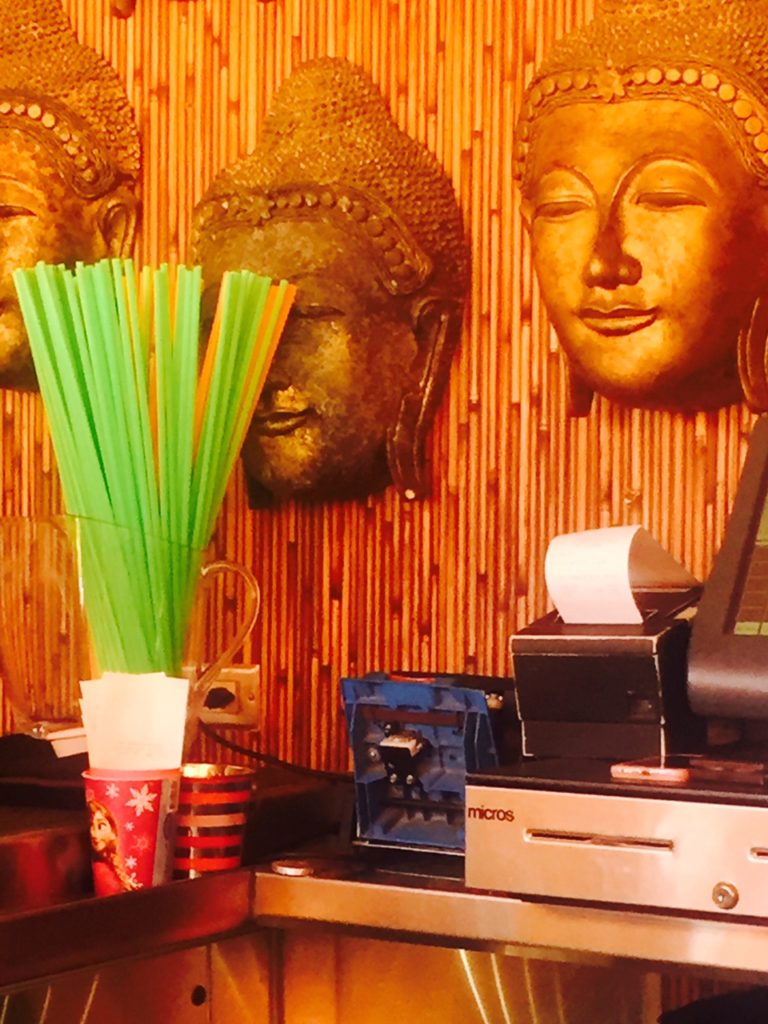 What wild pool scene uses an Anna-from-Frozen plastic cup as a tip jar?!? I have four of those cups in my kitchen at home! My girls are probably drinking out of them right now as we speak?!?!
It was like Anna was mocking us: I see you MOMS. Can't hide from me.
We decided to act natural amongst the young, hot people. Which meant we snapped selfies like all young, hot people do these days.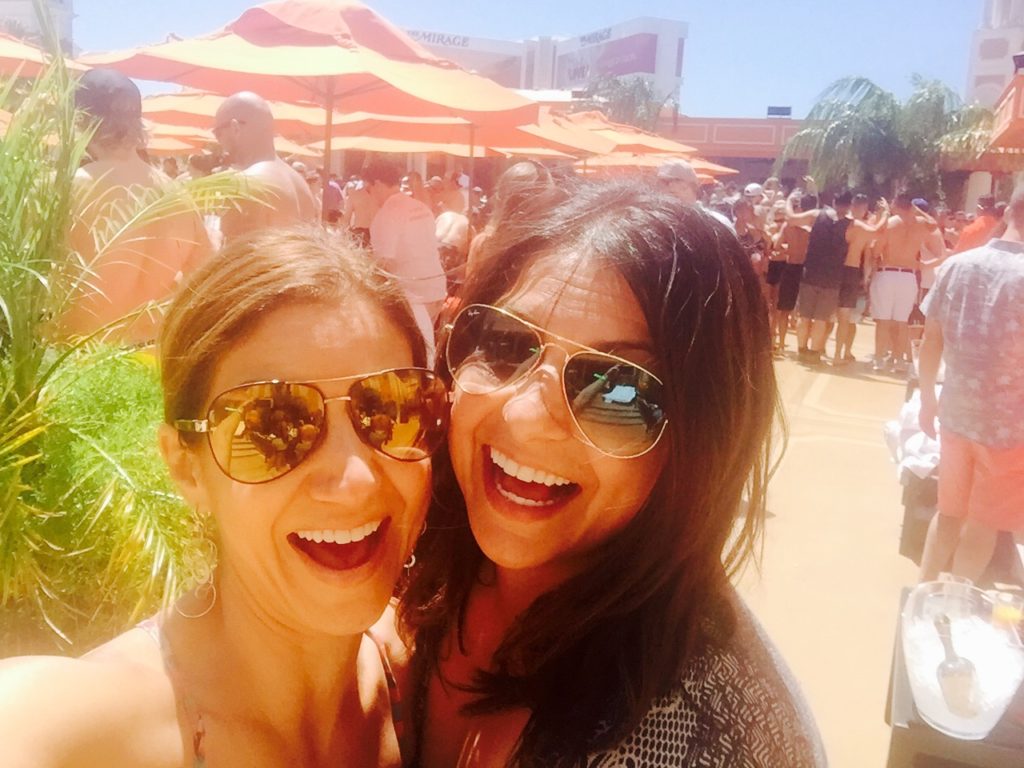 Except we soon noticed we were the only ones with our phones out snapping pictures. Oops. We put our phones away… but not before texting our friends from our bachelorette party 7 years ago about us being there. (The responses of what-the-hell-are-you-two-doing-there that came back were epic and beyond entertaining.)
The hour that followed consisted of us standing at the corner of the pool: Giggling to ourselves, unsuccessfully trying to help a group of cousins 'sell' the extra cabana they'd unnecessarily purchased next to them to passers-by, keeping our sunglasses on, trying not to accidentally slip into the pool (because who knows WHAT was floating in there), dodging tossing the beach balls back into the pool as they came hurling towards us… and then finally deflating two of said beach balls tossed our way so that we could shove them into our small purses to take them home to our kids. One guy came up to us and offered, "You two are attractive," to which we said thank you and then continued to politely sidestep away from him. Ok, we also took a pink shot of something that the waitress brought around too. (Big deal.)
Oh yeah! My sister sneezed at one point and someone with more tattoos than I'd seen in a long time told her, "Bless you." So nice. So unexpected.
Moms gone wild? Moms gone wacky.
After an hour, we'd gotten our fill and went back to our mom on her chaise lounge (by the regular pool) and reported our findings.
What did we get out of it?
Fun. Energy. Nostalgia. A WHAM-BAM MEMORY THAT WOKE US UP THAT DAY AND WILL LIVE FOREVER… even when our daughters one day venture to Vegas as young adults. (Although my husband says, "They're never going to Vegas!" Keep telling yourself that, babe.)
The way we saw it that day, this might've been the last time we'd have an opportunity to pull a stunt like this. No kids with us to be a responsible mother for, no husbands to tell us how juvenile we were to even want to go back to a club pool like that. Just us. Two moms. Two sisters. Two women that wanted to celebrate the day in a way that made us feel like the carefree chicks we used to be.
Because feeling like yourself matters, even if you're a mom. And if that means sucking it up and sliding into a scene that's not made for moms, then so be it. For your mental health. For your physical health.
I dare you to revisit YOU this summer, even if it's only for an hour.
Viva Las Vegas.