I have a thing for the best parenting books lately. Maybe because I'm writing my own [first] book? Let me tell you — as big of a dream this is come true for me, writing a book is TEDIOUS AND SOMETIMES-FRUSTRATING. Appreciate and recognize those who throw themselves into a fire like that — I certainly do. (Maybe that's why I have a thing for parenting books… who knows.)
Either way, there are some bang-up reads hot off the press RIGHT NOW that parents should get their pretty little hands on asap — whether you're a new mom, a been-there-done-that-bring-more-wine mom or an expecting mom who's wondering how the hell you're going to keep up with your evolving career and ambition after baby comes (been there, done that too). Thank goodness that some of my most very smart and savvy mom friends, who happen to be famous mini-moguls, medical professionals and media masters have us all covered in the must-read department. Recognize. Here are the goods:
If you're a new mom (infant to toddler and a bit beyond)…
What to Feed Your Baby is your new Bible. I'm not kidding. And I'm a super-tough sell when it comes to books about feeding kids — so much that I didn't like anything I got my hands on when I was first introducing foods to my girls.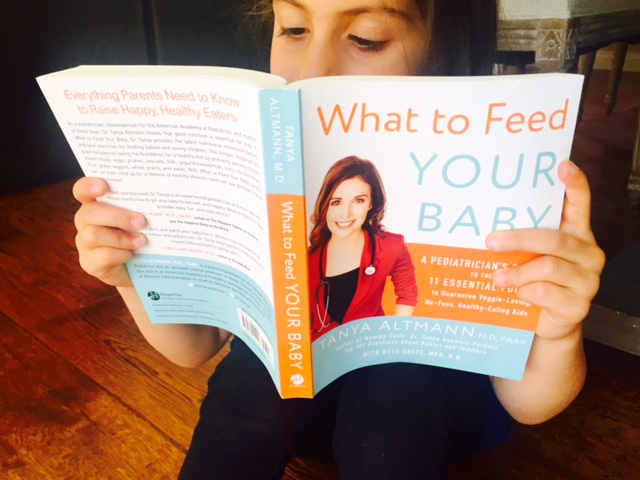 I don't like complicated methods, I don't like new-age tactics, I don't like anything that's going to disrupt the plain and simple act of just putting regular food into your baby's mouth because, well, life is complicated enough and who needs more drama? I've flipped through and read all sorts of sections of this book — such an easy read. Man, I wish I had this way back when it was my turn. Damn, woman.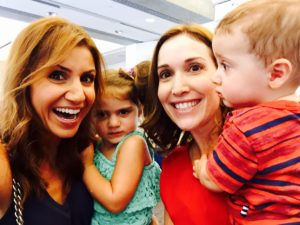 Sure, I consider author Dr. Tanya Altmann a friend of mine (full disclosure here, folks) but I have been so impressed with the direct instruction the book offers I almost wish I was back in Babyland these days. As a mom of 3 boys, Dr. Tanya lays out no-frill facts about 11 essential foods, offers reasonable options and solutions for introducing solids and maintaining consistency for picky eaters through the toddler years and beyond… and also busts open fears and myths that us moms need to be aware of when it comes to our food supply and consumption. (Turns out, we don't need to to petrified of all milk factories! And personally, the 'brain hunger versus body hunger' section is helping me after meals too…) Available April 5… GET IT HERE NOW!
If you're a Been-There-Done-That-Bring-On-The-Wine kind of mom…
Sh*tty Mom for all Seasons: Half-@ssing It All Year Long is your roll. I mean, the title alone…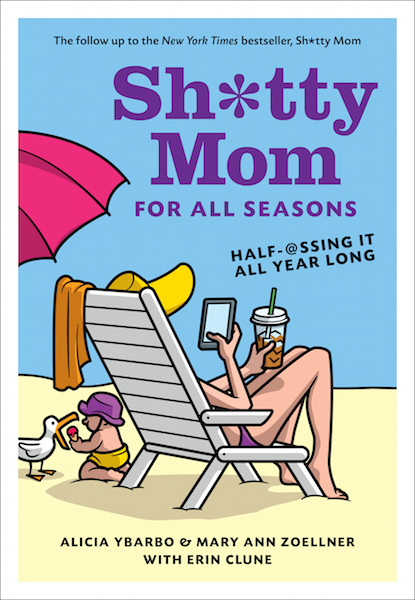 Written by Emmy award winning TODAY Show producers (and hoots-and-a-half-in-real-life) Alicia Ybarbo & Mary Anne Zoellner and humorist Erin Clune, this baby's got all sorts of non-advice to keep us laughing through WTF-was-that motherhood moments, clever justifications and self-serving rationales like this — Reminder! An effective way to get rid of those old toys your kids are sentimentally attached to is to "disappear" them behind furniture. By the time you pull out the dresser to vacuum behind it next spring, the kids won't care about the stuff anymore. Suck it, toys. My kinda philosophies. Especially because of Legos. And yes, for those of you with a keen eye for classy titles, this is the followup book for the New York Times bestseller a few years back. Except now, we're guided through our sh*tty moments via the holidays, special occasions and that dreaded school calendar. Sassy stuff here, mamas. Pure entertainment and venting for those of us who crave it season to season… Available NOW — GET IT HERE!
If you're simply just expecting and don't care to understand all this feeding and venting and just need to figure out how the hell you're going to stay ambitious in the workforce through pregnancy and beyond… Pick up Here's the Plan: Your Practical, Tactical Guide to Advancing Your Career During Pregnancy and Parenthood.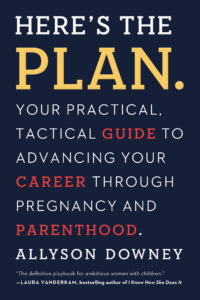 Legend has it that some early reviewers regard this shrewd beauty as "Lean In meets What to Expect." Written by 'Yelp-for-baby-gear' WeeSpring founder Allyson Downey, this is your one-stop, insightful info system and resource for all things working family life; including paid leave, which questions you should ask your HR department (you know, to make sure you're not missing out on any valuable loopholes involving maternity leave!), how to negotiate pending promotions and more. An inventive, total working mom's roadmap written by a working mother of two young children to all of us. Available NOW — GET IT HERE!
So now that I've spilled the hottest dish about all the best parenting books you can order and pre-order during the month of April, go forth and conquer moms. Go forth and conquer…