By now you might know that ringing in the New Year runs a close tie with Thanksgiving as my favorite holiday (mostly because they involve lots of eating and drinking and absolutely no gifts). The official end of the calendar is all about reflection, motivation, revelations and inspiration for the new year. Goals… how to live better… growing up in mind and spirit. Which are pretty much my favorite topics these days.
2015: You were wonderful… I'm sad to see you go. And if I didn't learn what I did this year, I'd be worried for 2016. But I'm not worried. This is a huge turnaround for me (to not be worried).
Before kids: I'd worry about finding jobs, earning money, if I'd ever meet the right guy, if I'd actually accomplish any of the lofty goals I'd always dreamed about, whether or not my hair would start turning gray before I turned 30 (it did).
After kids: I still worried. (Moms worry.) I'd worry about my girls' future, this crazy scary world we all seem to be living in, whether my husband and I will be able to afford to pay for both of their college educations, whether my husband will one day be bored with me… whether I'll still be able to accomplish some leftover lofty goals I still dream about, even though I now have kids.
As shallow as it sounds, that last one used to keep me the most worried.
I know worrying is stupid, but for some reason I couldn't pull myself away from it. They say worrying demonstrates a lack of faith (which alarms me, because I do feel I have deep faith). But the lessons of this past year proved to be revelatory in regards to my worrying. Man, was I told good.
The very first day of 2015 started by standing in a spot I'd dreamed about standing in since I was a young girl (a silly bucket list thing that doesn't really make sense to anyone else but me). And on January 1 — I stood there. Against all rational odds. Against an original plan in place. Against what I thought was supposed to be. Against, against, against. Although it seemed to make logical sense to others from the outside looking in, it was a total fluke. I knew it. I went with it. I was grateful for it. Somehow, it was meant to be. So it found a way to be.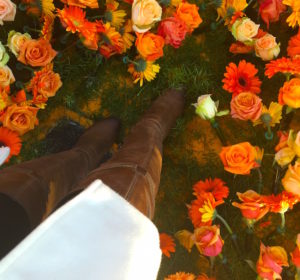 From that fateful day (January 1, 2015) I made a choice to start to trust more and worry less. Trust my choices. Trust my efforts. Trust my downfalls. Trust all the things that I'd perceived as mess-ups and mishaps. Trust it all and keep going. A few months later, I landed somewhere else, somewhere BIG, somewhere I'd never thought I'd get to… against all rational odds, against an original plan in place, against what I thought was supposed to be. But I was there. It was meant to be, so it found a way. (I guess it was meant to be twice.)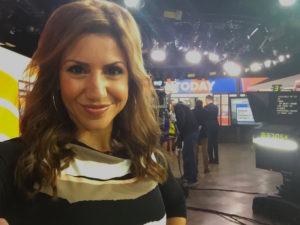 The year continued. Good things kept happening. Bad, scary, disappointing and sad things happened too. But that promise I made to myself on January 1, 2015 somehow stayed alive — Trust the process, Trust the downfalls, Trust the path. For work, for life, for friends, for family, for my sanity. WORRY LESS. Because…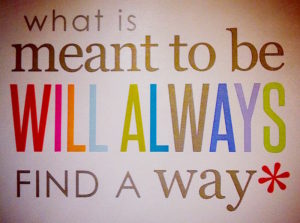 WHAT IS MEANT TO BE WILL ALWAYS FIND A WAY. (Insert heavenly angelic music here.)
Those ten words changed my life this past year. Read them again. Let them seep into your skin. Accept them with open hands and heart. Those words are magical… liberating… happiness-inducing… TRUE. And whenever I feel like I've been touched by magic, been liberated or just granted a bit of extra happiness… I suddenly turn into a better person, a better mom.
I'm more self-assured. I'm more resilient and willing to release the bad so that I can soak up the good. I'm more accepting of what doesn't go my way (this doesn't mean disappointing or hurtful things don't bother me anymore… they still do… I'm just sayin' I've learned to let go and move on). I'm more present. I'm more everything. Because worry accomplishes nothing.
WHAT IS MEANT TO BE WILL ALWAYS FIND A WAY. 
If it's good, if it's not so good, if it seems futile… the choice is ours to trust the path. Trust the process. Trust our own ability to faithfully keep going. (What's that saying, "If you're going through hell… keep going.")
May this next year allow all of us to work our works, love our loves, be what we believe we can be as women, wives and moms… and to remind our kids, no matter how young or old they may be:
WHAT IS MEANT TO BE WILL ALWAYS FIND A WAY. 
Ten. Words. That. Have. Changed. My. Life. Ten words that have given me peace and deeper happiness this past year. I'd only wish I'd known them sooner. So I will tell my girls. For work, for friends, for family, for you and me. For life. Happy New Year…