Ahhh….. the holidays. Christmas. The New Year. And then Armenian Christmas (at our house anyways). The fashion for kids in between. I suppose there's no escaping any of them at this point (I'm teasing — I love it!). But man, am I POOPED. I blame the pictures.
Gifts are done. Decorating has been up for a while. The fashion for each upcoming event has been selected and ready to wear. A much-needed, impromptu get together with some friends (grownups only! yeah!) happened this weekend. Sparkling Cranberry Ginger Vodka Punch included. With mint.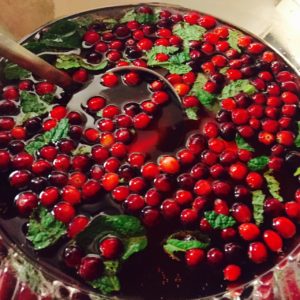 But the picture-taking. THE PICTURE TAKING. With my 5 and almost-4 year old darlings, I'm fighting a losing battle. Taking pictures has been my challenge these days. I mean, you dress these little people up to look like miniature Christmas packages and want a decent picture! Right?!?! Right.
I've tried it all… "Stand next to the Nutcracker and look at me! Hey! Look at Mommy!!!"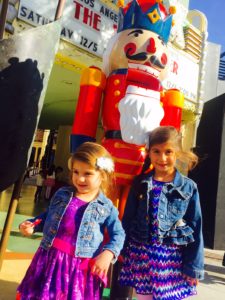 Lost the little one. So I get IN the picture. "Look at Daddy! Look! Look at Daddy! Smile at Daddy!"
Yeah. 3 year old: 2. Mom: 0. It is what it is.
"Stand next to each other and strike a pose!"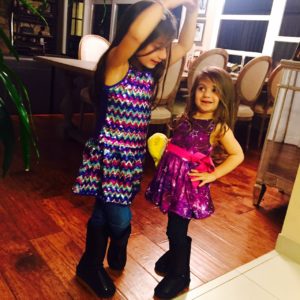 Whoops. Lost the big one this time. But ok. Getting closer. Closer is… closer, I guess. Until we unravel and tire of it all.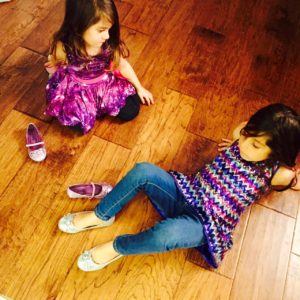 No. It's not time to take off your shoes. Can you stand up? I'm trying to get a picture here!?!?!?!
Kids: 4. Mom: 0. They say to get a great picture, it works to squeeze everyone together really tight. Some say you should tell everyone say 'whiskey' instead of 'cheese' because it makes the mouth curve more naturally into a grin (hey, makes me smile). They also say to just let everyone be themselves.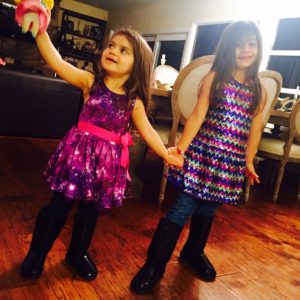 Aha. Getting closer. (Mom: 1/2.) But now you know why I haven't sent out any Christmas cards this season. At least they're dressed to the nines with FabKids…  I swear, my girls have worn these sequin & sparkly dresses everywhere this month. We dress 'em up with tights & flats or dress 'em down with jeans and boots. They work. We love 'em. They're also obsessed with sparkling like mini-walking holiday ornaments. So why can't I just get ONE picture with everyone looking at the camera? My youngest one barely even humored me for our recent fashion show segment on Los Angeles' KTLA Morning News…. watch segment here if you're interested to see her efforts to shoplift a giant lion on set.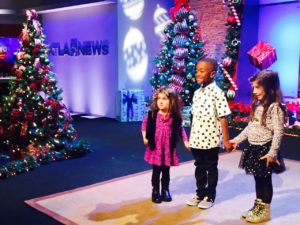 The little rascals. Gotta love 'em. Especially when they're all dressed up.
If you've got tips for taking fabulous pictures of tots, please leave a comment below and be entered to WIN a $50 gift certificate for FabKids.com, the children's fashion brand and personalized shopping site that creates outfits for boys and girls. Each month, FabKids launches a collection of on-trend, age appropriate outfits and shoes that are perfectly styled and durable enough to withstand playground fun all year long. Who says you can't play outside in sequins… you CAN. Because we HAVE. FabKids also gives VIP Members extra access to competitive pricing…
Even if you don't have a tried and true tip for picture-taking your tots, leave a comment below and enter to WIN! Contest open now through Monday December 28, 2015, 11:59pmPST. (Continental U.S., Hawaii & Alaska only.) Everybody say WHISKEY! Winner will be announced Tuesday December 29, 2015.

DISCLOSURE: This is part of a sponsored partnership between TheFabMom and FabKids. I was additionally provided outfits for purposes of this post and various television appearances. All opinions and experiences are my own.