An FYI: I cared for my skin from the inside out with Aveeno® as part of a sponsored post for Socialstars #Aveeno®. All experiences and opinions during bath time are mine.
The other day I was looking at pictures from just a few years ago. Wow, I've aged. I know a woman's skin and beauty changes as years pass, but I was surprised at how much I seem to have aged in just the past year. Just for kicks, I'll blame my daughters' bath time.
You see, bath time has been pushing my buttons lately. With LadyP and LilMiss now 5 and almost-4 (huh?!?) they are totally aware and absolutely in control of daily routines. Gone are the baby bath days when I was the sole authority for how to get them clean… I'd put them in the water, lather them up and then scoop them out when I was finished. Now, bath time is an 'experience.' They know how to do it. They have have demands. They have agendas. I'm not complaining, but…
"I want bubbles! Where are our mermaids! We want to take our bath together!"
No, we can't do bubbles tonight. Let's find them. Fine… everybody in the water now before I change my mind. You little rascals.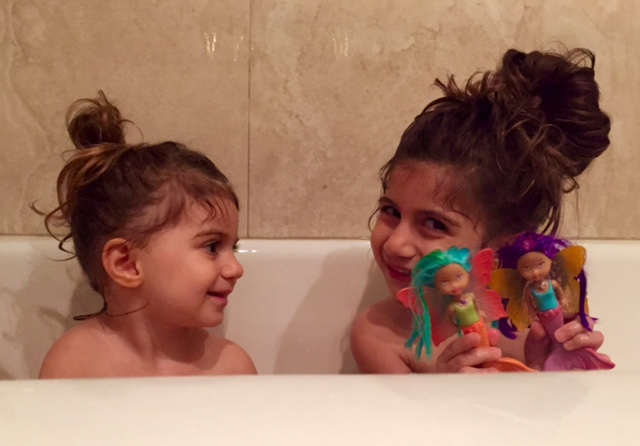 What can I say, I make an effort to maintain some kind of control over our nighttime routine (the object of the game is wind down for bed, right?)… but these little women know how to take advantage of power in numbers. I mean, their combined age is almost 9. Bath time together means more squealing, more playing, more splashing… which consistently makes our bathroom floor look like I bathed two wild baby elephants… or two rambunctious puppies… or two overexcited sisters. "We don't want to get out yet!" So they splash. And splash and splash and splash… which always creates a massive puddle on our bathroom floor.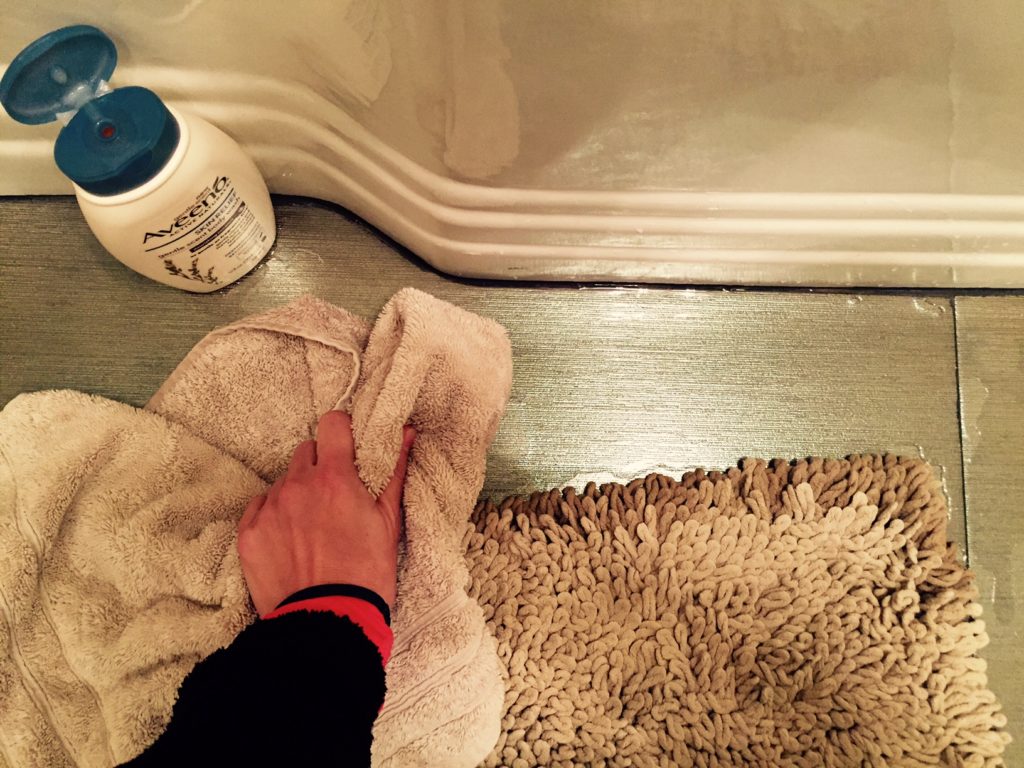 It is then required that I wipe and wipe and wipe. And yell at them to be careful not to slip on the wet floor and  fall. And break their legs. And bump their heads. As I wipe, I tell them to please not make such mess (because it takes effort to clean it up)… they then look at each other and laugh, look at me and laugh (as if to say, "you're not gonna win this, lady") and then look at each other again and laugh some more. And then splash some more. (For which I must wipe some more. I might then yell a little bit.)
This repetitive routine, night after night, is getting exhausting and driving me bonkers. (Yes, I know… I will look back and wish for these innocent days of splashing and laughing and me yelling at them to not hurt themselves on the slippery bathroom floor. But until then I just want them to get in the bath, get clean and get out of the bath quickly so that I can put them to bed and go back to watching my Real Housewives… ya know?)
Until we get to a more civilized point in our bath time routine… I must seek peace to get me through it.
I seek things that smell fresh and calming and fool me into thinking I've just landed in Hawaii and am about to go swimming with mermaids. (Yes I know mermaids don't exist… but maybe they really do…)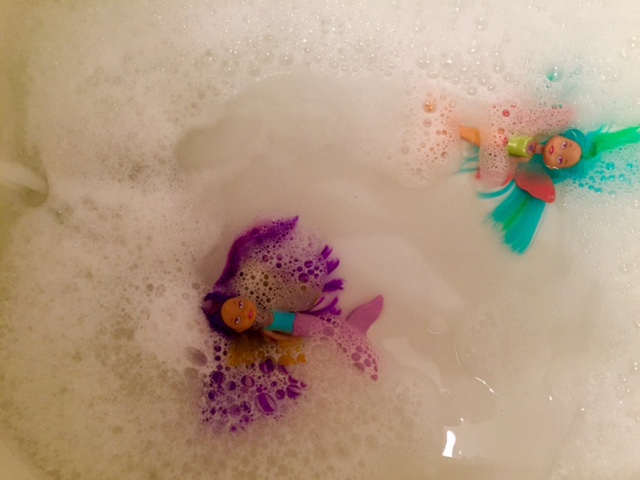 Aveeno® Skin Relief Gentle Scents Wash has a slight coconut scent (there's the Hawaii part) and is as gentle on sensitive skin as fragrance-free products (quite a relief for my 3 year old's eczema-prone elbows). Formulated with ACTIVE NATURALS®, it's also soap-free, dye-free and allergy-tested.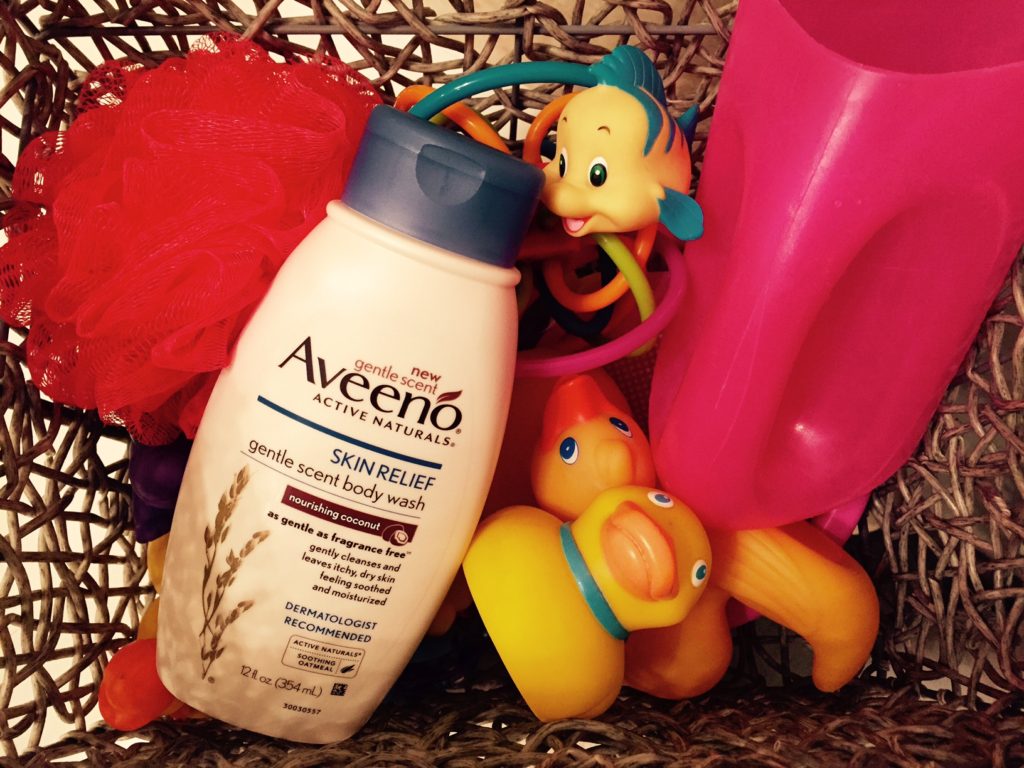 Nevermind that it's not marketed as being for kids… if my ladies are going to act like women in charge of their own bathtime destiny, then I will give them a grown up wash worthy of a woman's beauty routine. (And because I need the coconut, okay? Yes, I then take the whole bottle to my shower to use for myself. So there. Double coconut.)
Because you can't be mad about wiping up a wet floor if your mind is thinking about coconuts in Hawaii.