The other day I was having a particularly extra-relatable rant fest with one of my favorite mom friends. We were venting and laughing (ok, more venting than laughing) about how moms are charged with problem-solving everything. Everything. EVERYTHING. (Amiright?)
What's for dinner? Who's going to watch the girls on Saturday night? Who's going to pickup the girls from school when *both* mom and dad have a work thing? Who's going to scrub that tomato sauce stain out of the Elsa dress before you-know-who sees it and has an inconsolable 'threenager' emotional breakdown? Who's going to braid the 5 year old's hair before school? Who…. what… when.. why… how?
Mom. Mom will do it. Mom will figure it out.
Because that's what we do. If we don't, no one else will. (?!?!?!??!)
So when I had to figure out how I was going to get a large, carved Jack-O-Lantern to NBC's Today Show set in preparation for my Halloween decorating segment with Kathie Lee & Hoda (wheee!) right after landing in New York City via a red eye from Los Angeles… it wasn't really that daunting. (Ok, maybe I panicked a tad.)
But us moms figure things out. We do so every day. So I'd figure this out.
First order of business? Text and email friends: Where can I find pumpkins in New York City?
Someone thankfully replied: There's a Whole Foods at Columbus Circle… Or, there's a farmer's market that happens every Monday in Union Square. (Thank you, my former TV-husband Jeremy Parsons. Follow him folks… he's a famous dad.)
So Columbus Circle it'd be. No way was I heading all the way downtown to find my great pumpkin the the Big Apple.
After unsuccessfully trying to sweet-talk a few friendly Whole Foods employees for carving a simple design for me (in the bakery, in floral, in produce, the marketing department and that girl at customer service who gave me the most confused and dirtiest look ever), I realized all carving would be up to me.
So I bagged my great pumpkin and hit the streets of the city back to my hotel.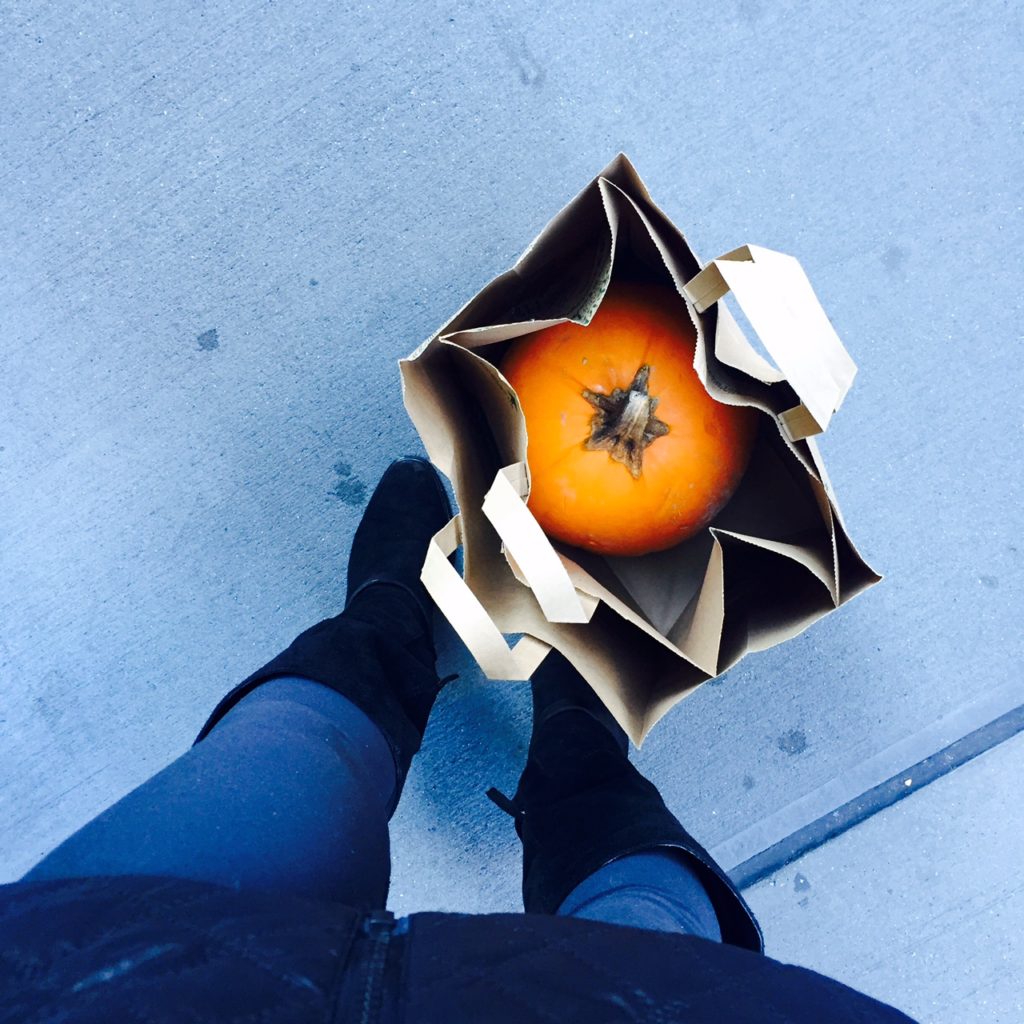 Of course, my great pumpkin made me snap a selfie of it. In Columbus Circle. (Social media's taken over the squashes, y'all…)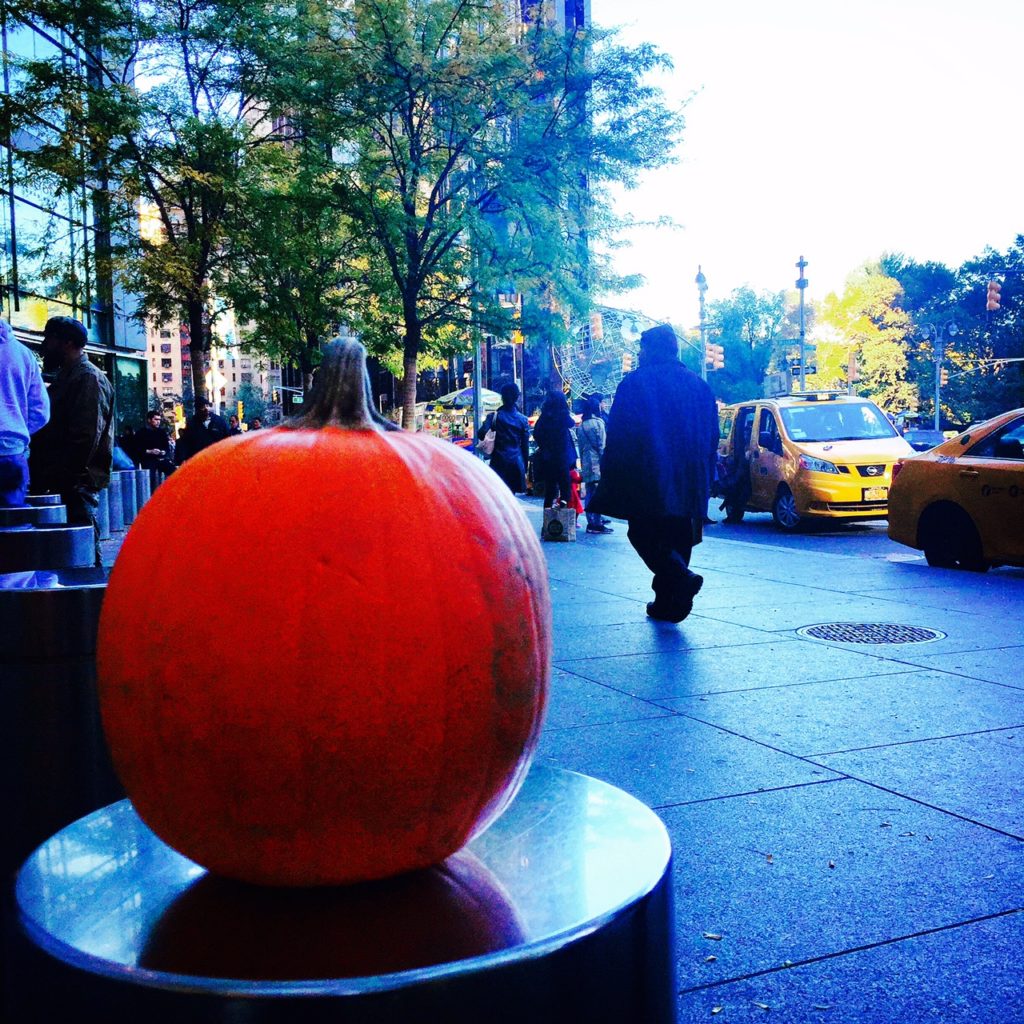 Except, carving a great pumpkin in a hotel room, with un-openable windows, scared me. I mean, the potential STINK scared me. Those seeds! Those guts! Those stringy things that you can't get rid of! So I emailed again… to my segment producer.
Is it possible for me to carve my pumpkin behind the scenes at Today? Maybe, in the kitchen prep area?
I waited and waited and waited for a response. She's busy working right now, I told myself. But the fear of the STINK in my hotel room started freaking me out. She replied. Yes! with the most beautiful instructions for how to get behind the scenes I've ever seen.
So I showed up. And I carved. Carved a pumpkin for the *official first time ever* — well, first time ever without the help and vision of my knife-adept surgeon husband. In my Diane Von Furstenberg blouse. Good thing I snagged some of those handy 'easy pumpkin carving tools' to get the job done quick. 15 minutes baby.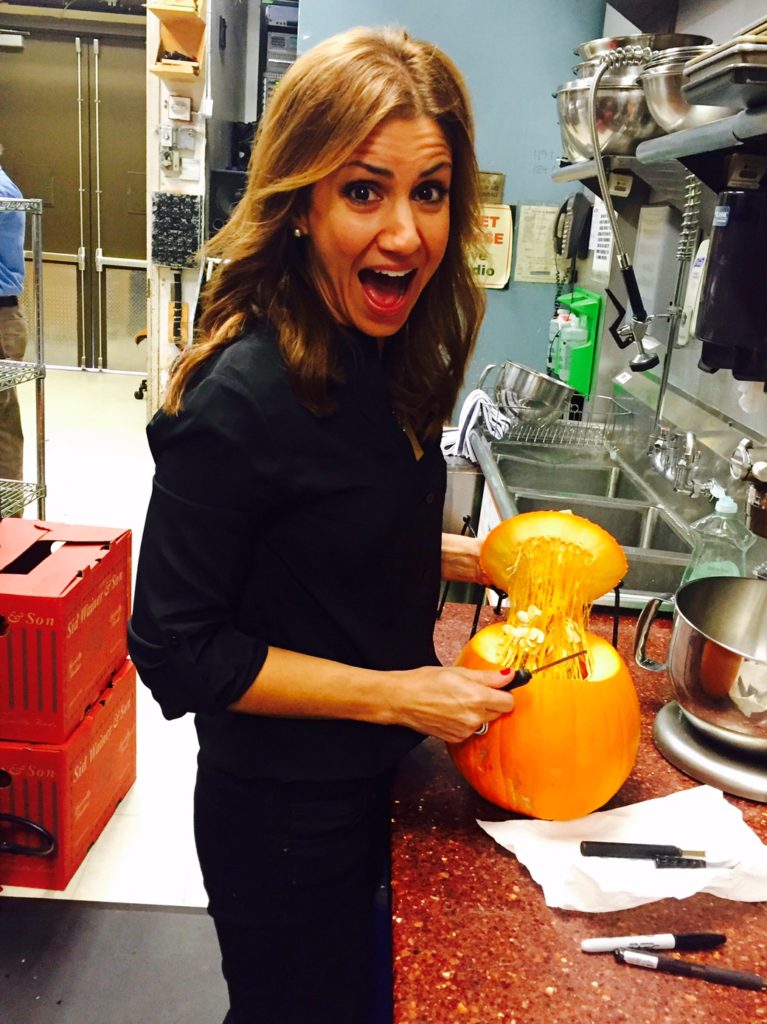 Finding, figuring out and carving that great pumpkin made me feel like I'd conquered the world. Done! Solved! Wham bam thank you ma'am! (Don't laugh. No please, really stop laughing.)
Guts and glory… guts and glory…. guts and glory. Because us moms have to figure things out. Stay focused, ladies. We've no choice… we've got folks depending on us.
Watch NBC's Today Show during the 10am hour (with Kathie Lee & Hoda) on October 28, 2015, to get a peek of my favorite Halloween decorating tips, tricks and treats… and to see how this great pumpkin turned out. Not bad, eh?