DISCLOSURE: TheFabMom was graciously provided complimentary tickets to Mickey's Halloween Party at Disneyland in Anaheim, CA for purposes of this post. All spooktacular experiences and opinions are my own. 
Breaking News! We've got big scary secrets here at our house: My husband is a fan of the Mouse House. He likes Disney movies. He likes singing along with Disney princesses. He thinks he looks extra cool wearing a Mad Hatter's hat.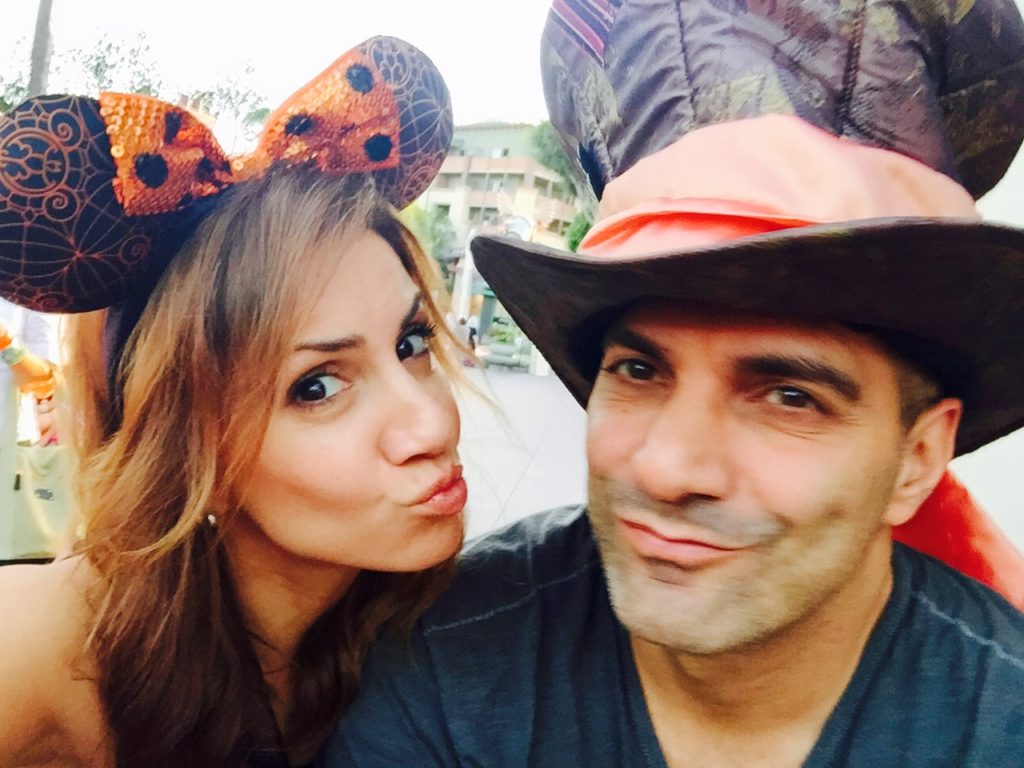 He also likes Mickey's Halloween Party happening at Disneyland now through November 1 (17 nights of special attractions beginning at 7pm until midnight… ticket info at the bottom of this post). I will tell you that, when we experienced Mickey's party for the first time as a family on opening night, we had an absolute BLAST with our two princesses. (Maybe it had something to do Mommy wearing a tutu?) My husband will matter-of-factly tell you he "survived." (I think we can all see right through his facade.)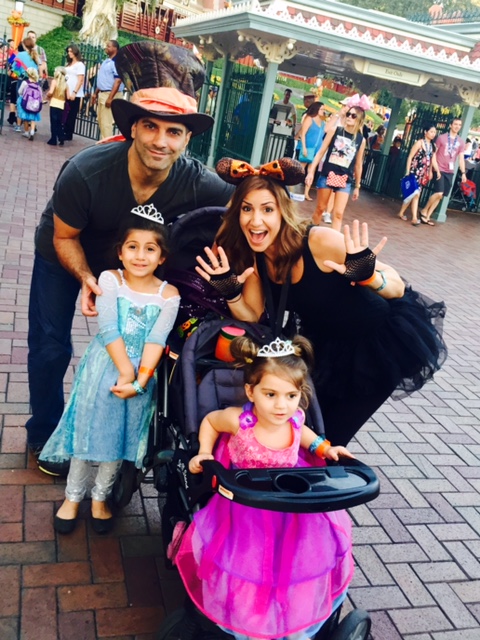 But shhhh…. him having a frightfully good time is the biggest secret of all scary secrets. If you try to call him out about the real, live fun he had (which I personally witnessed), he will deny, deny, deny. Somebody's got to rat him out. So I will.
I mean, he may've smiled and strolled down Main Street…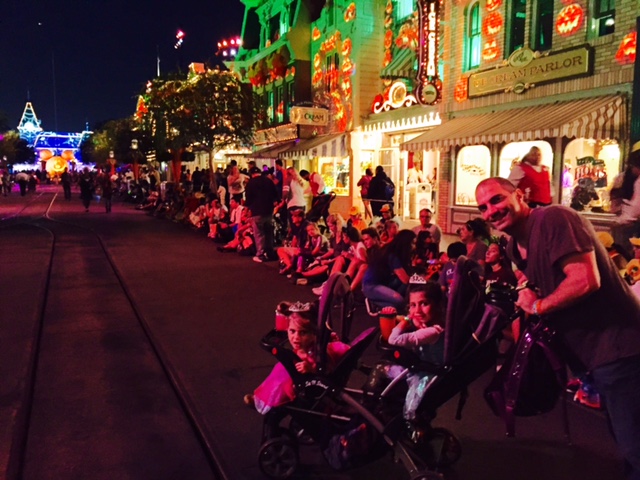 …Camped out like a kid on the ground for a first-class look at the most stunning "Paint the Night" parade…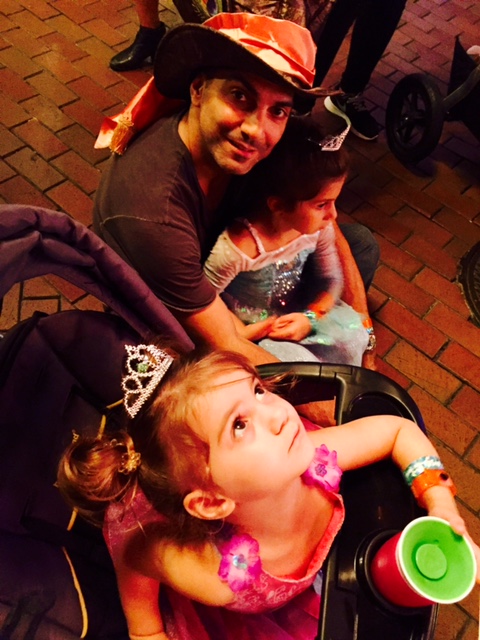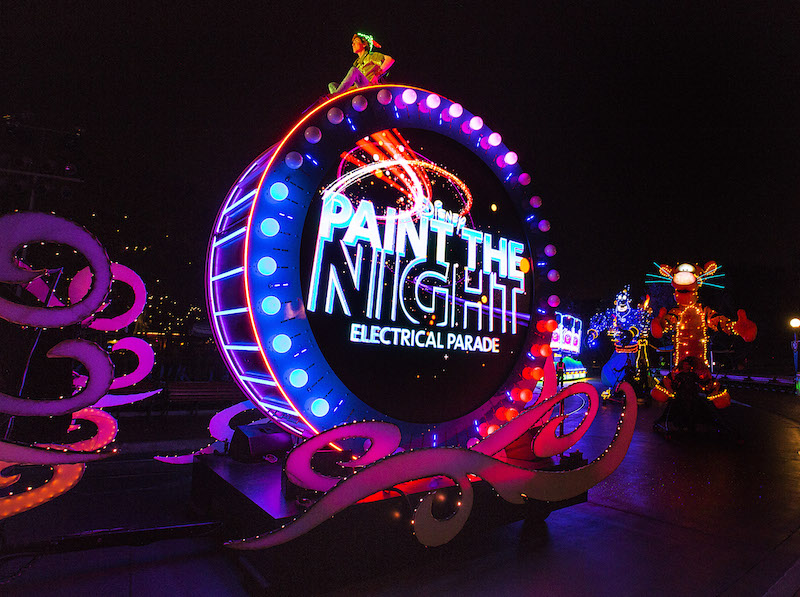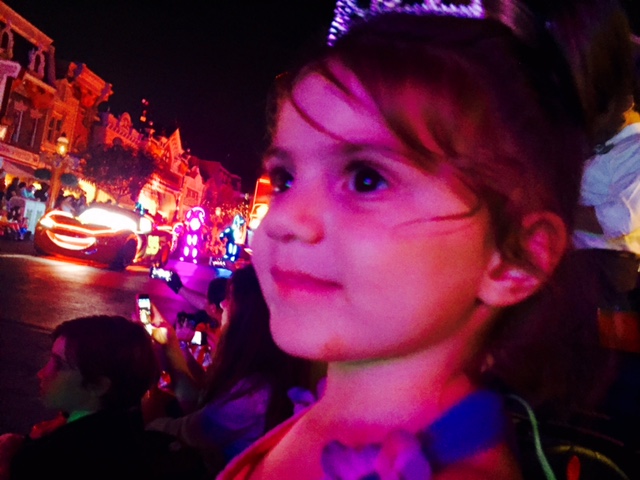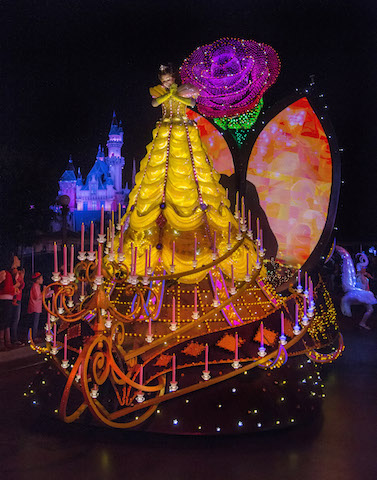 …And also tried to flat-out (semi-rudely) barge to the front of the crowd with our 3 year old on his shoulders to get a better peek at the "Halloween Screams" fireworks spectacular… because he said it was "too awesome" not to be in the front (That's a quote.)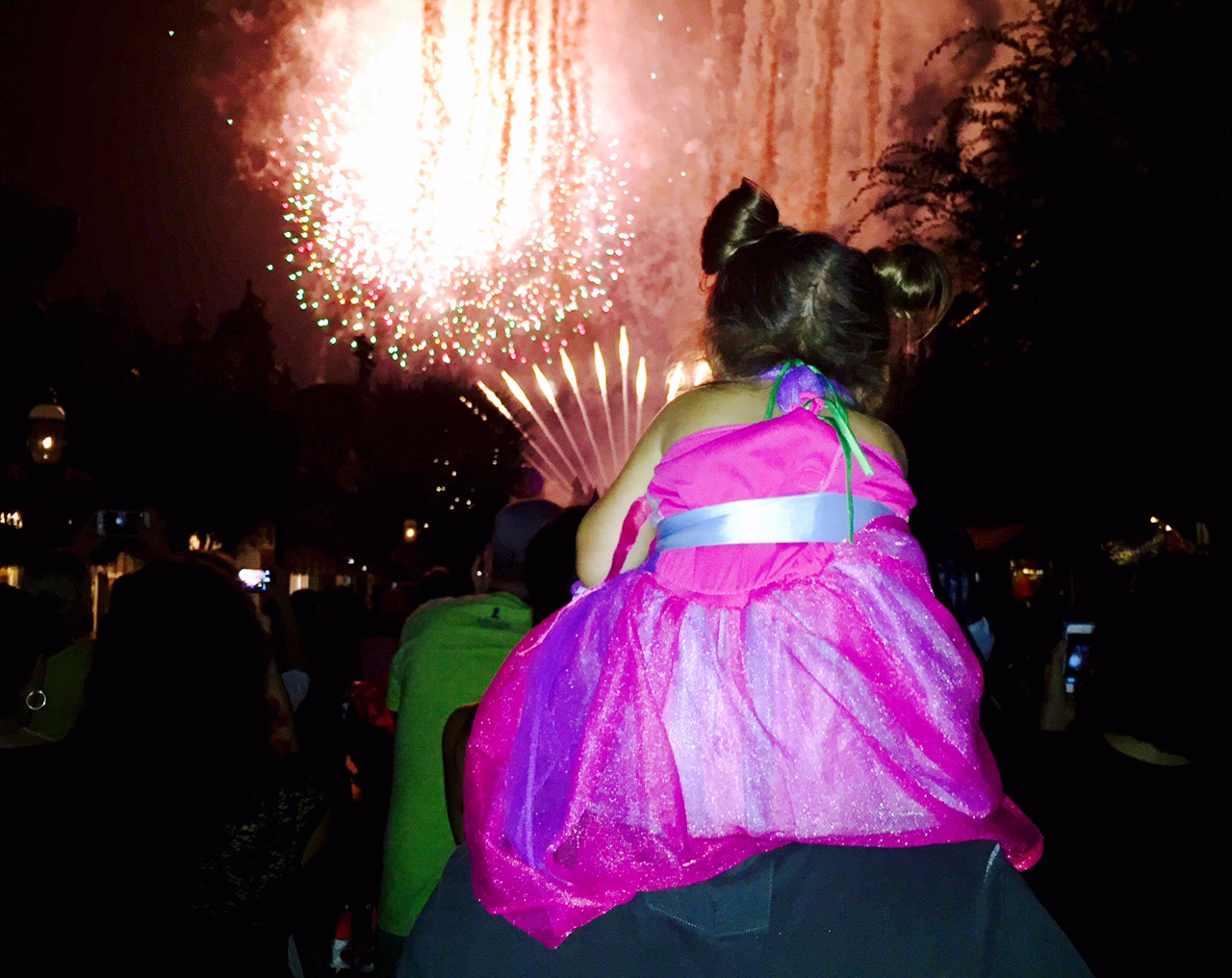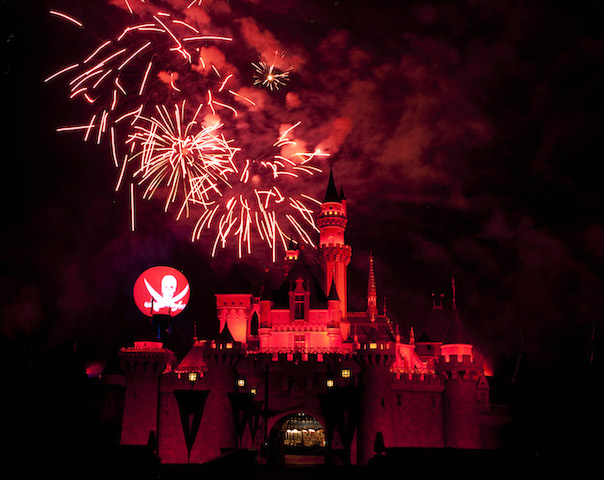 AND, let's not count how many pictures he took on his *own phone* when our girls recklessly tried to find hidden trick-or-treat candy in Pixie Hollow and demanded that the DJ over at Tomorrowland Terrace's "Monsters U Dance Party" (an exclusive event offered only at Mickey's Halloween Party) play something from Frozen. (A dance mix of Let It Go?!?!)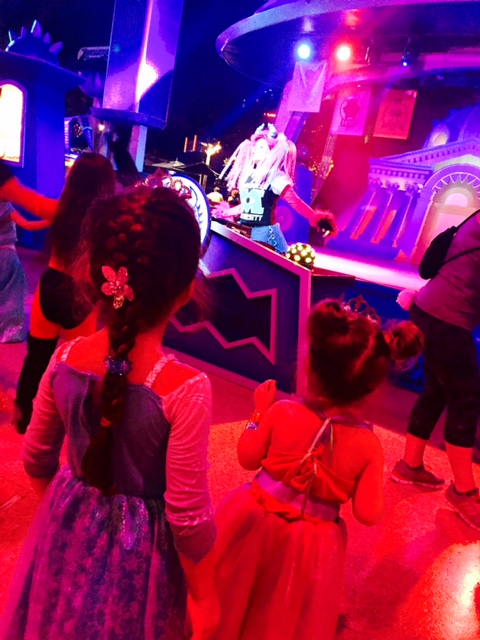 Don't let these pictures fool you folks…. my husband just "survived." Despite my girls' squealing and laughing and pointing and eyes-widening and singing-for-no-reason — and my husband's gushing fascination over them at their every sound — not much fun had here on this night.
Uh huh. Keep telling yourself that, hubs. Leave it to a Disneyland Halloween outing to set his secret free…
As for myself, I unabashedly lived it up between popping trick-or-treat chocolates around every corner and snapping shots of my favorite ghosts around the park. I can't help it… these glowing dudes keeping watchful eyes all over the park just make me happy. They're freakin' adorable.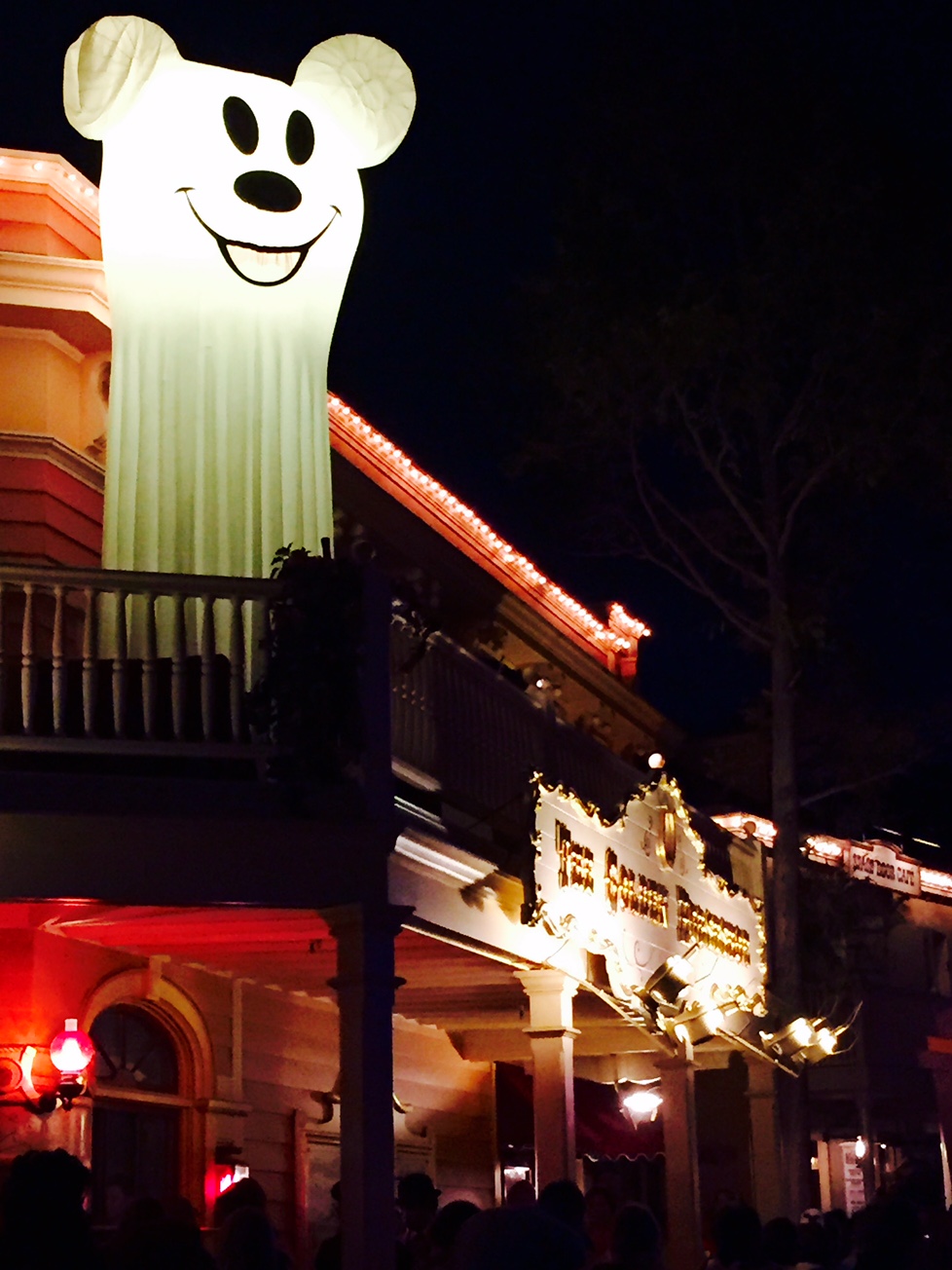 I was also brave enough to ditch my Fantasyland stroller duties and jet to Space Mountain's "Ghost Galaxy" — yes, I wanted to relive thrills I used to get before I had to worry about keeping an eye on little kids that could gleefully run away with any given princess that passed by. (Yes, "Ghost Galaxy" was creepy and weird and haunting with this red demon-thing coming at your face while you whizzed and whirled around stars in the dark… it's perfectly Halloween-y for this 'fraidy cat mom who loved rollercoasters back in the day.)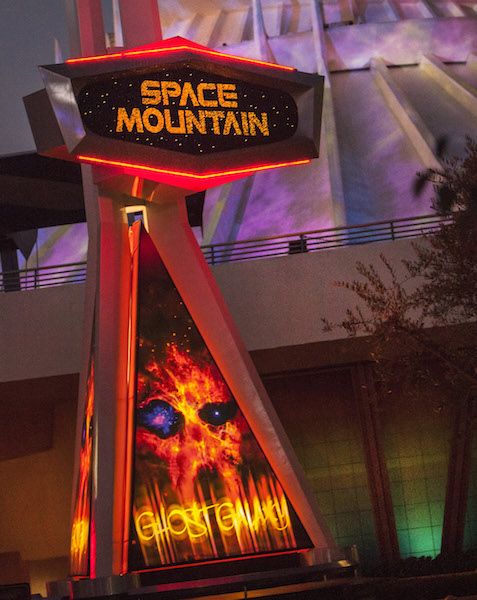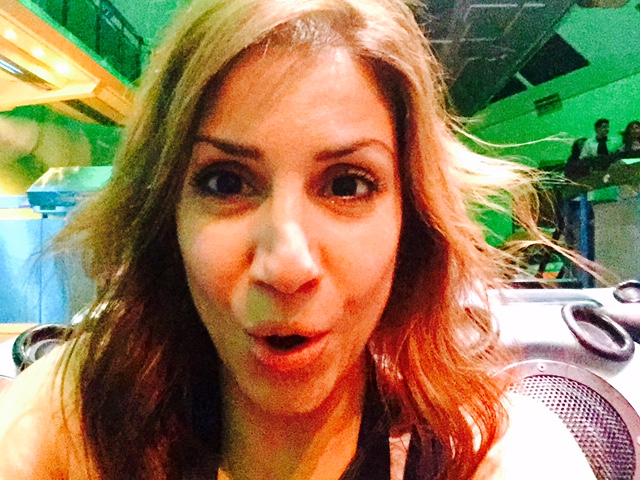 The point of all this outing and touting and picture-posting? There's something for everyone at Mickey's Halloween Party. There are scary parts, sweet parts and in-between parts. I know because we lived it. We lived it up gooooood. Mickey knows how to throw a fabulous bash for any family date night. Was it crowded? Yes. But so what. It made us feel YOUNG (which is a fabulous thing to feel when you're approaching middle age and freaking out about it). I woke up the next morning wanting to go back. My girls are whining about 'when can we go back' too (gee thanks Mickey). My husband ended up taking about a hundred pictures on his phone — unbeknownst to me, until I looked at it — which indicates that he also had a blast and does scare me a bit (although he'll deny, deny, deny). How spooktacular is that? BOO!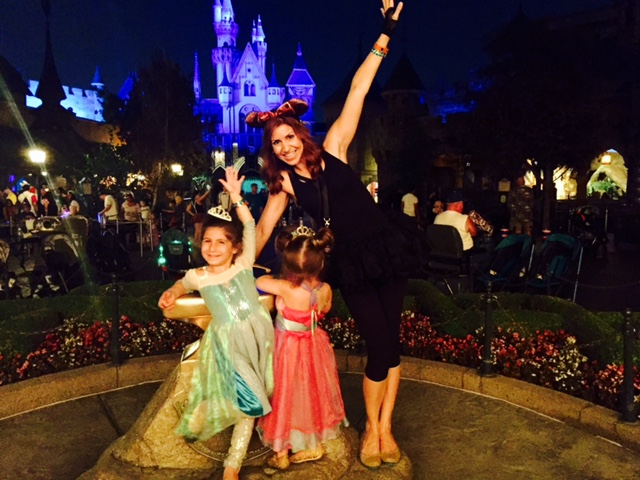 Tickets for Mickey's Halloween Party may be purchased online and on mobile devices at Disneyland.com/party, as well as at the Disneyland Resort main gate and by phone at 714-781- 4400. Guests may check online for availability for the 17 nights: Friday, Sept. 25; Monday, Sept. 28; Wednesday, Sept. 30; Friday, Oct. 2; Monday, Oct. 5; Wednesday, Oct. 7; Friday, Oct. 9; Monday, Oct. 12: Wednesday, Oct. 14; Friday, Oct. 16; Monday, Oct. 19; Thursday, Oct. 22; Friday, Oct. 23; Sunday, Oct. 25; Tuesday, Oct. 27; and Thursday, Oct. 29. Online and mobile purchases not available the day of the event. Tickets purchased in advance are available at a discount on select nights. Tickets purchased on the day of the event are $77 each. All tickets to Mickey's Halloween Party on Thursday, Oct. 29, are $84 each.