Just for today, let's pretend that 'The Fab Mom' actually stands for 'Fear After Babies' (as opposed to 'focused after babies').
We're going deep here. Starting a conversation about parenting through fear. Hang with me.
It's not as fabulous or fun, but fear is real. We all have it. We all fear it. (See what I did there?) But it's true. Unfortunately I've found myself turning more and more into a stupid 'fraidy cat. Can't seem to shake it. I really want to, but it's getting harder and harder to fight the good fight against fear. I blame my girls.
Because we live in a scary world (buzzkill, sorry).
It hit me on Fourth of July. Our little family spent a spontaneous weekend at a hotel. (Mommy wanted to hang by a pool… so I whined enough and got the Hubs to book us a spot… I highly suggest trying this at home when you're at your absolute wits end.) We had more fun in those short 24 hours than we'd had the past few months put together (no joke).
We lounged. We splashed. We chomped on cupcakes between lounging and splashing.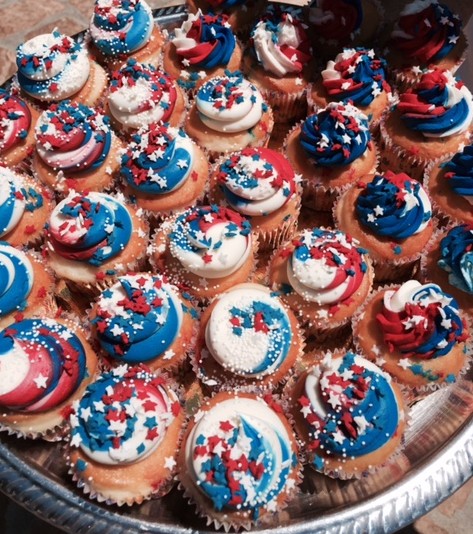 My smallest girl LilMiss was terrified of the waterslide… so she let her big sister take all the turns.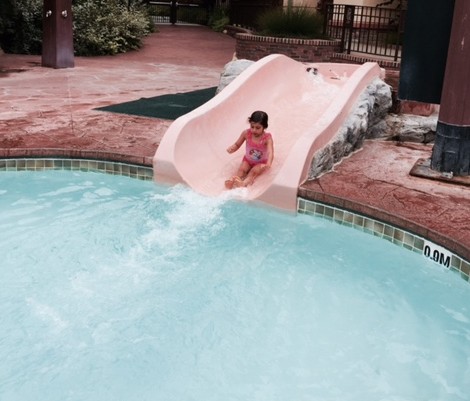 My older girl LadyP was petrified by the big puffy animals at breakfast… so she let her little sister have all the hugs.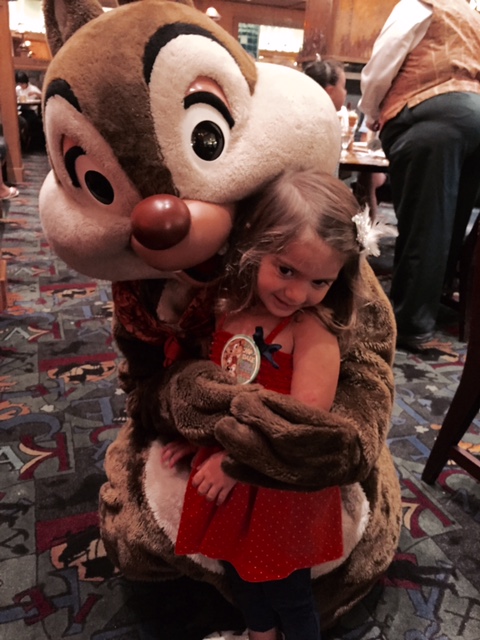 As their mom, I think I probably said "Don't be scared!" about a thousand times that weekend… for the waterslide, for the animals, for the dark, for who-knows-what-else. Don't be scared… don't be scared… don't be scared!
I don't ever want my girls to be scared. The problem? I'm more scared than ever. As a mom, as a woman, as a person.
I blame my babies. Something happens to our hearts and minds when we become moms. We love harder, we feel harder. WE FEAR HARDER.
That night (during our hotel weekend) we went to a typical family dinner in the adjacent outdoor shopping area. We walked through crowds, my little one fell asleep on my lap (at dinner)… the usual.
Afterwards, my husband and I split up — he took our little one back up to our room and I kept our older daughter with me so we could cop-a-squat outside and watch fireworks. We found a spot, parked ourselves and waited. 40 minutes until showtime. It got darker. It got busier. Crowds of strangers, young and old, closed in on us in the confined area we were waiting in to see the sparklers fly for the Fourth of July. More people came. 25 minutes to go. (My LadyP was getting tired now… and whining a bit about how she wants to back to the hotel room…)
"Just hang on honey… I'll hold you… we want to see the fireworks, right?" More people crowding in now. A 20-something year old guy was standing right next to us and shoved one hand in his pocket. On reflex, I turned to look at his hand. His pocket had something in it that I couldn't quite make out. A phone? A camera? A gun?
A WHAT?!?? DID I JUST THINK THAT OUT LOUD IN MY HEAD? And there, it snuck up on me: F-E-A-R.
I looked around, found myself stuck in an impossible crowd, my husband and younger daughter back in our hotel room (safe), me carrying my almost-5 year old daughter and squashed between crowds of strangers… to see fireworks?
15 minutes until showtime now.
What if someone has a gun.
The horrific thought wouldn't escape me. I tried to kick it. I told myself I was being paranoid. I scolded myself for letting all those bad people that do horrible things we see on the news affect my fabulous Fourth of July. Don't be scared, Don't be scared, DON'T BE SCARED.
My eyes began darting around and sizing everyone up around me. Do they look weird? Do they look scorned? Do they look angry at the world? I got scared. What is WRONG with me? I'd never acted like this 5 years ago! My fear [parental paranoia] took over. I looked at LadyP. "Honey do you want to go back to the room or stay here and watch the fireworks?" This is probably the first time I'd ever let a preschooler take control of what was going to happen.
"I wanna go back…" Her tired eyes were enough for me to let my fear win. We hightailed it out of the crowds, back down the walkway through our hotel, up the elevator and into our room.
5 minutes before showtime now. We were going to miss the fireworks. I'd rather be safe, I rationalized in my head.
I told my husband our tale. I felt ashamed for letting my fear overpower my intentions and actions. How could I tell my girls to not be scared of waterslides and life-sized cartoon characters when I myself was frightened of something farfetched? I realized right then: This is going to go on and on and on for the rest of my life. For as long as I'm a mother, I will be scared for my family's safety… no matter where we all might be. They tell you about this happening when you become a parent, and you know it's inevitably true, but the moment I actually realized it as a reality that already exists inside my head… WOW. This is parenthood. And I'm in it.
So what can us parents do to get rid of fear? NOTHING. We can talk it down, we can keep it at bay, we can quell our thoughts through reason and carefully calculated risk. But in the end, we must live with it. We must accept that what is to be… is to be. We can do everything to keep our family safe from all kinds of crazy, but we must also keep our wits. We must have FAITH. In the words of my husband: Don't freak out until there's something to freak out about. (Well said, but also hard to do sometimes, no? And yes, I know it will get harder as my girls grow…)
For now, I'm choosing to listen to fear… just a little bit. If my gut tells me something, I'm going to pay attention. Because that's what parenting is all about: Paying attention, reacting appropriately and doing what you believe is best for the people you love in that moment. And even though you may be wrong (I was — nothing went down that night in the crowds) sometimes your gut leads you to the most comfortable fireworks-viewing seat in the house — on your hotel balcony, with every member of your family in the same place. (Who knew?)