What to do when your husband jets off to a volunteer medical mission and leaves you at home with two wild women under the age of 5?
Handle it, get stuff done and look forward to your next date night. Let's be honest: I miss him when he's gone (we all do at this house), but for some freak reason I seem to get more accomplished when he's away…
Not too long ago, my husband trotted off to Haiti to be part of a history-making surgical team that separated 6-month old twins. (Yes, you read that right: TWIN SEPARATION. Crazy.)
Like any wannabe-fabulous wife, I have pride about his volunteer efforts but also tend to complain because (hello!) I also happen to enjoy date nights… and these trips take time, energy, money and massive preparation on his part (which then cuts into his ability and motivation to actually do date nights). I often playfully – and falsely – tease him about how these recurring medical missions are crafted under a most manipulative umbrella of 'philanthropy' so that he can capitalize on an all-excused absence from our house without a second question from me. I mean, what kind of wife would ask that her husband stay home and refrain from doing good in the world on account of missing date nights?!? I'm no fool, fool…
So with a kiss and hug my girls and I send him off to foreign lands to do the good work that he truly loves to do… and I strive to get my own work done (both blog work and mommy work) while keeping everyone alive, happy, semi-rational and almost-quiet. Date night would soon return… I just had to kill time before then.
So who cares if we sit around on the floor, play games and don't change out of our pajamas in the meantime?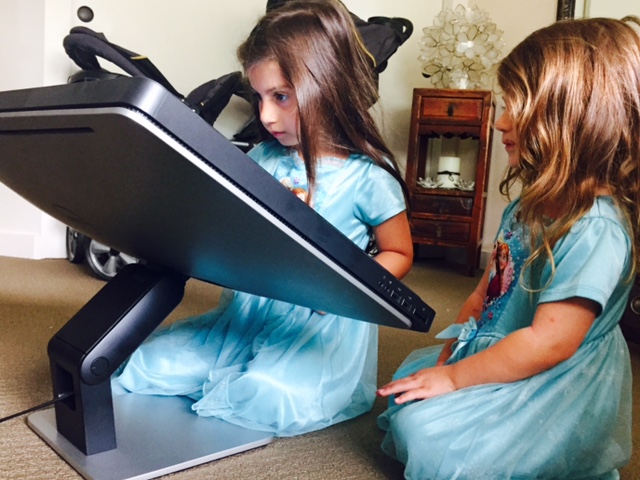 Try to pry my little people off their comfortable knees and away from our new Intel All In One (AIO) PC with the convenient tilt-and-touch screen? No way.
How else am I supposed to write blogposts, send pitches for lifestyle segments and work on my promising little book proposal? (Yes! More on that later.) I suddenly had extra projects, which means I needed extra time to get everything done… so I sucked it up and left a few babysitter duties to our "Talking Angela" game. (Hey. Do what you've gotta do to make things work… all in moderation, moms.) It's ridiculous how much my girls are obsessed with dressing Angela, brushing Angela's teeth, poking Angela in the eye and laughing at her over-the-top cartoon reaction… (should I worry about this?) A bigger screen means less arguments over who gets to touch what on whatever game they're playing because it's bigger than the both of them. And they're safe on the floor…
Not to mention, their interactive screen time also allowed me some additional minutes to finally frame all those keepsakes and clippings of my own life's milestones that I swore I'd frame and hang on the wall oh so long ago. (I've yet to actually hang my newly framed pieces on the wall in my makeshift-office-guest-bedroom, but that's another story.) With Hubs away, I let my girls play with a screen that is practically double the size of them. Why not? It's summer. It's fun.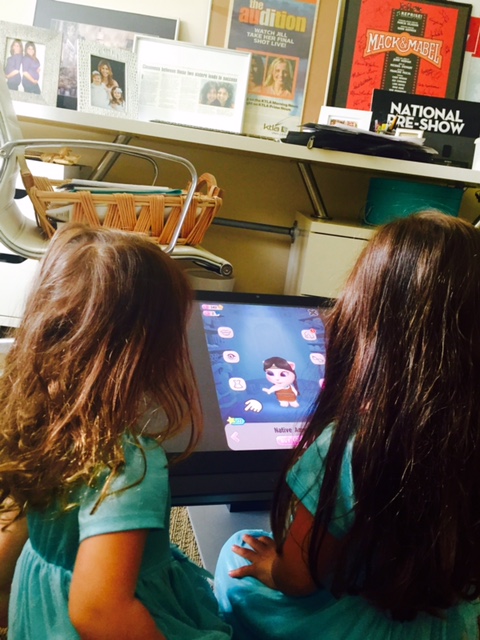 And then sometime between Day 1 and Day 4 of Hubby's trip, we all get antsy. Ok it's time to come back from your big do-gooder trip now, Hubs. So between framing and blogpost-writing, I also begin planning an imaginary date night for his return. I start clicking and touching and scrolling through way too many pretty pictures of booze:
Aha! We'll drink THIS. In glasses just like THAT. (Champagne looks even more bubbly when it's sprawled across a humongous 27-inch screen, no?)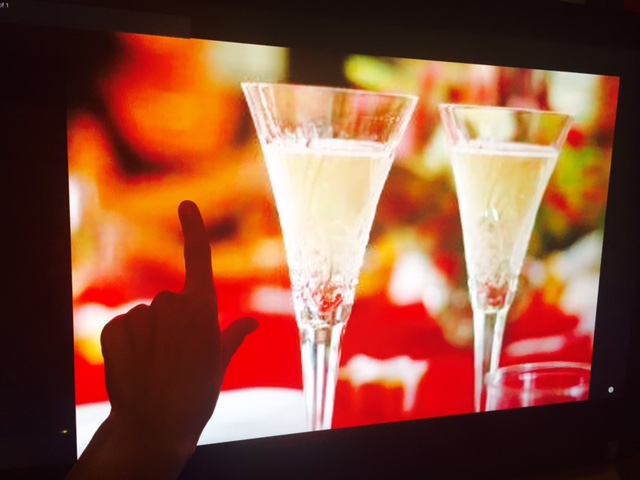 So I then start scrolling summer recipes… something refreshing, something unique (he can be a real foodie when he wants to be). The way to a man's heart is through his stomach, right? Search, search, search…
Aha! He'll never accept another mission again if I serve THIS showstopper! Betcha they don't serve surgeons *grilled fruit* in Haiti… Look at me! How fun am I?!? He's going to come back and instantly think how absurd it was for him to accept this mission in the first place! Having the ability to enlarge a gorgeous visual of frilly food so that it's triple the size of your own head is more addicting that I thought. (Shamefully I spent way too much time doing this…)
And after seven full days, Hubs came back home. And I was ready for DATE NIGHT. Except he went missing again… into the small makeshift-office-guest-bedroom in the back of our house. He went missing every night.
He's categorizing his pictures from the trip. Ok. I can deal. One day of this and he'll be done.
Except it wasn't one day. It was more like… a week. In the makeshift-office-guest-bedroom in the back of our house. You're gone for a week and then come back here and disappear for another week?!?!?! (This fool got pretty testy pretty quick…)
So when Saturday night rolled around again (and I'd just put the girls to bed… again) I barged into our makeshift-office-guest-bedroom where Hubs was hiding. That's it. I'm finding out WHAT he's WATCHING once and for all. I'm no fool.
Because I wanted a date night! Because I had new earrings on! Because he'd been hijacking my computer all week and I was sick of it! Sick of it, I say! What happened? THIS. Watch:
(No, we weren't drunk.)
Music. HE WAS MAKING MUSIC?!? FROM SCRATCH?!? I'd lost date night to Stagelight? If that isn't the equivalent of a middle-aged dude trying to keep a secret obsession with playing in some kind of online garage band hidden from his wife, I don't know what is. And despite the giggles and silliness in our video, I was miffed.
Where's. My. Real. Date. Night.
Then he showed me WHAT he'd been doing all week on MY computer… complete with his original, online garage-band music (listen for it):
And I wasn't angry, annoyed or irritated anymore. Wow. Time to shut up, Jill.
The fact that he was sorting, editing and creating this most touching and moving montage of his recent trip made me suddenly forget about my stupid date night dreams. I instantly welled up with love and pride about what he does in those places far, far away… how he helps a lot of people live a life they'd never see… and how much he authentically finds deep fulfillment through doing it.
So that's why he was holed away. Rotten wife. He cut the video using Windows Movie Maker then created the song with Stagelight to match the length. During our 'date' (in our video above) he'd add, subtract, revise and repeat different beats and rhythms and effects. I saw it all unfold quickly: Inventing this song and video served as therapy for him, way to unwind and return to regular life (and also yielded a phenomenal billboard of memories, so that his patients can see a most tender side of him that they otherwise wouldn't know existed). And the fact that our screen was so incredibly big let us do it TOGETHER.
I guess it was a date night. Not like I'd imagined, but still a date night. Talk about technology bringing two people together…. who knew our XPS 2720 had the power to be so romantic? Champagne in fancy glasses gives you headaches in the morning anyways…
What keeps your date nights fizzin'?
—
DISCLOSURE: This is a sponsored post in partnership with Socialchorus. All fabulous stories and frank opinions are my own. #IntelAIO #spon: I am in a partnership with Intel. Through this partnership I gain access to content, product, or other forms of value.