A fabulous FYI: The following toddler potty-training experience is part of a 3-part series of sponsored posts for Munchkin®. All experiences are mine, all opinions are my own. At the end of this 3-part series, one lucky winner will win a $200 gift card to Munchkin.com! Leave a comment to enter to win. It's the little things…
We're now officially 3. Well, my girl is anyways. Wanna know what I got her for the big birthday? Princess stuff. Gown, crowns, art supplies and dolls. To her surprise, she also scored a royal throne. A Munchkin Arm & Hammer™ 3-in-1 Potty… with the convenient odor-eliminating disks to go along with it. It's fabulous.
So now that we're 3, I'm responsibly making an effort to reverse my obsession with our diaper pail and end my procrastination about potty training. Quick! What will capitalize on my tot's fascination with all-things-princess and get her to squat on the potty? A scene like this, of course: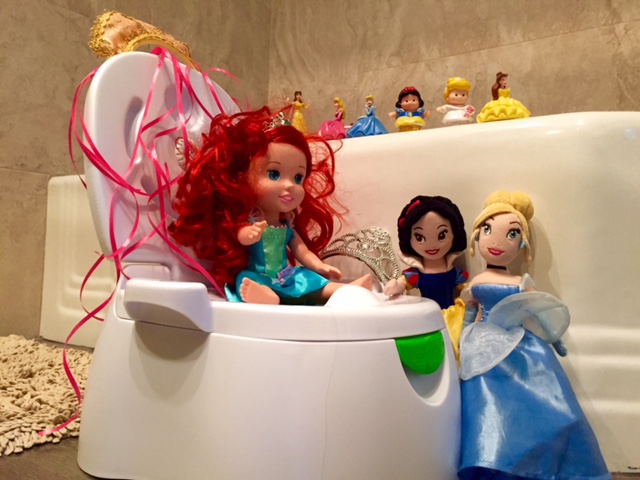 And as any razzle-dazzle entertainment professional would do, I staged a big reveal. You know, to amp things to the max. For your viewing entertainment:
Well that went over like a lead balloon. ?!?!?!!??! Not only did she refuse – REFUSE – to sit on her new throne, she promptly left the bathroom and shut the door behind her. Well I never.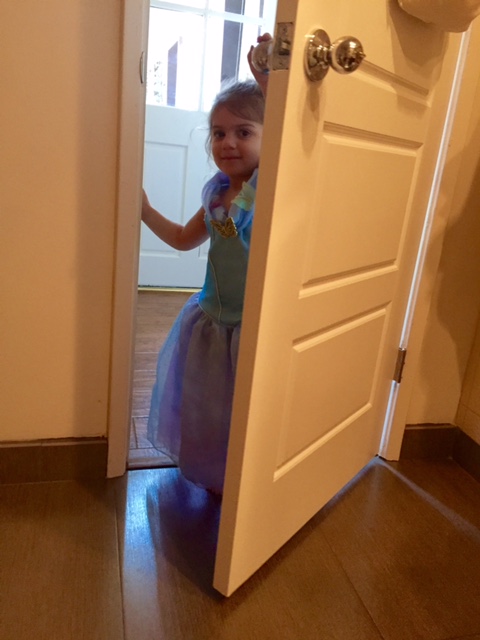 Her older sister thought the whole thing was hysterical and humored me.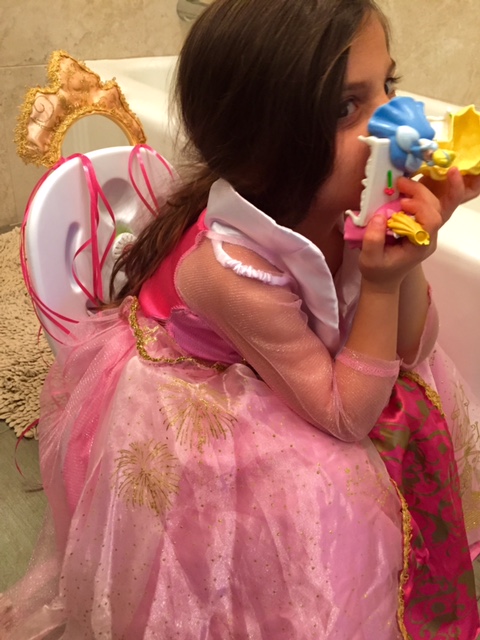 And then I remembered what I did with my older daughter: A TREAT. Sit on the potty and get a treat! (But then again, my older girl would pretty much do as I asked pretty much every time I asked it. This little one's got her own agenda… always has.) The next day I striped the princess paraphernalia and sweetened the deal with a strategically placed pink lollipop.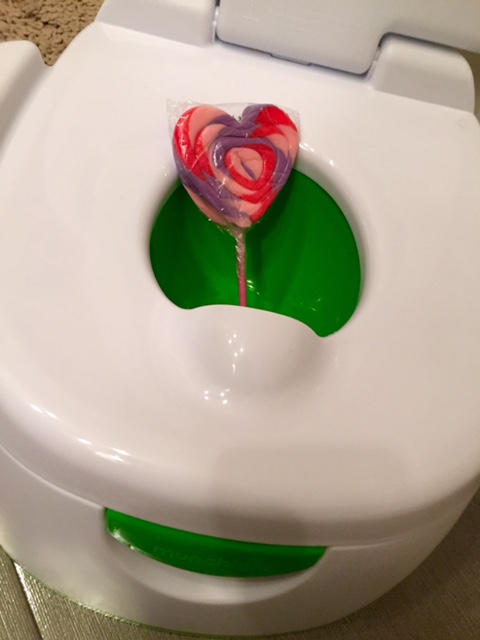 To my shock, that didn't work either. "I don't want a lollipop!" she screamed at me. That, my friends, is the first time in the history of my personal motherhood I've ever heard that phrase. Ever. I guess princesses do exactly as they please these days.
My mind replayed the scenes over and over. She's ready… I know she's ready. (I mean, the chick promptly informs me about when to change her diaper and how…) I returned to the scene of my bomb-of-a-production, hoping inspiration would follow… watch:
I've since been looking up potty training tips. Do it in sessions. Ditch the diapers altogether. Don't put more pressure on your kid if they resist. My girl – bless her feisty soul – is stubborn, headstrong and absolutely in-charge of her own self no matter what you tell her to do. (I'm going to vehemently deny any and all involvement and contribution to this particular trait.)
So I stopped telling her what to do for a few days. And then I walked into this… unsolicited. Just hangin' out.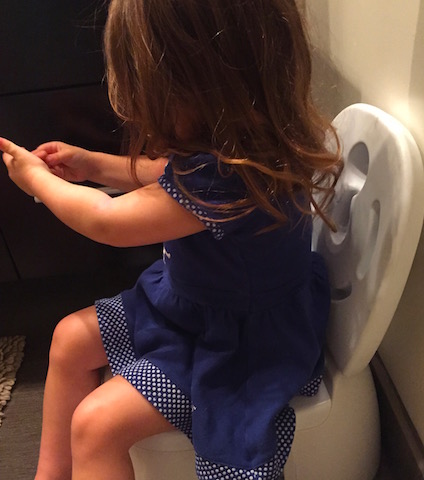 Princesses do as they please… when they please. In secret. (Nevermind that she's not actually going, but at least she's sitting on it, right? That's a start?)
So fess up! What worked to seal the deal and get your kiddo's butt ON the potty? Leave your comments and/or rants… next week I'll be showcasing YOUR tactics (with my little girl) on this blog. I need you. Tell me what to try and I'll try it. Tell me what works and I'll work it. (Consider that a self-inflicted dare that you're gonna see play out on video.) And just like I said: Somebody's gonna win a $200 gift certificate to Munchkin.com in a few weeks (after I potty train this chick). Leave a comment to be entered to win (Facebook comments count too…) Contest open to U.S. residents only. Contest ends Friday March 27, 2015, 11:59pmPST. Winner will be announced and contacted Monday March 30, 2015. Now hit me!
Munchkin rids the world of the mundane by developing clever, innovative solutions that make family life safe, easier, and more fun. You can find their products at Munchkin.com, Target, Babies'R'Us, Walmart, and Amazon. It's the little things!