A fabulous FYI from The Fab Mom: I cared for my family's skin from the inside out with Aveeno® Active Naturals as part of a sponsored post for Socialstars #Aveeno. All winter skin stories and solutions are mine, all opinions are authentically my own. All fun is real.
Bath time. Wild time. Crazy time. Toddler time. Loud time. Healthy time. HEALTHY TIME?!? Yeah. You heard me. Bath time is about the only thing I have *complete* health control of these days. (Although judging by the high-volume screaming – thanks to two toddlers 'partying' in the tub – my neighbors would vehemently disagree that I have any control whatsoever. Just believe me.) Call this your healthy bath tips blogpost. Bam.
What can I say… I make an effort to take care of my family from the inside-out, with natural, wholesome ingredients. I'm not an extreme nature mom, must-buy-organic-or-bust mom nor do I grow any food in my own backyard. (I'm thinking of giving tomatoes a shot this summer… we'll see if it actually happens or not.) But living a healthy lifestyle? Yes. I'm a believer. I buy whole food. I insist that my little people wash their hands before we eat. I decline playdates if someone is sick. I nag my 2 year old to stop picking her nose for the comedy of it.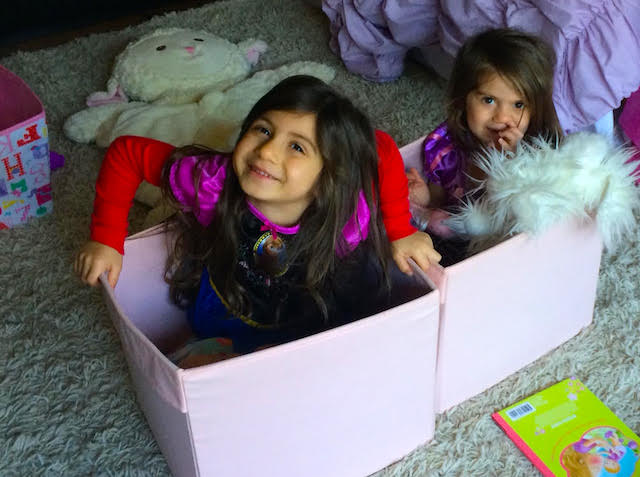 I also cook dinner nightly (yes, from scratch… mostly). All four of us eat together… if you count eating together as a 4 year old and a 2 year old getting up and down, up and down, up and down, up and down and me demanding [ok fine, yelling] to sit down and eat. Nine times outta ten, my 2 year old finishes our family dining experience like this: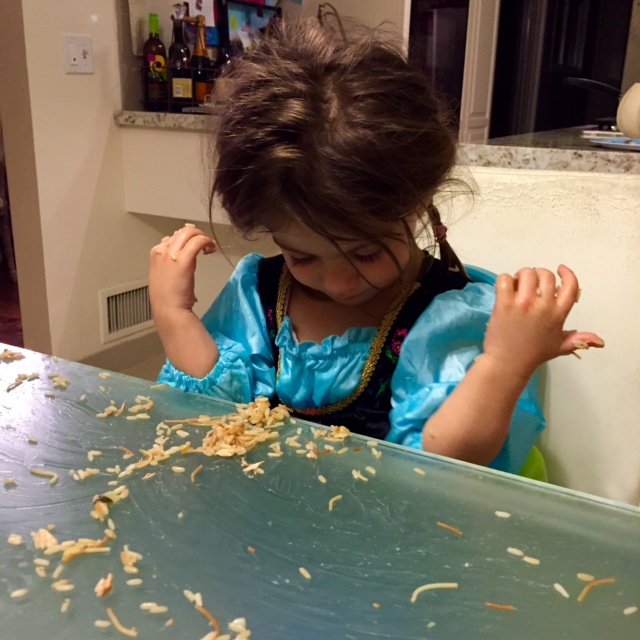 See? NO CONTROL. But I'm fighting the good fight. (Does this happen to you, moms??) Drives me NUTS (not that she gets dirty, but that I honestly have no clue how much of my well-rounded, wholesome that meal she actually ate. And I've gotta clean this mess up only for her to come back into the kitchen 20 minutes later and say "I'm hungwweeeeee Mommy"…).
As I said, bath time is turning out to be the only thing I can count on to have the most control when it comes to my little ones' health. (And I've got to lookout for my 2 year old's eczema, which makes things complicated when big sister and little sister insist on taking bubble baths together. Because bubbles usually equals bad news for babes with eczema.)
So after dinner, I shepherd my little sheepdogs into their bathroom and fill our tub with Aveeno® Baby Wash & Shampoo. Did you know that it bubbles and bubbles and bubbles…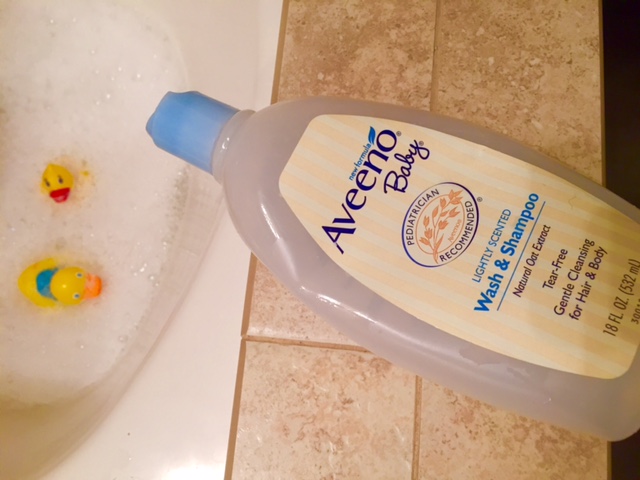 … and BUBBLES some more! It makes our little mermaids sooooooo happy. This is about the time when my girls start (violently) screaming at me strip off their princess costumes and lift them into the tub. I make it a BIG deal as I drop them in the bath… singing and 'announcing' the two girls as they dip into the bubbles. (Hey, it's never too early to teach young women how to take care of their skin in a low-maintenance way so that they can grow into a healthy beauty routine…)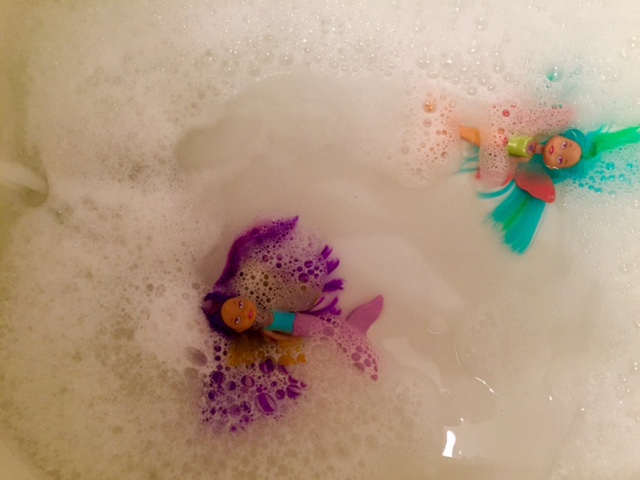 Knowing that Aveeno® ingredients are based in nature makes me feel… well…. fabulous. Lately, I've been clicking on all sorts of things online that deal with toxins in the products we use every day. Very unlike me to admit this, but as our skin absorbs EVERYTHING, I can't help but want control over what goes into my daughters' bodies via their skin. Don't judge my controlling-ness, ok? (Yes, I know that's not a word.) Aveeno® Baby Wash & Shampoo blends natural oat extract into this rich lathering wash that's gentle enough for infants and babies' sensitive skin. It's soap-free, paraben free and cleans without drying. It's allergy tested, tear-free formula can be used on skin and hair for gentle cleansing (which means that I don't have to buy a separate shampoo if I don't want to). I'm also thrilled to report that these bubbles don't irritate eczema… which means that my two little mermaids can play with two mini mermaids in the bath, together, without my little one itching her arms.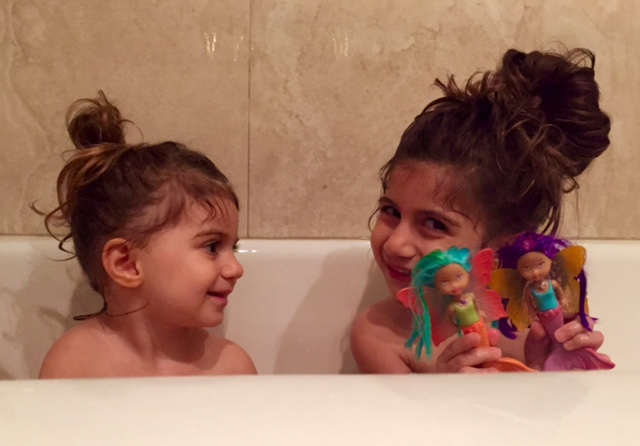 And for about 15 minutes every night… I have CONTROL. Until my precious water babies start splashing me wildly and squirting painful streams of water into my eyes from those innocent-looking rubber duckies you saw floating in the bubbles earlier in this post. Thanks girls. Really. I love getting drenched in full-on clothing. By now, my sleeves are usually sopping wet from wrist to shoulder and I'm nagging at them to stop making it look like I just bathed two wild monkeys in our bathroom (because, I'm the one who must clean up… that and I also don't want them to slip and fall on the floor when I lift them out). Laughing, squealing, giggling, splashing and eye-squirting all happen under my watch, in a big tub that happens to serve as a fountain of holistic skin health. And here you thought you controlled this bath thing my little ladies… You can thank me when you're older, girls. Take that, you little rascals.
HOW DO YOU SNEAK HEALTHY OPTIONS INTO YOUR CHILD'S DAILY ROUTINE?