HOLIDAYS. Holi-DAZE. They started with me feeling emotional, tired and NOT VERY NICE. (Trust me, I'm about to slap myself for being so woe-is-me.) The flat tire that found me on our return from Thanksgiving weekend – with two sick toddlers in the backseat, in the middle of nowhere, all by myself – was the most incredible symbolism a girl could've asked for to sum up this most challenging year. No one was hurt, but… Really is this flat tire necessary NOW?!?? was all I could think. I almost laughed in the moment, except I started crying instead. My four year old LadyP in the backseat asked me why I was crying. My two year old LilMiss asked me in her baby-talk "Mama ah youuuuu awwwwrighhhhh?" It was a most fitting holiday moment for the year that was. Why so humbug? It's kinda been a BAD YEAR with GOOD MOMENTS. (As opposed to being a GOOD YEAR with BAD MOMENTS… there's a big difference.)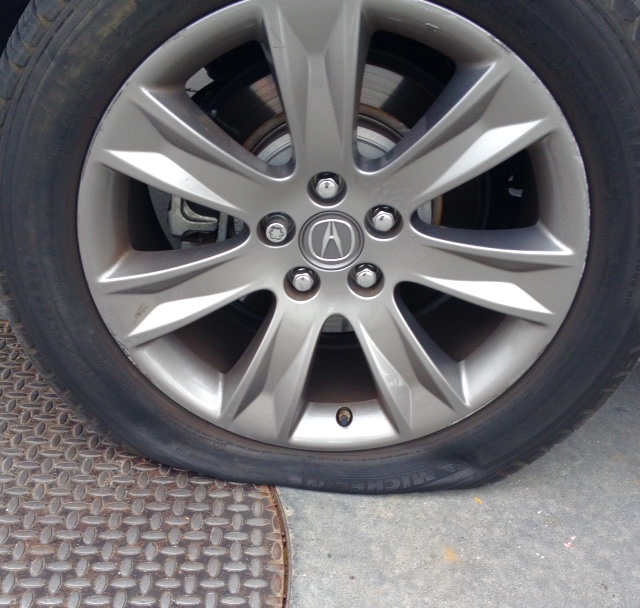 Saying this was a bad year is not a complaint, an exaggeration or an opinion. Anyone who knows me will confirm that's a fact. Sickness, death, health obstacles, life changes, relationship challenges, major career flops, disappointing personal setbacks and more all barged their way into my life and took down either myself or some of the people I love the most in big ways. I know: Boo-hoo-hoo. Whoop-do-do. We all have bad years… they are part of life's toll that we all must pay. Get your wallet out, Jill… add some extra zeros to that fat check you're writing to the Universe. My flat tire symbolized the past 350-ish days in a nutshell and I felt myself unraveling, locked in my car.
Think happy thoughts! I said silently… just to stop myself from losing it over a stupid flat tire (for which, luckily, no one was hurt from). And then, I suddenly thought of Tinkerbell (didn't she need happy thoughts to fly?)… and then my mind wandered to Disneyland. (Apparently my brain goes to unexpected places when I'm stuck in a car with two coughing toddlers, waiting for roadside assistance. Listening to Elsa belt out "Let it go-o-o!" on our Frozen soundtrack to pass the time probably had something to do with it.)
I watched my girls in the backseat. Back to Disneyland: I thought of that time I allegedly (according to my mom) tried to sing like Snow White at the Wishing Well when I was 4 (LadyP's age now), that time I unknowingly walked the whole park as a teenager with my cousins while fighting walking-pneumonia, the time my sister and I talked and cried and laughed and dissected every detail of my (thankfully) broken-off engagement way back when I was 25 years old (true story… who knew Mickey gave such therapy?)… young life gone.
Now I was the grown up. Stuck in the car. With the flat tire. In the middle of nowhere. Crying. Looking at two small faces looking at me and wondering how long we'd have to wait. "Let it gooo-oooo!!! Let it go!" And then, I smiled because I suddenly remembered THIS…
Just one week earlier, we took our first FAMILY trip to Disneyland. Sure, I'd already taken my girls with my sister and niece (a few times… a total blast!)… but our first FAMILY trip to Disneyland – Daddy and all – was DIFFERENT. It blindsided me. It was MAGICAL. I felt it. Being with my husband, our little girls… all together with no distractions… I remember a fleeting feeling of "this innocent toddler phase will be gone too soon" wash over me when we walked through Sleeping Beauty's Castle. I blame the holiday decorations.
Holidays are emotional anyways (the passing of another year, blah blah blah)…. but darn that Disney magic! (Said with Cinderella's inflection.) It'll get you (in the best way) and then sneak up when you least expect it… like when you're stuck in your car with a flat tire, waiting for roadside assistance. I remembered how the worried 2 year old face asking me "Mama ah youuuuu awwwwrighhhhh?" just minutes earlier was totally carefree, enchanted and mesmerized during the "A Christmas Fantasy" parade the week before… it was a memory that will stay with me forever. (No matter what characters floated by us decked in holiday cheer – Anna, Elsa & Olaf included – her face was seriously 'frozen' like this — see what I did there? — for like, the whole parade…)
Back to the situation at hand: I became less annoyed about my tire. No one was hurt. "Let the storm rage OOOOONNNNNNNN!" I then flashed back again to how giddy I was – about how unexpectedly giddy my husband was – to boatride into the living holiday greeting card that is Small World with our daughters for the very first time. (Side note: The park has slapped on 300,000+ lights on the facade of It's A Small World just for holiday-time. Insane. And GORGEOUS.)
 AGAIN. I BLAME THE HOLIDAY DECORATIONS FOR THE AMPED UP EMOTIONS.
(I should probably mention that both my girls threw a full-on temper-tantrum outside of Small World because they wanted to ride the ride over and over and over again. But we could not ride the ride over and over and over again… because we had to get to the "Jingle Cruise" to check out how the skippers decked the docks this year! We needed to investigate what monkeys were making mischief with Christmas ornaments and if the hippos had eaten all the fruitcake yet… the Jungle Cruise has always been one of my faves, but Christmas decor took it to a new level. Hysterical.)
Back to my roadside disaster: By this time, my busted tire was off the car and the wimpy spare was locked and loaded and ready to roll. I buckled my girls back into their seats. We were on the road and on our way. I smiled, thinking of our FIRST magical Disneyland trip we had – and our first official holiday activity this year – as a FAMILY as I pulled back onto the freeway and headed for home.
Back on the road again, driving carefully (no more than 50mph) and alone with my thoughts (girls asleep), I remembered a magic rule of what we all already know: Memories don't happen unless we make the effort to MAKE them happen. Memories are the things that help us cope through difficult times… And then I remembered what the spectacular Grand Californian Hotel reminded us of as we ended our holiday Disneyland adventure the week before:
"The Life So Short." (Always true. Something valuable to remember. Even in frustrating times of roadside assistance.) Great years, disappointing years, they're equally part of a very short life. Memories – that we make ourselves – have the power to reverse our bad moods (when we get flat tires) and remind us to acknowledge and appreciate all of what happens on this crazy unpredictable road of life. Aha. Darn you Disneyland. Darn you holidays. Darn you Disney Holidays. You got me, I got it: Memories made. Lesson learned. Keep on driving. Keep on smiling… Because life is short. And there's the magic right there. 
WHAT FAMILY HOLIDAY MEMORIES ARE YOU MAKING THIS YEAR?
DISCLOSURE: For purposes of this post, I was generously provided with complimentary passes to experience Disney Holidays with my family. All experiences, opinions and memories made are my own. Now go make your own. #DisneyHolidays