Ooh la la! Naked fitness tips?!? It's a scandalous day here on The FAB Mom.
Ha! Made you look. What… you were hoping for a video?!?
Ok, let's call it semi-scandalous. (Semi-scandalous is when you tap into your news reporting roots to come up with a headlining 'tease' to grab the viewer's attention but then kinda fail to really follow through on the level of what you suggest and/or promise. It's not mean. It's just marketing. Wow, I REALLY miss working lately…) Back to the naked: As promised, here are 5 tricks to do NAKED (yes, naked!) before you shower… all in the name of staying fit. (Gotcha!) Also, let's clarify and say 'semi-fit'… since 10 minutes of truncated fitness activity in your bathroom can't promise to lead to a total body transformation. (And, I suppose there are *other fun things* you can do naked to stay fit, but we like to keep it PG-13 and clean here on The FAB Mom…)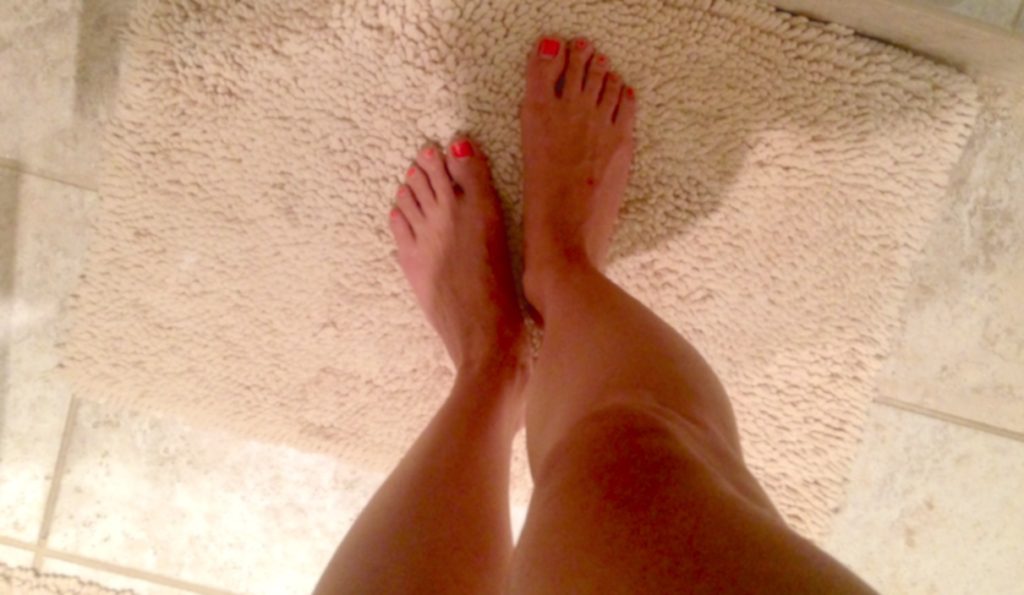 Since I get to the gym around once a week these days (ONCE A WEEK), I figure it's fair game to share this secret of mine in the name of tip-swapping. Between my weekly (legitimate) workouts, I try my darndest to pull off these minor maneuvers in my own bathroom before I shower (with the door locked). Sometimes it's the only way, folks. And yes, I actually do what I describe below. Just did today, in fact. Naked, you ask? I'll never tell.
(NAKED) PRE-SHOWER FIT TIP #1: Pushups against your bathroom sink. I used to do these before I brushed my teeth, now I just lump them into my pre-shower routine. Easier than doing real pushups on the floor, but I still feel my muscles working. 2 sets of 15. More if I'm especially motivated, less if my toddlers are banging on the door and demanding when I'm going to be done with the potty.
(NAKED) PRE-SHOWER FIT TIP #2: Heel raises to work the calves. Stand up straight and raise your heels off the floor to work your calfs. As many or as little as you want. I like to suck in my stomach (to keep my balance) and not hold on to anything for an added strength-training.
(NAKED) PRE-SHOWER FIT TIP #3: Butt squats. (Or, the move my husband refers to as "What's the point of that?") Stand with your feet parallel and shoulder-width apart. Keep your hands in praying-like position in front of you at your chest. Suck in your tummy (again, to keep your balance). Keeping your back straight: bend your knees, stick your booty out far (so that you can feel a bit of 'strain' in your buns) and keep bending as far as you can go. (You'll feel it in your buns and thighs.) Straighten your legs and come back up as fast as you can, squeezing your bottom as you rise up to stand up straight. (Is this even making sense? Damn. Shoulda done a video.) Repeat as many times as you can stand it (and as long as your spouse refrains from making fun of you should the door be unlocked).
(NAKED PRE-SHOWER FIT TIP #4: Touch your toes. I've always believed in employing your children to help with this during storytime but I also make a habit of doing this by myself too. Pre-shower is a perfect time. Stand up, keep your legs straight, bend from the waist and just let your body hang there. Breathe. Hang some more. Touch your toes if you can. Feel the stretch. Reeeeeeeelaaaaaaaaaaaax.
(NAKED) PRE-SHOWER FIT TIP #5: Stretch your arms up as high as they can go. Too the moon and back! (As you've guessed I literally JUST read "I Love You to the Moon and Back" to my girls before plunking out this post. Truth.) Arms all the way up, lean to one side (stretch your side)…. lean to the other side (streeeeeeeeeeetch!). Nice. Now put your arms down and stretch your neck, gently roll your head around.
Step into shower. Enjoy. Feel closer to fabulous, moms. Just thought to share what works for me. (Naked?!? I already told you: I'll never tell.)
HOW DO YOU SQUEEZE FITNESS INTO YOUR DAILY ROUTINE?