You know her wild and fun TV host on "
The View," E!, TV Guide Channel
and more… I know her as a castmate from 
Hallmark Channel's "Home & Family
" who dressed up as a dude our first day of shooting (totally unrelated to what this post is about, but thinking of it still makes me laugh). Meet
Debbie Matenopoulos
… Fiery-Personality, Sincere-Spirit, Expecting-Mom and Brand New Cookbook Author of
It's All Greek to Me
! (Yup. She cooks in the kitchen while bakin' a bun in the oven. Bam.)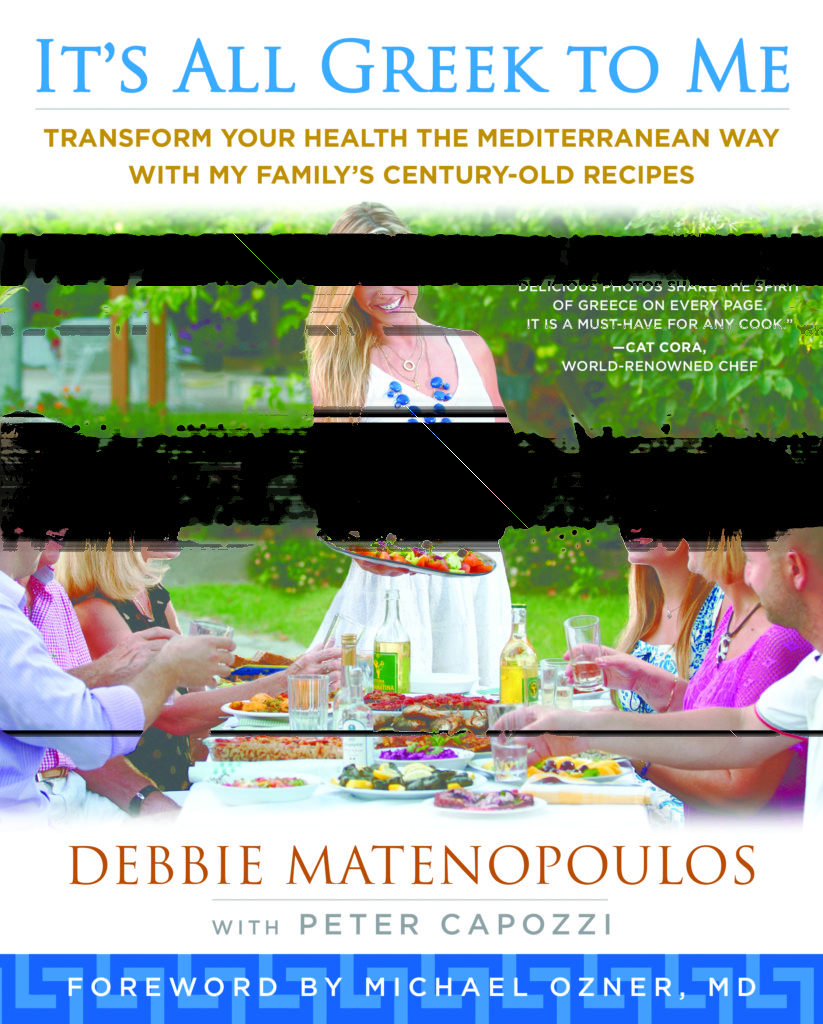 It's All Greek to Me showcases authentic and healthy Greek recipes straight from her family's highly-guarded recipe books (I've tried a few already), gorgeous pictures of scenes and marketplaces in Greece (don't tell my husband I'm booking our trip now) and simple tips to keep your eating habits and lifestyle light, fresh and filling. The book is really fun and inspiring to flip through (it took me about a second and a half to bust into my fridge to make Debbie's easy Summer Peach Salsa… no blender required). For kicks, I'm including Debbie's Lemony Chicken recipe (aka: 'fast family food' – you know that's my fave) at the bottom of this post.
Take it from me: DEBBIE CAN COOK. On set, I personally got to taste-test some of her homemade Greek dishes and they are DEEEEEEE-LISH (did ya know that baking ammonia give cookies an extra crunch?). Putting aside our ongoing jokes about doing some kind of big and loud dramatic Greek-vs-Armenian-Cookoff-Competition, Debbie and I recently chatted food, family and her baby on the way… uncut, unedited… totally fun Debbie.
---
Your fans know and love you from your celebrity interviews and style moxie — a cookbook is surprising to some. Why a cookbook? Why now? I have always wanted to write a cookbook. For years people have asked me why I know how to cook so well. The reason is, I learned from my mom and my Yiayia (grandmother) and aunts. Growing up Greek you begin to learn how to cook around the same time you learn how to speak.  Anyway, it just happened to be the perfect time in my life to write this book. So we went to Greece last summer and compiled all of my family's recipes and cooked them with my mom and aunts and uncles and and photographed them.  I also featured a lot of local bakeries and butchers and fishermen in photo essays. It was really an amazing experience for all of us involved in putting the book together. It became more than just a cookbook. It became a love letter to Greece and to my family. I'm very proud of this book.
Biggest Greek food craving during pregnancy? My biggest Greek food craving believe or not has been a Greek salad. I think what it is I am really craving is the tomatoes and the Kalamata olives mixed with the oregano and the Greek olive oil.  I crave that taste nearly everyday. Now that I think of it I have eaten a traditional Greek salad almost everyday since I've been pregnant. I make one at dinner every night and me and my hubby share it.
Biggest fear about becoming a mom? I think my biggest fear about becoming a mom would have to be that I am actually good at it. I worry that no matter how much I read or try to learn before the baby gets here that I won't be prepared enough to be  really good at it. But I guess that's a common fear from what I understand.  I just hope I can be a really great mom to my little nugget. 😉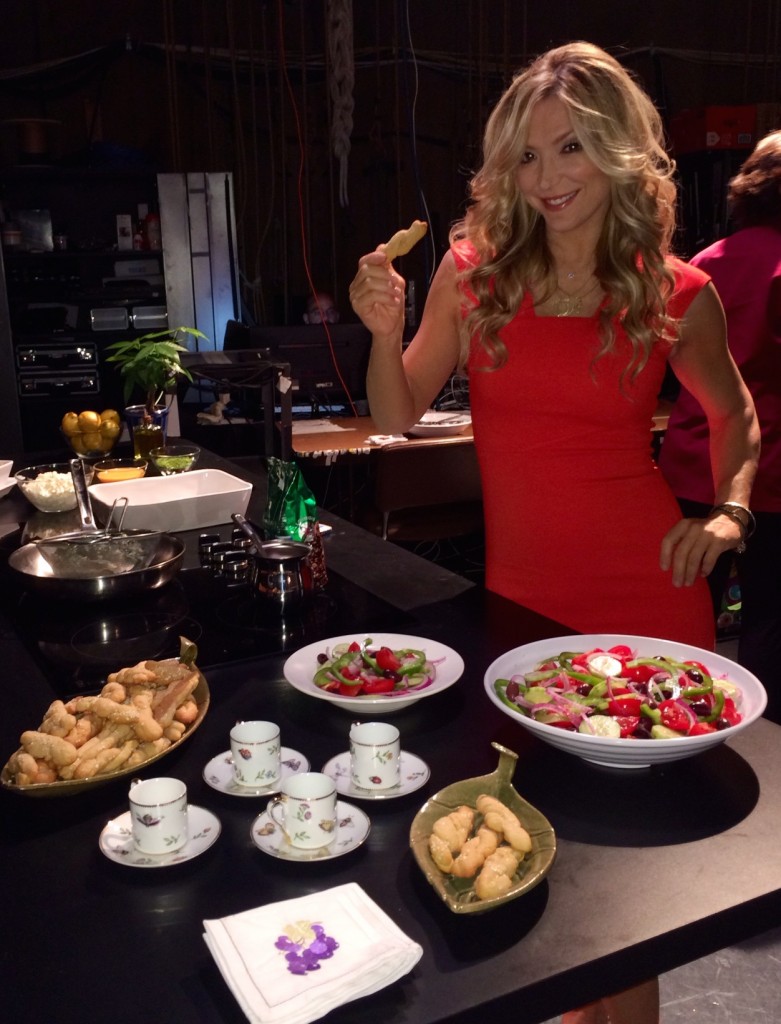 Ever had any disasters when it came to cooking/entertaining? A dish that didn't turn out quite right for a gathering that family gave you a hard time about? Ahhhh….Oh yes,  I think anyone who cooks a lot has had a disaster at some point or another. I have definitely had my fair share of disasters.  My first that my family STILL makes fun of me about is when I tried to make pizza from scratch for my whole family when I was about 13. I accidentally put way too much salt in the pizza dough and it was inedible.  They didn't want to discourage me, so they pretended to eat it but then I realized they fed it to the dog. The worst part about it was that the dog wouldn't even eat it. No joke. Hahaha. And as I've gotten older I've made mistakes in the kitchen too. But sometimes the best accidental "variations" come from your mess ups.
You've said the recipes in the book are 'spilled family secrets'… was your mom hesitant (or, angry) about sharing such priceless recipes? Did you ask permission first, or just do it? (Reason I ask: My own mom does NOT share her recipes… very stingy and makes it a point to keep all her best recipes secret so no one can replicate them.) At first my mom was skeptical and wasn't sure she wanted to share her and my Yiayias recipes with the world. She was much like your mom and didn't want anyone to know her culinary secrets. However, after I explained to her that the beautiful art of Greek cooking and her recipes would be lost eventually on future generations UNLESS I compiled them in one place for the family to have for their kids and their kids kids. She agreed and the book was on its way. I have to say my sister Maria was more upset about her famous baklava recipe being published than anything else. ;). But she too came around and she's happy to he part of the book now.
The big joke (or, warning) about parenthood is that everything rebellious & naughty you did as a kid will come back tenfold [from your kids] when you're the parent… if that's true, then do you have anything to worry about in the future? What?? Is that true????  Ummmm… I have EVERYTHING to worry about. Lol. Oh boy, I foresee some payback in the years to come.  Between my husband and I this kid is gonna be a wild one. Although what I really wish is that he or she (we're not finding out the gender) would be really calm and zen-like. Hahahaha….. Something tells me that's not gonna happen though.
---
Love you Debbie! Just keep feeding that baby Greek food and hopefully he/she will be too busy to even think about misbehaving. (By the way, I'm guessing from your Greek salad cravings that it's a BOY! Ha!)
Aaaaaaand (plate-breaking sound here): ENTER TO WIN A *FREE* COPY OF DEBBIE'S FABULOUS COOKBOOK IT'S ALL GREEK TO ME, DROP ME A COMMENT OR EMAIL SPILLING YOUR BIGGEST COOKING DISASTER.
As promised, Debbie's super-easy, uber-yummy recipe for Lemony Grilled Chicken is below — yummy yummy yummy.
---
Lemonati Kota sta Karvouna (leh-moh-NAH-tee KOH-tah stah KAR-voo-nah)
I have found that simple food with great flavor is often the most satisfying, healthy, and easy to prepare. This fast and fantastic chicken recipe is packed with flavor and can be doubled or tripled easily for a big crowd. Serve this chicken with Summer Peach Salsa for a great summer lunch or light dinner. You can make the salsa and start to marinate the chicken right before you leave for work in the morning. Then, when you come home, just toss the chicken on the grill, and you can have a healthy dinner on the table in about 20 minutes. 
SERVES 4
1/4 cup freshly squeezed lemon juice (about
2 lemons)
1/4 cup extra-virgin olive oil
2 teaspoons dried oregano
5 scallions, soft green parts reserved, thinly sliced
4 skinless, boneless chicken breasts
1 teaspoon sea salt, plus more to taste
1/2 teaspoon freshly ground black pepper
4 cups loosely packed mixed greens or baby spinach
1 recipe Summer Peach Salsa (page 83) or Latholemono (page 73)
In a medium mixing bowl, whisk together the lemon juice, olive oil, oregano, and the white parts of the scallions. Set aside.
Rinse the chicken under cold water, pat dry with paper towels, and season on both sides with the salt and pepper. Put the chicken into a large Ziploc bag and pour in the lemon juice mixture. Squeeze out as much air as possible, seal the bag, and shake to coat chicken in the marinade. Refrigerate on a large plate for at least 1 hour or up to overnight. Flip the bag over at least once so that the chicken marinates evenly.
Prepare a very hot grill or set a grill pan over medium-high heat. Brush the grill or grill pan with a little olive oil to prevent sticking. Remove the chicken from the marinade and grill for 4 to 6 minutes per side or until cooked through. Remove from the grill and let the chicken rest for about 10 minutes before serving.
To serve, evenly distribute the greens among 4 plates. Slice the chicken breasts into 1-inch diagonal slices and fan the slices over the greens. Spoon the Summer Peach Salsa or Latholemono over the top of the chicken. Garnish with the reserved green parts of the scallions.
OPA! ENJOY!